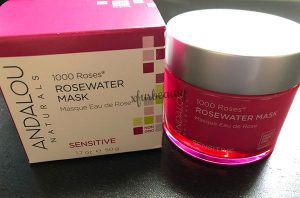 Here's a face mask that I've had for some time. It's from Andalou Naturals. I was pretty much on a roll with this brand. Thought I'd try out the face mask too. haha. So this is a revitalizing mask. It contains alpine rose stem cells. Delivers hydration and dermal vitality to soothe and nourish sensitive skin. It also contains pomegranate to uplift the tone. Hyaluronic acid and aloe vera to help revive the skin's moisture barrier for a flawless complexion. If you have read my reviews on Andalou Naturals, the benefits of this product may sounds sooo familiar. In fact, it does. The face mask is a part of the rosewater collection. If you missed out on my reviews on Andalou Naturals rosewater collection & other Andalou Naturals skin care products, fret no more, go here:
Review: Andalou Naturals Luminous Eye Serum
Review: Andalou Naturals 1000 Roses Eye Revive Contour Gel
Andalou Naturals 1000 Roses Pearl Exfoliator
My experience
This face mask is very soft and pale pink. It has a creamy, soufflé texture and consistency to it. When applied to the skin, it feels so soft and smooth. It feels like it melts into the skin. The instructions says to leave the face mask on for 10-20 minutes. I left it on for the whole 20 minutes. I need to get that hydration into my skin. Whenever I use a moisturizing face mask, I make sure I get as much moisture out of it and into my skin, lol. So this face mask was very attractive to me because I do indeed love rosewater-based skin care products. Ahem, look at all of the rosewater-based skin care products I tried out from Andalou Naturals! Don't forget to check them out! Now let's take a look at the ingredients in this face mask!
It first starts off with aloe barbadensis leaf juice, purified water, rose flower distillate. Next, it goes on to a bunch of ingredients, such as rosehip fruit oil, pomegranate seed oil, plant stem cells (alpine rose, malus domestica, solar vitis), bioactive berry complexion, cranberry fruit juice, panthenol, and so on. The ingredients look very similar to the other rosewater-based skin care products from Andalou Naturals. I'm not shocked. It's in the same line of products.
But how did this face mask go? Did it work??
Unfortunately, it didn't do much for my skin. It feels nice and lovely when applied to the skin and while it's on the skin, except for the fact that sometimes it burned my skin. My skin isn't even the sensitive type. Isn't this face mask made for sensitive skin? if you have sensitive skin (or any other skin type), do a patch test first. But once the face mask is rinsed off, I didn't see any changes in my skin. My skin didn't look or feel more hydrated or moisturized. It felt like a waste of time using this product. Absolutely no difference. Maybe I'm just better off using a clay mask instead. I always see some effect on my skin when I use those. It helps to remove excess sebum. Or maybe I'm just better off using a good moisturizer or serum that actually hydrates my skin. This mask is just not for my skin type. It didn't do anything.
This is what the face mask looks like. It looks very pretty. Love the pale pink color. The softness and creaminess of the product is so nice. I loved the texture and consistency of the mask. I just wished it moisturized my skin like it's supposed to. *sigh*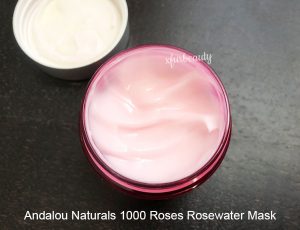 Pros & Cons
✅ Pros
Nice texture. Feels soft and creamy.
Cruelty-free
Vegan
❌ Cons
Doesn't leave the skin feeling moisturized.
Sometimes burns the face.
Doesn't rinse off clean.
Conclusion
One more Andalou Naturals skin care product that didn't work. Not only that, it burned my face sometimes when I was using it. It didn't leave my skin feeling moisturized either. The only good points about this face mask is the light, airy, creamy texture that the mask has. As for results, none. This isn't a face mask I would ever purchase again. I can't recommend it to anyone. Let alone someone with sensitive skin. I mean, it burns.
Categories:
Tags:

Andalou Naturals, Andalou Naturals 1000 Roses Rosewater Mask, Anti-Aging, Anti-Aging Skin Care Products, Anti-Wrinkle, Beauty, Cruelty-Free, Face Mask, Lifestyle, Moisturizing, Moisturizing Face Mask, Moisturizing Mask, Review, Rosewater, Rosewater Mask, Skin Care, Skin Care Products, Skincare, Vegan, Wrinkles