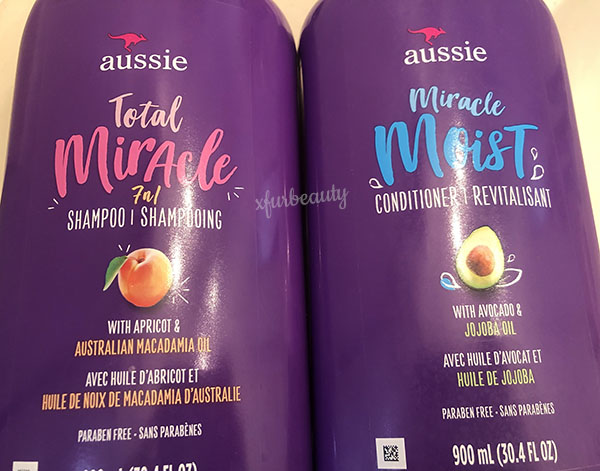 I have a new shampoo! I'm still using Aussie products due to having a good price point, and they work for my hair. I picked up the Aussie Total Miracle 7-in-1 Shampoo. I'm still using the Aussie Miracle Moist Conditioner. I just wanted to try a different type of shampoo. It's good to switch out shampoos for me. Just mix things up a bit. The Aussie Total Miracle is for damaged hair. It provides 7 benefits: Strengthening against damage, softness, split-end protection, moisture, humidity control, shine, and smoothing. It contains apricot and Australian macadamia oil. That actually sounds wayyyyy better than the Miracle Moist. With the Miracle Moist, I wanted products that would moisturize my hair even more. 🤷🏻‍♀️ Let's see what the Total Miracle 7-in-1 Shampoo can do to my hair!
I've used the Aussie Total Miracle 7-in-1 Shampoo for over a week already. This shampoo has a fruity, orangey smell to it. Apricots I'm guessing? That's what's in it. The shampoo comes in a 900 mL (30.4 fl. oz.) bottle just like my previous shampoo (Miracle Moist). From my experience using it so far, I find that this shampoo is so much easier to lather up. It has the same surfactants as the Miracle Moist (Sodium Lauryl Sulfate, Sodium Laureth Sulfate, Cocamidopropyl Betaine). It just felt different using it for some reason. It left my hair feeling more moisturized too. It could be the macadamia oil in it. Perhaps it works better for my hair. My hair looked and felt more dense. It looked more volumized, fuller after use. I don't see the point in going back to Miracle Moist after using the Total Miracle 7-in-1 Shampoo. It does it all. Even better. After 1 week of using this shampoo, it's going way better than I thought!
I know I'm still using the Aussie Miracle Moist Conditioner at the moment. I did purchase the Aussie Total Miracle 7-in-1 Conditioner too. I just have to finish what I have left of the Miracle Moist Conditioner before switching over. I hope it's as good as the shampoo! The combination of the Total and Moist is working amazingly on my hair though! My hair feels clean without feeling stripped, moisturized, and so much fuller. I'm glad it worked out!
My Hair Care Routine + Reviews
Categories:
Tags:

Aussie, Aussie Total Miracle 7-in-1 Conditioner, Aussie Total Miracle 7-in-1 Shampoo, Beauty, Conditioner, Damaged Hair, Dry Hair, Experience, Hair, Hair Care, Hair Care Products, My Hair Care Routine, Review, Shampoo, Shampoo Update, Skin Care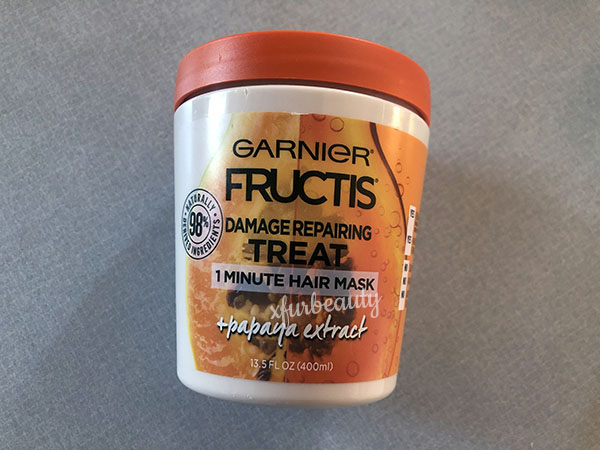 Here's my review on Garnier Fructis Damage Repairing Hair Mask! I've been meaning to get to this mask. I just finished it. Here are my thoughts on it!
The purpose of this hair mask is to nourish and repair damaged hair. Make it softer and smoother without weighing it down. This hair mask contains 98% naturally derived ingredients. It contains papaya extract. No silicones, parabens, and artificial colorants.
How to use? There are 3 ways to use this hair mask. That is as a hair mask, hair conditioner, and as a leave-in treatment. As a hair mask, use the hair mask after shampooing. Apply the product onto wet hair and leave it on for 1 minute. Rinse afterwards. As a conditioner, after shampooing, apply the product from the root to tip. As a leave-in treatment, apply the product onto damp hair for frizz control and color protection.
I tried all 3 methods. Here's my experience with this product.
The texture and consistency of the product isn't too rich or thick. I've used other hair masks/conditioners that are thicker, richer, and heavier on the hair. This one was pretty decent in consistency. It also has a nice smell to it. It's fruity and pleasant. So I tried all three methods as mentioned. Out of the three, I prefer using it as a leave-in treatment. It takes only 1 minute to use. That's what I did at first. Since I love experimenting to see what works for me. I tried leaving the product in my hair for longer than a minute. I tried leaving it on for 5-10 minutes. I preferred leaving the product in my hair much longer, since I have dry ends. After rinsing the product out of my hair, my hair didn't feel greasy or heavy. It didn't weigh my hair down (yess!!!). I really don't like it when products make my hair flat. But, I wasn't a fan of the overall results of this product. I love the smell and all, but it didn't deliver results. At least for my hair type. It didn't help moisturize my hair. It only felt moisturizing when I was applying the product to my hair. Afterwards, not so much. I wanted a hair product that would moisturize and make my hair feel softer and smoother. This didn't do much of that. Also, after drying my hair, it felt like the product sat on my hair and left a layer of product over my hair strands. It felt like it coated my hair with plastic. My hair felt like straw after a few hours. By the end of the day, it looked and felt really gross. It didn't matter how I used the product, my results were pretty much the same. My hair just didn't feel or look good. Maybe the formula of the product isn't for my hair type. I don't know. All I know is that it didn't work for me. I'm just really happy that I finished it. I won't be purchasing it again.
Categories:
Tags:

1 Minute Hair Mask, Beauty, Damage Repairing, Damaged Hair, Experience, Garnier, Garnier Fructis, Garnier Fructis Damage Repairing Hair Mask, Hair Care, Hair Mask, Hair Products, Hair Treatment, Moisturizing, Papaya, Papaya Extract, Repairing, Review