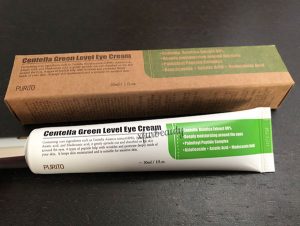 My last review on an eye cream was iUNIK Propolis Vitamin Eye Cream. Check it out if you haven't yet! I've used Purito Centella Green Level Eye Cream for a very long time. It's been about a year already. Wow, time sure goes by fast! So this eye cream contains centella asiatica extract (49%), hyaluronic acid, and peptides. The combination of these ingredients is supposed to help improve skin's texture and elasticity. Help to moisturize and nourish the eye area. Decrease the appearance of large pores. That's not something I have to worry about because I don't have large pores under my eyes. But, I'm looking for something that moisturizes the eye area and keeps it soft. And hopefully it helps with skin texture, fine lines, and wrinkles too. After a year of using this eye cream, did this product work? Here are my thoughts on this eye cream! Read on!
My experience
This eye cream is a cream (what it's called). Not a gel-cream but a true cream. It feels lightweight and moisturizing when applied to the skin. It feels gentle and soft on the skin. It's very easy to use. It glides on the eye area smoothly and nicely with little effort. One of the eye creams I have that just blends into the under eyes so well. Leaves the skin around the eyes soft, moist, and hydrated. This is something I really like. No wonder why I've been using it for a year. And I've gone though only one tube too. So it lasts for quite some time. I mean, it's been a year, I haven't stopped using it, lol. I'm only on my second tube now, which I still have a lot of product left. I can't believe I'm not done with it yet. That's pretty awesome.
With this eye cream, I didn't notice a reduction in fine lines or wrinkles or an improvement in my dark under eye circles, but it does make a good eye moisturizer. Honestly, even though it doesn't do any of that, I still like it anyways. It just leaves my under eyes so freaking moisturized. It also contains ingredients, such as centella asiatica extract, hyaluronic acid, and peptides. Who knows if it's doing anything until years later. It doesn't hurt to keep it around. At least it doesn't dry my skin out. Keeping the under eye area moisturized isn't a bad thing after all. Also, this eye cream is pretty affordable. So, I like it for what it is. It's affordable and lasts forever. It works similarly to the more expensive eye creams I've used. I think I'm going to keep it around.
The eye cream comes sealed like this.
This is what it looks like…
Pros & Cons
✅ Pros
Contains centella asiatica extract, hyaluronic acid, peptides
Very moisturizing
Works well under eye makeup
Doesn't pill
Feels soft and gentle on the skin
Lasts forever
Affordable
❌ Cons
Doesn't do much for fine lines and wrinkles
Doesn't help with dark under eye circles
Conclusion
This is another eye cream I'm using in my eye care routine. It doesn't do much for fine lines and wrinkles or dark under eye circles, but it keeps my under eye area very moisturized. Perhaps that moisturization is helping with fine lines and wrinkles in years to come. So I guess it kind of helps with fine lines and wrinkles. Preventing it from looking dry and more noticeable. Still not doing much for those dark under eye circles, but that's ok. I decided to keep using it due to how affordable it is. I'm looking forward to my future results with this eye cream. Whenever that may be, lol. Not a bad eye cream at all.
Go here for more reviews on Purito skin care
Go here for more reviews on eye creams
Categories:
Tags:

Beauty, Centella, Centella Eye Cream, Eye Care, Eye Cream, Hyaluronic Acid, Moisturizing, Peptides, Purito, Purito Centella Green Level Eye Cream, Purito Eye Cream, Purito Skin Care, Review, Skin Care, Skincare