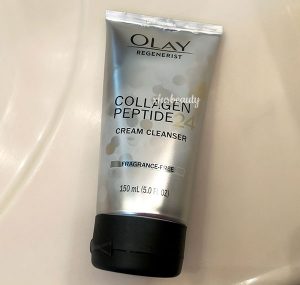 I've been using Olay Regenerist Collagen Peptide 24 Cream Cleanser for a month. I started off using it in the morning and night. It worked great! It helped clear out a bunch of stubborn closed comedones that wouldn't budge. Left my skin feeling soft and smooth after each use. I wasn't using it as a facial cleanser but an acne treatment. It contains salicylic acid, but it's not known as an acne treatment or a salicylic acid treatment. I tried using it as a face wash when I first purchased it, but that didn't work out. It clogged my pores terribly. I noticed pimples on my face very quick. This cleanser leaves an oily, fatty film behind on the skin. It just doesn't leave the skin feeling clean after rinsing it off. If you have clog-prone skin, it's a good idea to use another facial cleanser afterwards to make sure all of that grease is taken off of the skin. As an acne treatment, it's wonderful! It worked to unclog pores. Finally, something that works to unclog these annoying, clogged pores that I've had for months! Possibly years!
So I continued using the cream cleanser for the next couple of weeks. My skin looked even better. A lot softer and smoother. It helped with the texture of my skin too. With this cream cleanser, even though the texture of product is heavy and moisturizing on the skin, it's best to use it with a heavy duty moisturizer. Don't be fooled just because it's cream-based. It can dry out the skin. My skin became so dry when I was only using a lightweight moisturizer or no moisturizer with this product. Sorry, I couldn't find a moisturizer that worked on my skin during that time. But it truly works better when used with a heavier moisturizer or layers of moisturizers (what I do, read more about what moisturizers I like by clicking the link!), since my skin is so finicky, lol. My skin didn't feel dry at all, and I was able to use it twice a day with no irritation or redness. 👍🏻
I loved the results of this product, but I decided to get back on tret. Read about my break from tret here! 👈🏻 And get ready for an update on my experience with tret soon! It turns out Olay Regenerist Collagen Peptide 24 Cream Cleanser and tret don't go well together. They're both exfoliants, and my skin burns when I use Olay too often with tret. So I'm only using the cream cleanser a few times a week at night. Yes, I know this stuff helped my acne, but my skin has settled and is ready to take on tret again. It's been a whole month off of tret. I think it's time to reintroduce it back in. From my past experience, retinoids do wonders for my acne and skin texture. Other than that, this is a good product for the price and effectiveness. I'm still shocked 'til this day. I tried so many acne treatments over the years, and I saw noticeable results within 1 week of using this cream cleanser! I just didn't expect it to work on my acne. I'm very impressed! I'll keep it around, since it helps to improve my skin.
⭐ If you missed out on my earlier tret posts…
My experience with tret the first week…
After 1 Month on Tret + Skin Care Routine. Here are My Results.
2 Months on Tret. My results. 🙂
Categories:
Tags:

1 Month, Acne, Acne Face Wash, Anti-Aging, Beauty, Cleanser, Collagen, Collagen Face Wash, Collagen Peptide, Collagen Peptides, Cream Cleanser, Dry Skin, Face Cleanser, Face Wash, Facial Cleanser, Fragrance Free, Mineral Oil Free, Niacinamide, No Synthetic Dyes, Olay, Olay Regenerist, Olay Regenerist Collagen Peptide 24 Cream Cleanser, Peptide, Peptides, Phthalates Free, Results, Review, Salicylic Acid, Skin Care, Skincare, Vitamin B3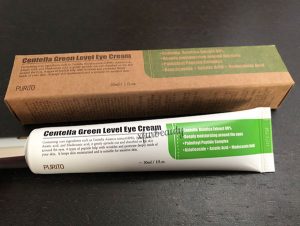 My last review on an eye cream was iUNIK Propolis Vitamin Eye Cream. Check it out if you haven't yet! I've used Purito Centella Green Level Eye Cream for a very long time. It's been about a year already. Wow, time sure goes by fast! So this eye cream contains centella asiatica extract (49%), hyaluronic acid, and peptides. The combination of these ingredients is supposed to help improve skin's texture and elasticity. Help to moisturize and nourish the eye area. Decrease the appearance of large pores. That's not something I have to worry about because I don't have large pores under my eyes. But, I'm looking for something that moisturizes the eye area and keeps it soft. And hopefully it helps with skin texture, fine lines, and wrinkles too. After a year of using this eye cream, did this product work? Here are my thoughts on this eye cream! Read on!
My experience
This eye cream is a cream (what it's called). Not a gel-cream but a true cream. It feels lightweight and moisturizing when applied to the skin. It feels gentle and soft on the skin. It's very easy to use. It glides on the eye area smoothly and nicely with little effort. One of the eye creams I have that just blends into the under eyes so well. Leaves the skin around the eyes soft, moist, and hydrated. This is something I really like. No wonder why I've been using it for a year. And I've gone though only one tube too. So it lasts for quite some time. I mean, it's been a year, I haven't stopped using it, lol. I'm only on my second tube now, which I still have a lot of product left. I can't believe I'm not done with it yet. That's pretty awesome.
With this eye cream, I didn't notice a reduction in fine lines or wrinkles or an improvement in my dark under eye circles, but it does make a good eye moisturizer. Honestly, even though it doesn't do any of that, I still like it anyways. It just leaves my under eyes so freaking moisturized. It also contains ingredients, such as centella asiatica extract, hyaluronic acid, and peptides. Who knows if it's doing anything until years later. It doesn't hurt to keep it around. At least it doesn't dry my skin out. Keeping the under eye area moisturized isn't a bad thing after all. Also, this eye cream is pretty affordable. So, I like it for what it is. It's affordable and lasts forever. It works similarly to the more expensive eye creams I've used. I think I'm going to keep it around.
The eye cream comes sealed like this.
This is what it looks like…
Pros & Cons
✅ Pros
Contains centella asiatica extract, hyaluronic acid, peptides
Very moisturizing
Works well under eye makeup
Doesn't pill
Feels soft and gentle on the skin
Lasts forever
Affordable
❌ Cons
Doesn't do much for fine lines and wrinkles
Doesn't help with dark under eye circles
Conclusion
This is another eye cream I'm using in my eye care routine. It doesn't do much for fine lines and wrinkles or dark under eye circles, but it keeps my under eye area very moisturized. Perhaps that moisturization is helping with fine lines and wrinkles in years to come. So I guess it kind of helps with fine lines and wrinkles. Preventing it from looking dry and more noticeable. Still not doing much for those dark under eye circles, but that's ok. I decided to keep using it due to how affordable it is. I'm looking forward to my future results with this eye cream. Whenever that may be, lol. Not a bad eye cream at all.
Go here for more reviews on Purito skin care
Go here for more reviews on eye creams
Categories:
Tags:

Beauty, Centella, Centella Eye Cream, Eye Care, Eye Cream, Hyaluronic Acid, Moisturizing, Peptides, Purito, Purito Centella Green Level Eye Cream, Purito Eye Cream, Purito Skin Care, Review, Skin Care, Skincare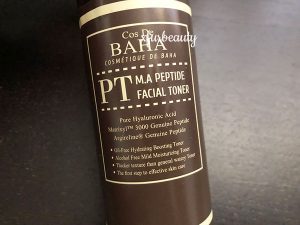 I'm trying to sneak in a new skin care product into my boring skin care routine. I thought I would give Cos De BAHA MA Peptide Facial Toner another chance. I remember it being a more hydrating toner than a drying one, so let's see if it still is. So the purpose of this facial toner is to improve skin elasticity, provide intensive hydration, and diminish fine lines and wrinkles. It contains pure hyaluronic acid, matrixyl 3000 genuine peptide, and argireline genuine peptide. It's an oil-free and alcohol-free hydrating toner that boosts moisture in the skin. That sounds pretty good. Now I remember why I picked up a bottle of this stuff in the first place. It's exactly what I wanted in a skin care product. But did it work this time around? Let's find out! Here's my experience with Cos De BAHA MA Peptide Facial Toner!
My experience
This facial toner is a gel that's not too runny. I tried using it with a cotton pad, but I prefer to dispense a little bit of product into my palm and gently pat it into my skin. The product feels really weird on the skin when used with a cotton pad. It feels like a waste of product too. At first, my skin felt really hydrated, since I don't have an intense moisturizing product in my routine. This was definitely different and moisturizing on the skin. It left my skin looking more plump, glowy, soft, and very smooth in appearance. After a day of using it, my once hydrated skin felt very dry even though it made my skin look good. My skin started to get itchy due to the dryness. Skin was flaking off of my face too. I had to stop using it, which I did. I debated if I should continue to use it or not, lol. But I came to the decision that it's not right for my skin. I'm glad I stopped using it. I don't want to keep hoping that it would work one day.
I love the ingredients in this product. It contains aloe extract, sodium hyaluronate, peptides, beta glucan, allantoin. But, it also contains other ingredients that irritated my skin, such as propanediol. It's the second ingredient listed in this product. I knew it had this ingredient, but I thought I would give it a try anyways. At the bottom of the ingredient list, five extracts. Maybe my skin can't handle propanediol in this product either. I just know that my skin felt really dry and itchy after having it on my skin for a day (morning and night). I also noticed some hard sebum in random places on my face too. Once I stopped using it, my skin went back to normal. I really wanted it to work this time around. I guess this is why I stopped using it in the first place. haha!
Pros & Cons
✅ Pros
Provides lightweight moisture when applied to the skin at first
Soothes the skin
Contains hyaluronic acid and peptides
Leaves the skin looking softer, glowy, and smoother
❌ Cons
Dries the skin out by the end of the day
Not moisturizing enough. Leaves the skin feeling itchy because of this.
Clogs pores. It did for me. 😟
Conclusion
I can see why I stopped using Cos De BAHA MA Peptide Facial Toner months ago. It's just not compatible with my skin. I think I really need to be careful when a product contains propanediol. It doesn't seem to sit well with my skin. Too bad it didn't work out. I wished it did. But I'm not going to push it because my skin is looking pretty darn good right now. I don't want to mess it up. On to something else…maybe…
For more reviews on anti-aging products go here
Categories:
Tags:

Anti-Aging, Anti-Aging Toner, Anti-Wrinkle, Argireline, Beauty, Cos De BAHA, Cos De BAHA MA Peptide Facial Toner, Facial Toner, Fine Lines, Hydrating, Hydrating Toner, Matrixyl 3000, Matrixyl Toner, Peptide Toner, Peptides, Review, Skin Care, Skincare, Toner, Wrinkles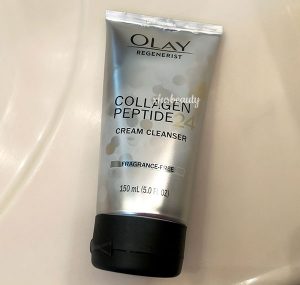 Even though I couldn't use Olay Regenerist Collagen Peptide 24 Cream Cleanser as a stand alone facial cleanser, I continued to use it because I have it. What am I to do with this facial cleanser? Throw it out? I think not! lol. I used Olay Regenerist Collagen Peptide 24 Cream Cleanser as a pre-cleanser. So I use the Olay cream cleanser first. Next, I use my daily cleanser to rinse off any residue left behind by the Olay cream cleanser. The Olay cream cleanser is notorious for leaving a thin layer of film behind on the skin. It doesn't make a good facial cleanser at all. Well, on my skin it doesn't. I have oily skin, and I need a facial cleanser that removes sebum, dirt, debris from my skin very thoroughly. This doesn't cut it. But…
The cleanser feels so soft, velvety, and smooth on the skin. I always look forward to using it. I'm in love with the texture and consistency of the product. I just wish my skin could handle a creamy cleanser like this. It's just so gentle on the skin and doesn't irritate the skin at all. Well, besides the slight burning sensation in the beginning. Don't worry, that stinging sensation eventually went away after a whole week of using it twice a day. It must be the salicylic acid in this product that's doing that. Also, my skin isn't as dry anymore using this cleanser, since it's so creamy and rich. It leaves my skin more moisturized compared to using my main cleanser alone (PanOxyl Acne Foaming Wash 10%). The ingredients in this cleanser isn't too bad either. It contains moisturizers, niacinamide, snow mushroom, and collagen peptides.
During the first week, I started to notice a breakout again even with cleansing my skin with another facial cleanser after using Olay cream cleanser. But these pimples were much different. It didn't fill up my pores (what it did without following up with another facial cleanser). It was unclogging them. I can see closed comedones moving up to the surface, and my skin smoothing out. I spent so much time on prescription acne treatments, and I couldn't believe what I was seeing. And this is working?? This is truly amazing. Salicylic acid usually doesn't work on my acne, but this seems to be working. I just didn't expect it. And it's super affordable and accessible too. I'm hooked! Well, as long as it continues to clear up my skin!
So it seems like this facial cleanser (or treatment, what I use it as) is working on my acne. Who knew. I just purchased it to replace my facial cleanser, but I ended up with something that cleared up most of my leftover acne without drying my entire face out! I'm so happy! My skin isn't fully clear yet, but it's moving in that direction. I mean, it's only been 1 week on this product. Salicylic acid takes time to work too. So far, I have some small areas that need to be cleared out, but I think it's going to happen in a few weeks. Everyone, my skin is almost officially clear, and I'm ecstatic about the results!! I haven't worn any makeup for the past weeks due to the brightness, smoothness, and how my clear my skin looks. I can't wait to see results next week! A new update soon to see if it's truly working! I like what I'm seeing after 1 week! 😀
Go here to read more on products to treat acne
Categories:
Tags:

1 Week, Acne, Acne Face Wash, Anti-Aging, Beauty, Cleanser, Collagen, Collagen Face Wash, Collagen Peptide, Collagen Peptides, Cream Cleanser, Dry Skin, Face Cleanser, Face Wash, Facial Cleanser, Fragrance Free, Mineral Oil Free, Niacinamide, No Synthetic Dyes, Olay, Olay Regenerist, Olay Regenerist Collagen Peptide 24 Cream Cleanser, Peptide, Peptides, Phthalates Free, Results, Review, Salicylic Acid, Skin Care, Skincare, Vitamin B3