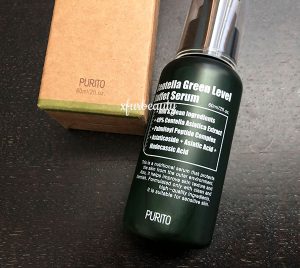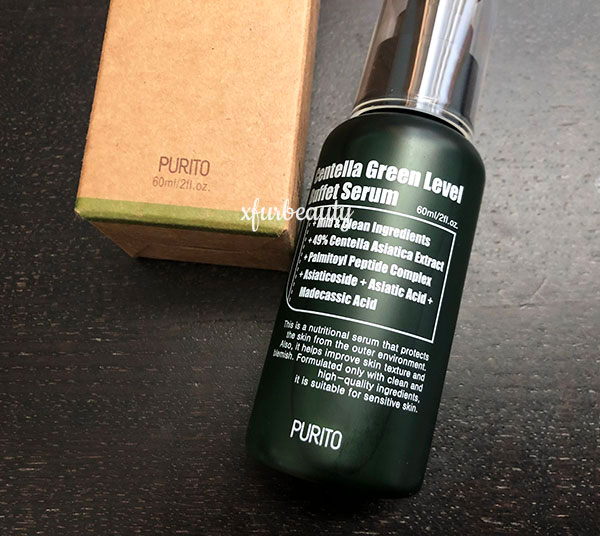 I stopped using Purito Centella Green Level Buffet Serum a while ago. But my face has been getting really red from dryness. I'm still trying to find a moisturizer that works on my skin. Vanicream wrecked my skin. Since this isn't a heavy moisturizer, I thought I would give it a chance again. My face was feeling itchy and taut. Ugh! I couldn't put up with it anymore. I was looking through my skin care products and noticed I still have Purito Centella Green Level Buffet Serum…so why not. So this serum is supposed to enhance skin barrier repair and reduce inflammation. It contains Centella Asiatica Extract (49%) and Panthenol to soothe irritated skin caused by external environmental stressors and prevent skin inflammation. I've been using it for a week. Yes, I lasted a week on it. haha. I guess that's a good sign. Here's my experience with Purito Centella Green Level Buffet Serum!
My experience
This serum is a gel. It feels hydrating when applied to the skin. Leaves the skin feeling like it's doing something good for the skin. Skin feels soft and supple afterwards. Sinks into the skin well too. Even though it leaves a slight film behind, after it absorbs into the skin fully, feels like there's nothing on the skin. This serum does feel hydrating on the skin when first applied, but it's not a good hydrating serum. It feels drying at times. At the same time, it leaves my skin looking really healthy. I started using Purito Centella Green Level Buffet Serum because my skin was feeling really dry and itchy. I needed something to keep my skin moisturized. I didn't want to risk using a heavier moisturizer again and breaking out. This seemed to be it.
Does it help with dryness? Kinda. Does it help with redness? Yes! I love the fact that I noticed a reduction in redness in my skin after a day of use. This serum has a calming effect on the skin. I needed something that was able to heal my broken barrier too. This worked! So it helped soothe and strengthen the skin barrier as it claims to do. Awesome! Because not all serums and moisturizers do (just because it's moisturizing). This serum contains Ceramide NP to help with that. And I've used ceramide-based creams that only left my skin congested and irritated. This serum just soaks into my skin and improves it!
This serum also contains centella asiatica extract (49%), niacinamide, panthenol, hydrolyzed collagen, green tea extract, sodium hyaluronate, pepetides, adenosine, and so much more! The ingredients look pretty good! The serum does have a lavender oil smell to it (contains lavender oil), so if you're sensitive to essential oils, they do have a unscented version of this seurm. I didn't have a problem with the scented version, so I kept on using it. It hasn't irritated my skin at all. Also, this product also contains Polyglyceryl-10 Laurate and Polyglyceryl-10 Myristate. If you have fungal acne, this is not for you.
Breakouts??
Not yet so far. At one point I thought I had issues with this serum, but it might've been caused by another product or products in my routine. I'm looking at you The Ordinary. But yeah, no clogged pores from this serum yet. I hope it stays that way because I'm hoping to officially add this serum into my routine. I needed a nice serum with a bunch of skin care goodies like this one. I really like how it calms my skin and heals my moisture barrier.
Pros & Cons
✅ Pros
Lightweight
Feels hydrating on the skin at first
Doesn't feel heavy
Soothes the skin
Absorbs into the skin well
Reduces redness, inflamed skin
Keeps the moisture barrier healthy
❌ Cons
Smells like lavender oil (may be irritating for some)
Leaves a slight film behind. Just a little bit.
Not enough moisture
Conclusion
After a week of using this serum, everything seems to be going well. I haven't noticed clogged pores from this serum. Thankfully! It's not the most hydrating serum, but my skin seems to benefit from it. It reduces redness in my skin. Makes my skin look more soft and smooth. Keeps my moisture barrier healthy and happy without feeling heavy on the skin. I know brands like Vanicream and CeraVe have ceramides in their products, but they're not acne-friendly as people make it out to be. None of their face products work on my acne-prone skin. SO! I like this serum. The ingredients are pretty amazing. For the price and what you get, it's a good deal! Especially when compared to high end skincare products that costs hundreds of dollars. This 60 mL bottle of serum delivers. Now just as long as it doesn't break me out! I'm hoping for another good week on this serum! Look out for my new update soon to find out!
For more reviews on Purito skin care products go here
Categories:
Tags:

Acne Skin, Beauty, Buffet Serum, Centella, Centella Serum, Dry Skin, Hydrating Serum, Hydrator, Moisturizer, Oily Skin, Purito, Purito Centella Green Level Buffet Serum, Purito Serum, Purito Skin Care, Redness, Review, Skin Care, Skincare, Thoughts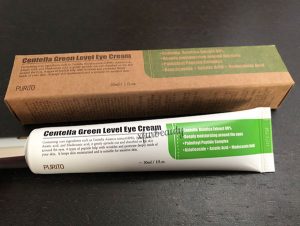 My last review on an eye cream was iUNIK Propolis Vitamin Eye Cream. Check it out if you haven't yet! I've used Purito Centella Green Level Eye Cream for a very long time. It's been about a year already. Wow, time sure goes by fast! So this eye cream contains centella asiatica extract (49%), hyaluronic acid, and peptides. The combination of these ingredients is supposed to help improve skin's texture and elasticity. Help to moisturize and nourish the eye area. Decrease the appearance of large pores. That's not something I have to worry about because I don't have large pores under my eyes. But, I'm looking for something that moisturizes the eye area and keeps it soft. And hopefully it helps with skin texture, fine lines, and wrinkles too. After a year of using this eye cream, did this product work? Here are my thoughts on this eye cream! Read on!
My experience
This eye cream is a cream (what it's called). Not a gel-cream but a true cream. It feels lightweight and moisturizing when applied to the skin. It feels gentle and soft on the skin. It's very easy to use. It glides on the eye area smoothly and nicely with little effort. One of the eye creams I have that just blends into the under eyes so well. Leaves the skin around the eyes soft, moist, and hydrated. This is something I really like. No wonder why I've been using it for a year. And I've gone though only one tube too. So it lasts for quite some time. I mean, it's been a year, I haven't stopped using it, lol. I'm only on my second tube now, which I still have a lot of product left. I can't believe I'm not done with it yet. That's pretty awesome.
With this eye cream, I didn't notice a reduction in fine lines or wrinkles or an improvement in my dark under eye circles, but it does make a good eye moisturizer. Honestly, even though it doesn't do any of that, I still like it anyways. It just leaves my under eyes so freaking moisturized. It also contains ingredients, such as centella asiatica extract, hyaluronic acid, and peptides. Who knows if it's doing anything until years later. It doesn't hurt to keep it around. At least it doesn't dry my skin out. Keeping the under eye area moisturized isn't a bad thing after all. Also, this eye cream is pretty affordable. So, I like it for what it is. It's affordable and lasts forever. It works similarly to the more expensive eye creams I've used. I think I'm going to keep it around.
The eye cream comes sealed like this.
This is what it looks like…
Pros & Cons
✅ Pros
Contains centella asiatica extract, hyaluronic acid, peptides
Very moisturizing
Works well under eye makeup
Doesn't pill
Feels soft and gentle on the skin
Lasts forever
Affordable
❌ Cons
Doesn't do much for fine lines and wrinkles
Doesn't help with dark under eye circles
Conclusion
This is another eye cream I'm using in my eye care routine. It doesn't do much for fine lines and wrinkles or dark under eye circles, but it keeps my under eye area very moisturized. Perhaps that moisturization is helping with fine lines and wrinkles in years to come. So I guess it kind of helps with fine lines and wrinkles. Preventing it from looking dry and more noticeable. Still not doing much for those dark under eye circles, but that's ok. I decided to keep using it due to how affordable it is. I'm looking forward to my future results with this eye cream. Whenever that may be, lol. Not a bad eye cream at all.
Go here for more reviews on Purito skin care
Go here for more reviews on eye creams
Categories:
Tags:

Beauty, Centella, Centella Eye Cream, Eye Care, Eye Cream, Hyaluronic Acid, Moisturizing, Peptides, Purito, Purito Centella Green Level Eye Cream, Purito Eye Cream, Purito Skin Care, Review, Skin Care, Skincare