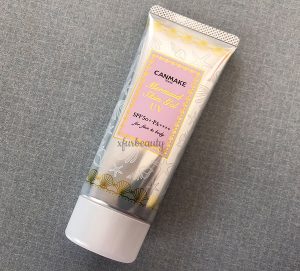 I've been using Canmake Mermaid Skin Gel UV SPF 50+ PA++++ for about 3 months. I fell in love with it when I first used it. It's soft, silky, and smooth. Glides on the skin nicely. Soothes the skin and calms it down. It's not irritating at all. I can use it around my eyes without tearing. It's very gentle on the skin while leaving the skin looking dewy and flawless. It works great as a makeup primer too. There's so many glowing reviews on this sunscreen. I get it. The formula is extremely elegant compared to a lot of other sunscreens out there. I think it's great too. It contains SPF 50+ PA++++. That's awesome! But there's a problem…
I can't use it every day on my face anymore. I started to notice hard sebum within my pores. I know this is kinda gross, but I can extract them out of my pores. It didn't give me cystic acne or whiteheads, but closed comedones that linger underneath the surface of the skin. Those small bumps started to annoy me. I questioned if it's the sunscreen or something else. I didn't want it to be the sunscreen, but I'm not using a lot of products in my routine. All I have is a face wash, acne treatment, essence (lightweight moisture, yay!), and sunscreen. I would switch between or use both of my sunscreens together (not mixing, layering). My other one is a daily moisturizer with SPF. I've been using this sunscreen for so many years without any issues. So it must be Canmake causing clogged pores. Well, that's what I think it is.
When I stopped using Canmake Mermaid Skin Gel UV SPF 50+ PA++++ on my face, these spots on my face started to purge. The sunscreen feels pretty occlusive. It has that silicone, primer feel to it that gives the skin this soft, silky, smooth, glow to the skin that I love so much. But I don't know if I can continue to use it on my face if it keeps on sealing in sebum into my pores. And by the way, I have really oily skin. I think that may be the problem. This sunscreen would probably work better for someone that doesn't have skin problems like acne. Yeah, it's very unfortunate that I'm stuck with this annoying skin type. 😭 But it is what it is.
Maybe I'll keep using it around my eyes since it doesn't burn my eyes like other sunscreens. Or keep it for days that I wear makeup, which isn't an everyday thing. I love the higher SPF and PA too. Darn, I guess I'll have to find another sunscreen that has SPF 50+. And I guess it's a good thing that summer is over. I have tons of time to search for one. ha! I rather not have acne just because of a sunscreen. So, yeah, I'm back to my regular sunscreen. Yes, yes, I knew this was going to happen, lol. It's very hard to find a good sunscreen with high SPF that works on my skin. Canmake is a good sunscreen if you have normal skin without acne. For acne skin, test it out first, it may work for you. My skin just couldn't handle how heavy, occlusive it felt on my skin even though it made my skin look dewy and smooth. Good luck to all! 😊
Go here for more reviews on sunscreen!
Categories:
Tags:

Canmake, Canmake Mermaid Skin Gel, Canmake Mermaid Skin Gel UV SPF 50+ PA++++, Canmake Sunscreen, Experience, Mermaid Skin Gel, Mermaide Gel, Review, Skin Care, Skincare, SPF, SPF 50, Sunblock, Sunscreen, Update, UV Protection, UVA, UVB