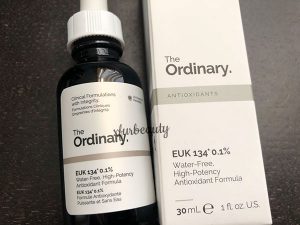 I've gone through a bunch of The Ordinary skin care products. Check out my review on other The Ordinary skin care products if you've missed out on them! So! On to The Ordinary EUK 134 0.1% Serum. I just had to try this serum out to see what it's about! This serum is an antioxidant. It prevents the loss of water and oxygen from the skin. It also helps to reduce redness and protects the skin from UV radiation. Sounds like any other antioxidant. But let's see if it works or not! I've had this serum for so long. I've used it on and off when I was off of acids. With the EUK serum, it can't be used with strong acids (like ascorbic acid). EUK would be completely destroyed (according to their website). With that thought in mind, here's my experience with EUK!
My experience
I took a break from acids to use this serum. Just to see if it'll work better for me. Once again, EUK and strong acids don't go well together. EUK would be rendered useless. So this serum is lightweight. It absorbs into the skin (takes time to completely absorb) but has an oily feel to it. Just like the many other The Ordinary skin care products that I have issues with, lol. I used it in the morning and night because I wasn't using anything else on my skin (no acids, just a basic, plain skin care routine). Honestly, I thought the serum felt oily on the skin and made my skin look oily too. There's only two ingredients in this serum. They are (of course) Propanediol and Ethylbisiminomethylguaiacol Manganese Chloride. I think it's the propanediol that I'm having issues with once again. I noticed blackheads in the most random places. I discontinued using it immediately.
As for results, it didn't do anything for redness. Sometimes I get some redness on my cheeks and nothing changed after using this serum. Also, I can't tell if it helped boost UV protection. Maybe it did, maybe it didn't. That's what it's supposed to do. I definitely didn't see improvements in my complexion using this serum. It just made my skin oily and dried it out at the same time. Making my skin look aged and wrinkly. After this experience, I don't think the EUK serum is for me. I know it's an antioxidant, but I think antioxidants that are acids just work better on my skin, such as vitamin c and retinol. They both help tame oilies in my skin, reduce acne, fade acne marks, and minimize wrinkles (or at least are better at preventing them). I can visually see changes in my skin using vitamin c and retinol, while the EUK serum didn't produce any results. It was a waste of time. Perhaps it may work better on someone that have very sensitive skin and can't tolerate acids at all.
This is what the serum looks like…
Pros & Cons
✅ Pros
An antioxidant alternative if skin can't tolerate acids
Affordable
❌ Cons
Oily and drying at the same time
May clog pores, blackheads
Didn't help with skin redness
Can't tell if it helped with UV protection
Conclusion
I thought this serum was such a waste. It didn't do anything for my skin. I don't see the point when there are acids that give me better results. Much, much better than this bottle of grease, lol. I just know that it's not for me. I won't repurchase, obviously. haha. Next!
Categories:
Tags:

Antioxidant, Beauty, Cruelty Free, EUK 0.1 Serum, EUK Serum, Redness, Review, Skin Brightener, Skin Care, Skincare, The Ordinary, The Ordinary EUK 0.1% Serum, The Ordinary EUK 134 0.1%, UV Protection, UVA, UVB, Vegan