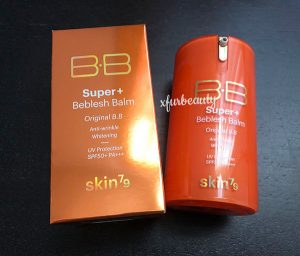 It's time for an update on Skin79 Super+ Beblesh Balm Orange! It's been 1 month of using this bb cream. I didn't use it every day, but I used it pretty often. This is what I think about it now! Here are my results! 🙂
I have a long history with this bb cream. It was my HG for so long that I was disappointed that it stopped working all of a sudden out of the blue. But I took the chance and decided to try it out again. Did it work this time? Did I break out from it? Did it clog my pores? What happened? So the first day of using it went well. I didn't have any issues with it in terms of breakouts. I think that's what I was most worried about. I didn't want to develop cystic acne or blackheads after trying it again. After using it for the first time again, I was ecstatic that I didn't notice any breakouts. My skin looked pretty good. There were no issues that bothered me too much besides how this bb cream is highly perfumed. I just can't get over the smell. I honestly don't remember if it smelled this way before. Who knows! So, overall, it all went well. Much better than I expected. This time, I really thought the bb cream was working for me again, since I loved how it contains a high SPF (SPF 50+ PA+++!!). It also provided good coverage while feeling somewhat lightweight on the skin. It didn't feel thick or heavy like other foundations I've used before. Also, it made my skin look flawless and just so much brighter and healthier looking! I wanted it to work, but…
Unfortunately, it didn't work for me this time. Not anymore. 😢 I started noticing blackheads on my forehead and some pimples on other parts of my face after using it. I didn't think it was this product but it is. I kept on getting random breakouts whenever I used it. I noticed the breakouts after removing my makeup at the end of the day. *sigh* I think this bb cream is just too heavy for my skin now even though it doesn't feel heavy on my skin. The texture and consistency feels much thicker than it is when it's on the skin. If that makes any sense, lol. It was one of the perfect bb creams I've used. I mean, I've used it for so many years until now. The bb cream made my skin appear dry sometimes too. I noticed dead skin on my face appearing more obvious. And it leaves my skin feeling and looking chalky and ashy due to the dryness. It's great at controlling oil but may be a little too much. Well, it looks like it didn't work out this time. I'm not going to try it again, haha. I think it's time to move on to something else or something new. After this, I'm pretty much over it. I still have a ton of product left too. This bb cream just isn't the same anymore. What really happened… 🤷🏻‍♀️
For more posts on Skin79 Super+ Beblesh Balm Orange…
Review: Skin79 Super+ Beblesh Balm Orange
Trying Skin79 Super+ Beblesh Balm Orange Again!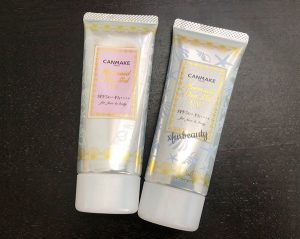 It's time for an update on Canmake Mermaid Skin Gel UV SPF 50+ PA++++!! I know, I know, I haven't used the White version for long, but I think I have a grasp on the effects it has on my skin by now. So, the burning question is, which one is better? The Clear version or the White version?? Hmmmm! Keep reading to find out! 👇🏻👇🏻👇🏻
When I first started using the the White version, I liked it. I thought it worked very similar to the Clear. Go here to read more on my first impression on the White version. I didn't have any issues with the white cast. That was the only thing I was worried about plus if the sunscreen is going to break me out. Fortunately, it didn't break me out, but the white cast got really annoying after a while. After using it, I don't think I can wear this sunscreen on my no makeup days. The white cast looks pretty obvious, lol. At first glance, it looks like it could work out, but it's just a no for me after a few days of using it, haha. I don't want to walk around having this white tint on my face. It does make the skin look brighter, but it's very noticeable. It's not as subtle as I thought it was. So that's a negative about this sunscreen and that's what most people complained about — the obvious white cast it leaves behind! Besides that, there's a few other things that bothered me about this sunscreen…
So the Clear and the White both are drying, but between the two, the White is a tad more drying on the skin. This sunscreen will attach itself to every single flake on the face (if there's any). I had to prep my skin before using the White version because my skin looked like a huge mess when I didn't moisturize my skin enough. I mean, you NEED to moisturize the skin before using the White version. Compared to the Clear, it appears that Titanium Dioxide is higher up on the ingredient list. That's why the sunscreen gives off a white cast and is more drying. But, at the same time, even if it's more drying, it really does help control excess sebum on my skin. It leaves a matte finish while the Clear made my face look like silicone and shiny. But I kind of like that dewy, shiny appearance to my skin. It makes my skin look so pretty and nice. I love the matte finish of the White too but the Clear makes my skin look pretty, lol. Also, the White version is more difficult to blend into the skin. The Clear version just smooths over much better and more effortlessly. Both feel drying on my skin at some point during the day (on my skin), but the Clear definitely wins when it comes to adding a little bit of moisture to the skin.
Now back to the obvious white cast! With the white cast, it looks awful when used alone (no makeup days). It made my skin appear dry and ashy. But, it seems to work very nicely when used underneath makeup. My foundation looks brighter and more even due to the the blank, white canvas it gives underneath the foundation. So that's another thing I do like about the White version (including the matte finish it provides for my oily skin). But I'm having mixed feelings about the White version. I somehow like it, but I don't. Honestly, I can see why most people like the Clear better. It just works better. It's easier to apply, no white cast, and makes the skin look beautiful. WELL! It looks like the winner between the two sunscreens is the Clear! Maybe I'll just use the White when I wear foundation or when my skin is feeling a little bit more oily, especially during the warmer months. Right now, I'm back to using the Clear. And I don't think I'm going to purchase the White again. Even though it's less expensive, it makes my daily morning routine much more difficult. I just don't have the time to blend in sunscreen. It should just easily melt into my skin (like the Clear version).
*sigh* I really wanted the White to work, but it's too difficult to use for every day. Would I recommend? Well, it could work for you, but the Clear is definitely a lot better between the two. I'm choosing the Clear! 👍🏻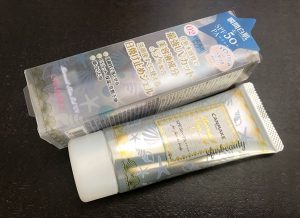 My package arrived today for Canmake Mermaid Skin Gel UV SPF 50+ PA++++ White!! 🙌🏻 I've been waiting for this sunscreen to arrive for a while. Finally! It's here! So, this time, I didn't purchase the Clear version. I chose the White version (02 White) instead. From what I know about the Clear and White, they should work just about the same. It's just that the White has a tone up effect on the skin. Making the skin look fairer and brighter. I've read not so good reviews on the White version while praising the Clear version. And the Clear is pretty good. No doubt about it. I mean, I've been using it for months now. But, I wanted to see if the White is similar to the Clear or if it could be even better. Also, fyi, the Clear costs a little bit more compared to the White version. Not by much. BUT STILL. I use sunscreen every single day, so I would like to (at least) save a little bit of money on sunscreen even if it's just a tiny little bit. Sunscreen can get very expensive over time, especially with reapplication and the amount that is used to get the full benefits from it! I feel like I go through it like no other. It's the skin care product that I use up the fastest. It's really insane. ha! Anyways, if you missed out on my previous posts on Canmake Mermaid Skin Gel UV SPF 50+ PA++++, you can go here:
Review: Canmake Mermaid Skin Gel UV SPF 50+ PA++++
An Update on Canmake Mermaid Skin Gel UV SPF 50+ PA++++!
Those were my past reviews. Some of my thoughts have changed, some haven't. Click on the link below for my most recent update on this sunscreen (Clear)! Just go to the section where I talk about sunscreen. ☀️
My most recent update on Canmake sunscreen in Clear! 👈🏻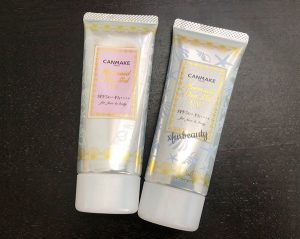 Here's a photo of both Canmake sunscreens. On the left, the Clear version. On the right, the White version.
My Experience With Canmake Mermaid Skin Gel UV SPF 50+ PA++++ 02 White
After going through several (I mean several!!! lol!) bottles of Canmake Mermaid Skin Gel UV SPF 50+ PA++++ in Clear, now I have the one in White. I've been curious about the White version but didn't go for it due to some reviews saying how it leaves a white cast on the skin after application. There were a lot of praises for the Clear version, and I use it and think it's a good sunscreen. BUT! I noticed that the White is a little bit cheaper compared to the Clear version. As I mentioned before, sunscreen gets expensive over time when used properly. So I bit the bullet and went for the White this time. Just to see if it'll work for me or not. You'll never know unless you try it right?? If it works out, great! I'll get the same sunscreen product, and I'll save a little bit of money, lol. If it doesn't work out, I'm still going to use it anyways, haha! I don't think it can be that bad considering that the ingredients are very similar. But we'll see how it goes! I'm excited for this! I hope it's good!
So the sunscreen is a gel. It's soft and smooth in texture and consistency. I didn't see anything out of the ordinary, distinguishable differences between this sunscreen (White) vs the Clear version besides the White version just appearing whiter in color. When applied to the skin, it feels just like the Clear. It feels like a watery gel that glides over the skin nicely and smoothly. It blends into the skin well. It also feels rather cooling and soothing on the skin. There is a little bit of a white cast, but I noticed a slight white cast with the Clear as well. But it fades away after a while it's been on the skin. With the White, wow, it's the same thing! There's a subtle white cast on the skin, but it didn't look super white. I thought it was subtle. I've used other sunscreens that left my face pure white and this sunscreen wasn't even near that. So it's not as super white on the skin like I thought it would be.
All in all, I think it feels and looks very similar to the Clear version. A subtle tone up? No problem there! I needed some of that glow up on my no makeup days anyways, hah! Also, wearing the White version with makeup was simple, I couldn't even tell if there was a white cast. My makeup just blends in and covers it up. So there ya have it! It works, and it's not too bad!
This is what Canmake sunscreen in 02 White looks like. It just looks whiter when dispensed from the bottle. It didn't look this white after blending it into the skin.
So it looks like the White version is just as good as the Clear version (on my skin). Keep in mind that I'm not that tan. Perhaps it may be different for someone with a richer complexion. Also, remember that this is from my experience after using it for ONE day. I just got the sunscreen and am very excited to test it out even more for the rest of the week! So far, it went well for today. Honestly, I'm really happy that it feels just like the Clear version. It seems to have the same effects on my skin like the Clear as well, such as drying out my skin just a little bit. That's a bad thing, lol. As I mentioned many times before, Canmake contains mineral filters, and mineral filters are notorious for drying out the skin (happens to me with mineral filters!!). But I'm still using it, haha! I didn't notice any breakouts by the end of the night either. It also worked very well as a makeup primer. It has the same smoothing, silky, silicone feel to the skin like the Clear version.
Yep! It seems like it's working! I think I may be making the switch to the White version soon if this is the way it's going. It works the same to me! No issues that I know of yet! But stay tuned for another update to see what happens. Sometimes stuff happens. 😲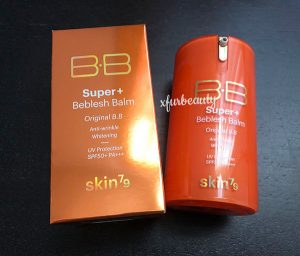 I'm testing out my previous skin care and makeup products again after leaving veganism. I have some products I'm still curious about. You know, the ones that I've used for 10+ years and all of a sudden stopped working out of the blue. I wanted to see if it was caused by the health issues I developed and experienced when I was vegan. So the last product I tried was a skin care product called Benton Fermentation Essence. You can read more about my experience with this product right here:
I Used Benton Fermentation Essence Last Night. This Is What Happened.
An Update on Benton Fermentation Essence. Did It Clog My Pores??
👆🏻 To find out what happened to my skin, feel free to click on the links!
Now on to this bb cream that has been one of my HG bb creams for so many years. I've used it for so long that I was extremely shocked that it caused breakouts. It was such a weird reaction. Now let's see if it still works or not. It should, right? How can something I've been using for so many years just stop working or change all of a sudden? The ingredients are the same as it was before! Has anyone experienced this? Anyways, so the bb cream I'm talking about today is Skin79 Super Plus Beblesh Balm Triple Function Orange BB Cream or what I call Skin79 Super+ Beblesh Balm Orange. Yes, I shortened the name of the product because the full name of the product was just way too lengthy, and I didn't want to keep saying it over and over (if I had to). Now on to my first time experience using this bb cream for a day!
My Experience Using Skin79 Super+ Beblesh Balm Orange for the First Time Again
The first day of using this bb cream felt very different and exciting. I haven't used it in so long that I can only recall how wonderful it used to be. How it provided good coverage, gave my skin a flawless look, and how it protected my skin from the sun because it contains a high SPF. This bb cream contains SPF 50+ PA+++!! That is on the high side of the spectrum for a bb cream and makeup product. No wonder why I always chose this bb cream over the rest that I had throughout the years. It's just that awesome. And it never broke me out. Really, it never did. I was so surprised a product like this worked on my skin since it does contain some comedogenic ingredients in it. But it worked and my skin was ok with it because it never clogged my pores. Sometimes it's not the individual ingredients alone that matters but the overall formulation of the product that matters if it'll work on your skin or not. Just gotta try it out to see if it works or not for yourself!
So this bb cream comes in an orange clunky pump bottle. It's rather big, but that never bothered me because it was an affordable and effective foundation for me over the years. I liked it. The product is only 1.35 fl. oz. (40 mL), but it seems to last for a very long time from my experience. I only purchased 1 bottle per year. Sometimes it'll last even longer than a year. The product when dispensed from the bottle is a light-medium beige color with strong yellow undertones. I wasn't bothered by the coloring of this bb cream. I mean, it's a little darker than my skin tone, but it's not that big of a deal. It blends into my skin just fine and the shade adjusts to my natural skin tone as it settles into the skin. The texture of the bb cream is soft, smooth, and creamy. It glides and smooths over my skin very nicely. Blends into the skin well and provides a lot more coverage compared to what I've been using! I would say it's medium coverage, but it's buildable.
With this bb cream, it did help cover up my dark under circles, some acne marks, and smoothed out the texture of my skin. Last time I used it, I experienced skin dryness, but I didn't experience dry skin this time. It actually helped to control excess sebum on my skin. Worked well on my oily skin! Even though it didn't dry out my skin, it did accentuate flaky skin. Oops, I think I just needed to exfoliate before using this bb cream, lol. Otherwise, my skin looked pretty good with the coverage that it gave me. The finish of this bb cream was dewy, semi-matte, not oily. It didn't accentuate fine lines and wrinkles like it did before. It gave my skin this flawless appearance to it. I love it! I'm very happy that my experience with this bb cream is very different this time. Also, I didn't break out after wearing it for only a day either. But who knows, it's only been a day. I think I'm going to keep using this bb cream and see how it goes. Everything is going well so far, except for this, which is the fragrance. It contains fragrance that smells like perfume, and it's pretty overwhelming.
That's my first day experience of using Skin79 Super+ Beblesh Balm Orange!! A new update coming up within a week or so!
Take a peek at my previous review if you wish ~ Skin79 Super+ Beblesh Balm Orange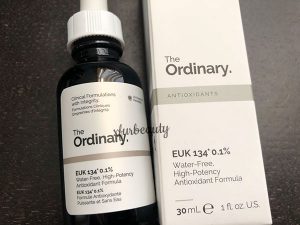 I've gone through a bunch of The Ordinary skin care products. Check out my review on other The Ordinary skin care products if you've missed out on them! So! On to The Ordinary EUK 134 0.1% Serum. I just had to try this serum out to see what it's about! This serum is an antioxidant. It prevents the loss of water and oxygen from the skin. It also helps to reduce redness and protects the skin from UV radiation. Sounds like any other antioxidant. But let's see if it works or not! I've had this serum for so long. I've used it on and off when I was off of acids. With the EUK serum, it can't be used with strong acids (like ascorbic acid). EUK would be completely destroyed (according to their website). With that thought in mind, here's my experience with EUK!
My experience
I took a break from acids to use this serum. Just to see if it'll work better for me. Once again, EUK and strong acids don't go well together. EUK would be rendered useless. So this serum is lightweight. It absorbs into the skin (takes time to completely absorb) but has an oily feel to it. Just like the many other The Ordinary skin care products that I have issues with, lol. I used it in the morning and night because I wasn't using anything else on my skin (no acids, just a basic, plain skin care routine). Honestly, I thought the serum felt oily on the skin and made my skin look oily too. There's only two ingredients in this serum. They are (of course) Propanediol and Ethylbisiminomethylguaiacol Manganese Chloride. I think it's the propanediol that I'm having issues with once again. I noticed blackheads in the most random places. I discontinued using it immediately.
As for results, it didn't do anything for redness. Sometimes I get some redness on my cheeks and nothing changed after using this serum. Also, I can't tell if it helped boost UV protection. Maybe it did, maybe it didn't. That's what it's supposed to do. I definitely didn't see improvements in my complexion using this serum. It just made my skin oily and dried it out at the same time. Making my skin look aged and wrinkly. After this experience, I don't think the EUK serum is for me. I know it's an antioxidant, but I think antioxidants that are acids just work better on my skin, such as vitamin c and retinol. They both help tame oilies in my skin, reduce acne, fade acne marks, and minimize wrinkles (or at least are better at preventing them). I can visually see changes in my skin using vitamin c and retinol, while the EUK serum didn't produce any results. It was a waste of time. Perhaps it may work better on someone that have very sensitive skin and can't tolerate acids at all.
This is what the serum looks like…
Pros & Cons
✅ Pros
An antioxidant alternative if skin can't tolerate acids
Affordable
❌ Cons
Oily and drying at the same time
May clog pores, blackheads
Didn't help with skin redness
Can't tell if it helped with UV protection
Conclusion
I thought this serum was such a waste. It didn't do anything for my skin. I don't see the point when there are acids that give me better results. Much, much better than this bottle of grease, lol. I just know that it's not for me. I won't repurchase, obviously. haha. Next!