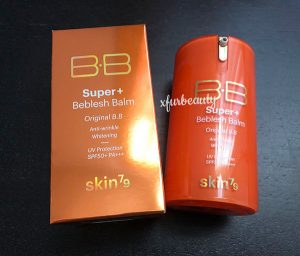 It's time for an update on Skin79 Super+ Beblesh Balm Orange! It's been 1 month of using this bb cream. I didn't use it every day, but I used it pretty often. This is what I think about it now! Here are my results! 🙂
I have a long history with this bb cream. It was my HG for so long that I was disappointed that it stopped working all of a sudden out of the blue. But I took the chance and decided to try it out again. Did it work this time? Did I break out from it? Did it clog my pores? What happened? So the first day of using it went well. I didn't have any issues with it in terms of breakouts. I think that's what I was most worried about. I didn't want to develop cystic acne or blackheads after trying it again. After using it for the first time again, I was ecstatic that I didn't notice any breakouts. My skin looked pretty good. There were no issues that bothered me too much besides how this bb cream is highly perfumed. I just can't get over the smell. I honestly don't remember if it smelled this way before. Who knows! So, overall, it all went well. Much better than I expected. This time, I really thought the bb cream was working for me again, since I loved how it contains a high SPF (SPF 50+ PA+++!!). It also provided good coverage while feeling somewhat lightweight on the skin. It didn't feel thick or heavy like other foundations I've used before. Also, it made my skin look flawless and just so much brighter and healthier looking! I wanted it to work, but…
Unfortunately, it didn't work for me this time. Not anymore. 😢 I started noticing blackheads on my forehead and some pimples on other parts of my face after using it. I didn't think it was this product but it is. I kept on getting random breakouts whenever I used it. I noticed the breakouts after removing my makeup at the end of the day. *sigh* I think this bb cream is just too heavy for my skin now even though it doesn't feel heavy on my skin. The texture and consistency feels much thicker than it is when it's on the skin. If that makes any sense, lol. It was one of the perfect bb creams I've used. I mean, I've used it for so many years until now. The bb cream made my skin appear dry sometimes too. I noticed dead skin on my face appearing more obvious. And it leaves my skin feeling and looking chalky and ashy due to the dryness. It's great at controlling oil but may be a little too much. Well, it looks like it didn't work out this time. I'm not going to try it again, haha. I think it's time to move on to something else or something new. After this, I'm pretty much over it. I still have a ton of product left too. This bb cream just isn't the same anymore. What really happened… 🤷🏻‍♀️
For more posts on Skin79 Super+ Beblesh Balm Orange…
Review: Skin79 Super+ Beblesh Balm Orange
Trying Skin79 Super+ Beblesh Balm Orange Again!
Categories:
Tags:

1 Month Update, Acne, Acne Prone Skin, Acne Skin, Anti-Aging, BB Cream, Beauty, Beblesh Balm, Blemish Balm, Cosmetics, Experience, Face Makeup, Foundation, Lifestyle, Makeup, Makeup Products, Oily Skin, Orange, Results, Review, Skin Care, Skin79 Super Plus Beblesh Balm Triple Function Orange BB Cream, Skincare, Sunscreen, Triple Functions, Update, Updated Review, UV Protection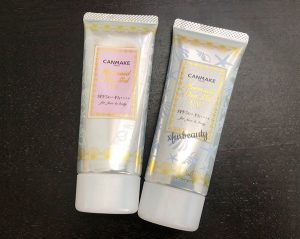 It's time for an update on Canmake Mermaid Skin Gel UV SPF 50+ PA++++!! I know, I know, I haven't used the White version for long, but I think I have a grasp on the effects it has on my skin by now. So, the burning question is, which one is better? The Clear version or the White version?? Hmmmm! Keep reading to find out! 👇🏻👇🏻👇🏻
When I first started using the the White version, I liked it. I thought it worked very similar to the Clear. Go here to read more on my first impression on the White version. I didn't have any issues with the white cast. That was the only thing I was worried about plus if the sunscreen is going to break me out. Fortunately, it didn't break me out, but the white cast got really annoying after a while. After using it, I don't think I can wear this sunscreen on my no makeup days. The white cast looks pretty obvious, lol. At first glance, it looks like it could work out, but it's just a no for me after a few days of using it, haha. I don't want to walk around having this white tint on my face. It does make the skin look brighter, but it's very noticeable. It's not as subtle as I thought it was. So that's a negative about this sunscreen and that's what most people complained about — the obvious white cast it leaves behind! Besides that, there's a few other things that bothered me about this sunscreen…
So the Clear and the White both are drying, but between the two, the White is a tad more drying on the skin. This sunscreen will attach itself to every single flake on the face (if there's any). I had to prep my skin before using the White version because my skin looked like a huge mess when I didn't moisturize my skin enough. I mean, you NEED to moisturize the skin before using the White version. Compared to the Clear, it appears that Titanium Dioxide is higher up on the ingredient list. That's why the sunscreen gives off a white cast and is more drying. But, at the same time, even if it's more drying, it really does help control excess sebum on my skin. It leaves a matte finish while the Clear made my face look like silicone and shiny. But I kind of like that dewy, shiny appearance to my skin. It makes my skin look so pretty and nice. I love the matte finish of the White too but the Clear makes my skin look pretty, lol. Also, the White version is more difficult to blend into the skin. The Clear version just smooths over much better and more effortlessly. Both feel drying on my skin at some point during the day (on my skin), but the Clear definitely wins when it comes to adding a little bit of moisture to the skin.
Now back to the obvious white cast! With the white cast, it looks awful when used alone (no makeup days). It made my skin appear dry and ashy. But, it seems to work very nicely when used underneath makeup. My foundation looks brighter and more even due to the the blank, white canvas it gives underneath the foundation. So that's another thing I do like about the White version (including the matte finish it provides for my oily skin). But I'm having mixed feelings about the White version. I somehow like it, but I don't. Honestly, I can see why most people like the Clear better. It just works better. It's easier to apply, no white cast, and makes the skin look beautiful. WELL! It looks like the winner between the two sunscreens is the Clear! Maybe I'll just use the White when I wear foundation or when my skin is feeling a little bit more oily, especially during the warmer months. Right now, I'm back to using the Clear. And I don't think I'm going to purchase the White again. Even though it's less expensive, it makes my daily morning routine much more difficult. I just don't have the time to blend in sunscreen. It should just easily melt into my skin (like the Clear version).
*sigh* I really wanted the White to work, but it's too difficult to use for every day. Would I recommend? Well, it could work for you, but the Clear is definitely a lot better between the two. I'm choosing the Clear! 👍🏻
Categories:
Tags:

Acne, Acne Skin, Anti-Aging, Anti-Wrinkle, Beauty, Canmake, Canmake Mermaid Skin Gel UV SPF 50+ PA++++, Clear, Clear Version, Clear Vesion, Experience, First Impression, Lifestyle, Mermaid Skin Gel, Review, Skin Care, SPF, SPF 50, Sun Care, Sun Protection, Sunblock, Sunscreen, Thoughts, Update, UV, UV Protection, White Version, Wrinkles