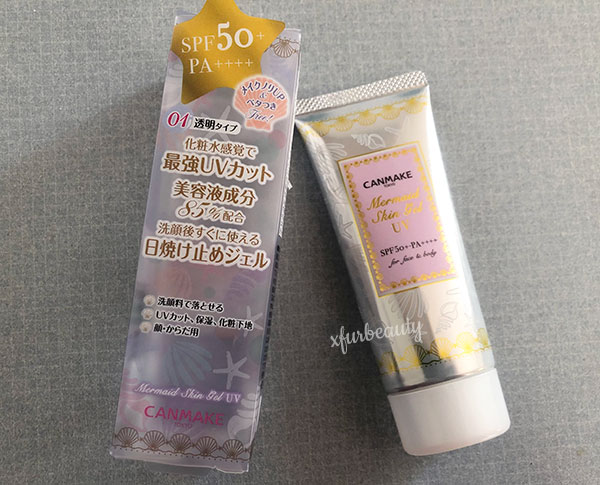 I have two products that I had a hard time giving up on. But I finally decided to let them go once I finish whatever I have left. They are Canmake Mermaid Skin Gel UV SPF 50+ PA++++ (Clear) and GUERISSON 9 Complex Cream. Let's start off with Canmake! 🧜🏻‍♀️
Canmake Mermaid Skin Gel UV SPF 50+ PA++++ (Clear):
I've been using Canmake Mermaid Skin Gel UV SPF 50+ PA++++ for over a year now. The sunscreen feels lightweight, gel-like, smooths over the skin, and doesn't leave any residue behind. It absorbs into the skin quickly due to it being a gel-based sunscreen. The finish is dewy. Sometimes it made my skin look shiny like plastic. I didn't like the finish of this sunscreen much. At first I did, but I got over it after a while. I love that this sunscreen is SPF 50+ PA++++, but this did not make a good summer sunscreen. I developed freckles and burned while using it. Maybe it's because it's not water or sweat-resistant. The sunscreen comes off easily. It feels skin-like (compared to most sunscreens I've used) and nice on the skin and all, but it doesn't work well in sweaty, humid, hot weather. I just know that my skin burned and noticed new freckles on my face. Since the weather is cooler now, I thought it would work better. But…that's not the case. It dried my skin out even with a moisturizer underneath. I have oily skin, and it made my skin feel extremely dry. I don't think it's worth it anymore. It's not an affordable sunscreen knowing how much sunscreen I use within a single day. It comes in a 40 g tube. It's really tiny. 😫 As for acne, it didn't break me out. One of the main reasons why I kept using it. But I have other sunscreens that are more affordable, accessible, and comes in larger bottles, which is better for my lifestyle. After going through numerous bottles and still finishing up what I have, I'm ready to give it up. I was really obsessed with this sunscreen at one point. I'm pretty much done with it now. I'm over it. It's not working on my fair complexion.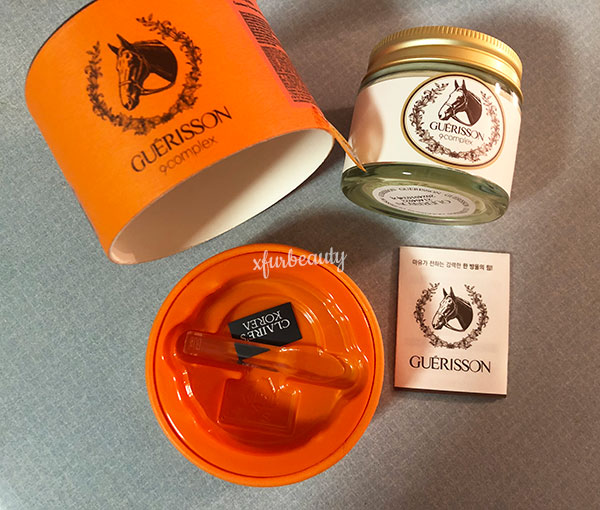 I've been using GUERISSON 9 Complex Cream since the beginning of this year. I'm on my 3rd jar. I still have one more jar of this product left to finish, lol. I thought I was going to keep it in my routine, but I changed my mind. So this cream feels rich, creamy, soft, and silky smooth. I loved the texture and consistency of the product when I first used it. It smooths over the facial skin nicely, but it doesn't seem to absorb into the skin well. It sits on top of the skin. This cream ended up clogging my pores after a few days. It could be the combination of ingredients too. It contains Horse Oil/Fat, Shea Butter, Niacinamide, Snail Secretion Filtrate, Peptides, Jojoba Seed Oil, to name a few. I was hoping to find a face cream that moisturizes, but this product did a terrible job at keeping my skin moisturized. It just didn't work. Also, I didn't like how it has a silicone feel to it. I can swish it around on my face. How it sits on the skin is so weird (plus the breakouts!!) that I stopped using it as a face cream and started using it as a neck/chest/eye cream instead. It worked better on those areas, except as an eye cream. The cream doesn't blend well under the eyes. I only used it as a neck and chest cream since. It's an OK product for those areas of the skin, but I've finally lost interest in this product. Lastly, it comes in a lot of packaging too (see photo above). Is that even necessary? It looks pretty excessive for a cream. And I hardly ever used the spatula that was included in the container. I think I'm ready to move on to something better, new. Possibly a product that comes with less packaging material. 👀
More products that I stopped using…
The Ordinary Matrixyl 10% + HA
Purito Centella Green Level Buffet Serum
The Ordinary Resveratrol 3% Ferulic Acid 3%
The Ordinary Caffeine Solution 5% + EGCG
Cosrx Advanced Snail 96 Mucin Power Essence
Categories:
Tags:

Acne, Acne Skin, Anti-Aging, Beauty, Canmake, Canmake Mermaid Skin Gel UV SPF 50+ PA++++, Experience, Face Cream, GUERISSON 9 Complex Cream, Horse Cream, Lifestyle, Mermaid Skin Gel, Mermaid Sunscreen, Mermaid UV Gel, Moisturizer, Review, Skin Care, Skin Care Products, Skin Care Routine, Skincare, SPF, SPF 50, Sunblock, Sunscreen, Wrinkles