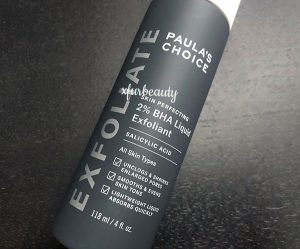 So I'm dealing with some random blackheads out of the blue and thought I would give Paula's Choice 2% BHA Liquid another chance. I didn't want to go purchase another bha liquid right now when I still have a full bottle of Paula's Choice 2% BHA Liquid. I didn't want to let it go to waste either. This bha liquid contains 2% salicylic acid. It's much stronger compared to another chemical exfoliant I'm using (Cosrx AHA BHA Clarifying Treatment Toner). Perhaps Cosrx is just way too gentle on my skin. I like it, but it's not helping much with deep, stubborn blackheads that won't budge. I needed something that's much stronger and much more effective against blackheads and acne in general.
I used Paula's Choice 2% BHA Liquid during the summer. It didn't go the way I thought it would. It gave me really bad acne. It wasn't the kind of acne where the skin breaks out initially before clearing up. I was just breaking out very horribly without seeing any improvements in my skin. So, this product has worked for me before. It's odd. If it has worked before, it should work again. Maybe my skin was just being weird. Something was going on. I don't know. Because this bha liquid was my to-go-to salicylic acid product at one point. I used it as my toner, and I never experienced my skin erupting in huge cystic acne or getting blackheads from it before. I thought I would try it again since I still have it, and my skin has transformed since. Now here are my thoughts on it!
I'm almost a week into using Paula's Choice 2% BHA Liquid. I started off using this bha liquid all over my face. I decided to just go for it. I didn't use a cotton pad. I didn't want to. This stuff isn't as affordable like it used to be, so I thought it would be a waste of product just pouring it onto a cotton pad. With this product, I dispense a little bit of product into my palm and gently pat it into my skin. There was a slight stinging sensation for 1-2 days, but it wasn't burning my face off. It settled into my skin just fine. And this is a chemical exfoliant. From my experience, that's a pretty normal thing to happen. After using the bha, I made sure I moisturized my skin like I've been doing (check out my moisturizers here).
The next morning, I woke up to very nice skin. It was less oily and shiny. No new blackheads from the product alone. It got rid of some annoying blackheads that I developed. My skin tolerated the product very well. No irritation or breakouts. So I continued to use it. The next day (day 2), I followed the same method as before. I noticed subtle breakouts around my nose and along my jaw, mouth area. There was one pimple underneath my eyebrow. That one hurt the most, lol. It looks like this bha liquid is doing its job. It helped to unclog some clogged pores that I didn't know existed or was just super stubborn. I'm on another acne treatment, but this product helped accelerate the process for clearer skin! Amazing! 🙌🏻
By day 3, some of the new breakouts healed. I noticed skin peeling from my face. My skin feels and looks smoother. It looks cleaner. I have less blackheads than before. Some of them turned into whiteheads. Uh oh. More acne? Yes and no, lol. By day 4, the new breakouts healed on their own. They would just crust off, and I'm left with even clearer and smoother skin. This is pretty amazing after not seeing any results during the summer months. Wow, is Paula's Choice 2% BHA Liquid finally working for me now? Because it's helping my acne. I know it's going to take much longer to clear out my pores, but I'm seeing visible improvements in my skin, and I'm just so thrilled that it's happening at a fast pace! By day 5 (today), my skin just looks so poreless and pretty. Also, I noticed that this product isn't stinging my skin as much anymore. Yay! I can't wait to finish up the week with this bha! It's doing wonderous things for my skin. So good, so far. It's working!! 👍🏻
For more posts on acne products 👈🏻
Categories:
Tags:

2% BHA Liquid, Acne, Acne Prone Skin, Acne Treatment, All Skin Types, BHA, BHA Exfoliant, BHA Liquid, Blackheads, Exfoliant, Experience, Oily Skin, Paula's Choice, Paula's Choice 2% BHA Liquid, Review, Skincare