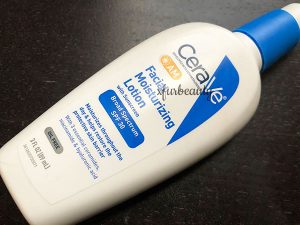 Hello everyone! 😊 This morning I noticed that I still had a nearly full bottle of CeraVe AM Facial Moisturizing Lotion with Sunscreen. I thought I would switch things up a little bit by wearing CeraVe AM Facial Moisturizing Lotion with Sunscreen as my SPF for the day! Since I don't have a main sunscreen anymore, I wanted to see what this sunscreen was like again. It's been quite some time since I've used it, and it's been sitting on my bathroom counter untouched. Instead of letting it go to waste, let's see if anything has changed since!
The last time I used this sunscreen, it made my skin oily and made me break out. So why am I using it again if it broke me out?? I'm just oh-so-curious that's all, lol. Maybe my skin has changed this time. Who knows. So this sunscreen is a mixed sunscreen. It contains filters, such as homosalate (10%), meradimate (5%), octinoxate (5%), octocrylene (2%), and zinc oxide (6.3%). It comes out soft, silky, and smooth. I liked the texture of this sunscreen very much. When I applied it to my skin, it felt very soft and moisturizing on my skin. Of course, it contains ceramides and hyaluronic acid for moisture. Awesome! Ceramides are amazing at moisturizing the skin but also repairing the moisture barrier. This is perfect timing to heal my skin while I'm on my acne treatment. I loved the the way the product felt on my skin, but I had a few issues…
It was very difficult to blend this sunscreen into my skin. I tried gently patting it into my skin, but it didn't work. I tried smoothing it across my face. Nope, didn't work well either. The sunscreen would leave white steaks on my face. There was also a slight white cast that I didn't like. It took so much time to apply sunscreen. Should it take this long? The answer is no. No, it shouldn't. I tried my best to make the sunscreen application look blended and even on my face, but I gave up when the sunscreen wouldn't budge and sat on my skin. I didn't want to tug at my skin and cause premature wrinkles plus other issues, so I left my skin alone. I went about my day with white streaks on my face, haha!
So I'm just happy that today was a Saturday and that I didn't have to worry about looking 'put together' that much. This was an experiment that didn't turn out the way I imagined it to be. Oh well. I can see why I stopped using CeraVe AM Facial Moisturizing Lotion on my face. The overall formulation of the product isn't good. I don't know how this sunscreen is working for anyone. White streaks? Very hard to blend into the skin? Tugging at the skin? White cast? It just didn't work out even though it didn't break me out after a day of use. But, who knows after a week, it could cause acne problems.
Those are my thoughts after using CeraVe AM Facial Moisturizing Lotion after a day once again. Will there be another try? I don't know. I have it, so I thought I would just try it again to see what happens. My skin sure does feel more moisturized and a tad brighter after a day of wearing it, so I got something out of it. At least it's not clogged pores. ☺
Have a great weekend everyone! 😎
More reviews on CeraVe skin care products go here!!
Categories:
Tags:

AM Moisturizing Lotion, Beauty, Ceramides, CeraVe, CeraVe AM Facial Moisturizing Lotion with Sunscreen, Daily Moisturizer, Experience, Hyaluronic Acid, Moisturizer, Moisturizer with SPF, Niacinamide, Review, Skin Care, Skincare, SPF, Sunblock, Sunscreen, Thoughts, Zinc Oxide