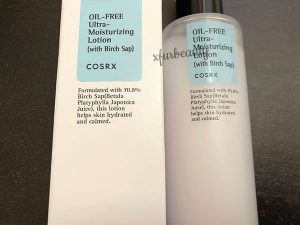 I have a new moisturizer! Kind of, lol. Here's a moisturizer that I've used before. It's Cosrx Oil-Free Ultra-Moisturizing Lotion (with Birch Sap). I'm always on the search for a good moisturizer for oily, acne-prone skin. Moisturizing my skin has transformed my skin and made using acne treatments so much easier. My skin isn't as dry, flaky, and looking wrinkly anymore. It helps to ease the negative symptoms considerably. I really like the way my skin looks now. 🙂 So this moisturizer is formulated with 70.8% Birch Sap (Betula Platyphylla Japonica Juice). It's supposedly a weightless subtle lotion that keeps the skin hydrated and calm. It contains natural ingredients, which are full of vitamins and antioxidants. Good for irritated skin. I was excited for this moisturizer, since I don't recall it breaking me out. I was just using so many products during that time that I had to drop it. I've been using it for a week. Here are my thoughts on it! I hope this is helpful! Enjoy!
My experience
This moisturizer comes in a 100 mL pump bottle. The product is a gel-lotion. It has a sweet lemon scent to it. Very citrusy. It reminds me of a carbonated drink. It smells pretty good. I like it. When applied to the skin, the texture of the lotion is lightweight, soft, and moisturizing. It feels more moisturizing compared to a gel moisturizer (since this one has a lotion feel to it). It glides on the skin smoothly and blends into the skin well. I really like the way it sinks into the skin. It doesn't leave any sticky residue behind. My skin just drinks up the product. It leaves my skin feeling moisturized without feeling heavy on the skin. Not a lot of moisturizers are like that. This one is different. I haven't broken out from it either (yet). I hope I don't! So far, no clogged pores. The product just smooths over my skin and does what it's supposed to do. And that is, leave my skin moisturized without feeling greasy or sticky.
The main ingredient in this moisturizer is Betula Platyphylla Japonica Juice. It's the first ingredient on the list. It also contains other beneficial ingredients, such as sodium hyaluronate, allantion, panthenol, lemon peel, and tea tree oil. Hmm, I did notice a slight tingling sensation when using this product. Lemon peel and tea tree oil explains it all. I love tea tree oil. Even though it's at the end of the ingredient list, it's one of the top natural ingredients that helps my acne. So I've been using this moisturizer in the morning and at night without any issues. It has helped decrease skin dryness (along with my other moisturizers, of course!!). But, I noticed a huge change in my skin once I started using it. Just a an observation. 🙂 It's been a great addition to my moisturizing routine. Definitely a game changer. Good for oily skin? Yep! Good for acne-prone skin that's dry and flaky? Yes!! It's working on my skin type.
Pros & Cons
✅ Pros
Provides lightweight moisture but leaves the skin feeling moisturized
Gentle on the skin
Absorbs well
Doesn't leave the skin feeling oily
No breakouts
Smells good (citrus)
❌ Cons
Stings a little bit (at the beginning)
Annoying plastic bottle with pump
Conclusion
After using this moisturizer for a week, I'm falling in love with it! I look forward to using it, since it moisturizes my skin without breaking me out. I'm currently just trying to find all of the moisturizers that I can that doesn't break me out. This one's been great so far. My skin is lightly moisturized throughout the day, the product smells good, absorbs into the skin nicely without feeling greasy, and I haven't had any problems with it yet. Oh, except for the annoying packaging! It's in a plastic pump bottle just like Cosrx Advanced Snail 96 Mucin Power Essence and Cosrx Hyaluronic Acid Hydra Power Essence. 👎🏻 Otherwise, the moisturizer works…
Categories:
Tags:

Acne Prone Skin, Acne Skin, Birch Sap, Cosrx, Cosrx Oil-Free Ultra-Moisturizing Lotion, Cosrx Oil-Free Ultra-Moisturizing Lotion (with Birch Sap), Cosrx Skin Care, Dry Skin, Experience, Gel Moisturizer, Lotion, Moisturizing Lotion, Oil-Free, Oily Skin, Review, Reviews, Skin Care, Skincare, Thoughts