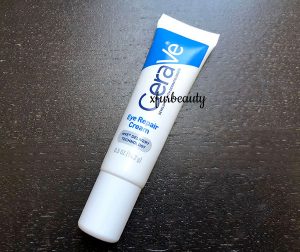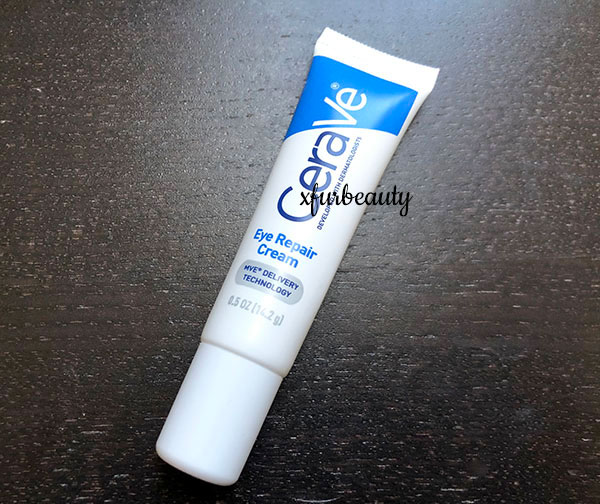 I haven't done a review on an eye cream in a while. I'm here to share my thoughts on CeraVe Eye Repair Cream! This is a popular brand. I did a few other reviews on this brand. Check them out by clicking here!! Now back to the eye cream! So this eye cream is supposed to help with the appearance of dark eye circles and puffiness. It's a non-greasy and fast-absorbing formula. Has a patented delivery system that continually releases moisturizing ingredients for all day hydration. Contains ceramides, hyaluronic acid, and niacinamide. It's non-comedogenic, fragrance-free, ophthalmologist-tested, allergy-tested, and is for all skin types. I've been using this eye cream for nearly a year now. I'm two months shy of making it into a year. 🙃 I'm almost there! But here's my experience and results from using this product!
My experience
This eye cream when dispensed comes out like a cream (what it is). It's not the soft and creamy kind of texture. It's more like a slightly thicker cream. When applied to the under eyes, it's soft and gentle on the delicate eye area. It doesn't blend into the skin too well. It takes a little bit of time to get the eye cream to blend and absorb into the eye area. It's doable but be patient. Don't try to force it to blend, absorb. It'll eventually sink into the skin. The cream is non-greasy and doesn't leave shine behind. It doesn't contain fragrance either.
So the ingredients in this product are pretty good. It contains ceramides, hyaluronic acid, and niacinamide. It also has a list of other ingredients, such as dimethicone, sweet almond oil, vitamin e, and a bunch of other ingredients. Well, it's not a minimal skin care product if that's what you're searching for, lol. That doesn't mean it's a bad product. I really like ceramides in skin care products. It always leaves my skin feeling moisturized, ultra smooth, and just so soft! My skin feels amazing afterwards!
It's been about 10 months of using CeraVe Eye Repair Cream. Moving on to a year soon! Wow, that's insane!!! I can't believe it's almost been that long, hah! As for results, I love how moisturizing it is. Ceramides are amazing at moisturizing the skin. But I haven't noticed any changes in dark under eye circles or puffiness. Yeah, it makes a good eye moisturizer but that's it. Hmmm! Even though it didn't give me the results as advertised (for dark under eye circles, puffiness), since I already have the product, I'm going to continue to use it. It won't hurt to keep it around. Let's see what it can do after the 1 year mark!
Pros & Cons
✅ Pros
Moisturizing eye cream
Soft and gentle on the skin
Contains ceramides, hyaluronic acid, niacinamide
Non-greasy
Fragrance-free
❌ Cons
Takes some time to blend and absorb into the skin
Didn't help with dark under eye circles or puffiness
Conclusion
I'm going to keep this eye cream in my routine. I still have a ton of product left. I'm not going to quit now, haha! It does a great job at keeping my under eye area moisturized. But, unfortunately, it didn't help with my dark under eye circles or whenever my eye area feels/looks puffy. That's what it's advertised for. No changes there. From my experience with eye creams, most of them didn't help with dark under eye circles. They're just richer, thicker moisturizers for the eye area. As for me, I do like eye creams, since they're made for the sensitive eye area. Would I recommend this eye cream? As a good moisturizer for the eyes, yes. If you're searching for something for dark under eye circles or puffiness, try it out yourself to see if it works for you or not. Everyone's skin is different. I just didn't see results for those skin issues on my skin.
Review: CeraVe AM Facial Moisturizing Lotion with Sunscreen
Review: CeraVe Acne Foaming Cream Cleanser
Review: CeraVe Daily Moisturizing Lotion for Normal to Dry Skin
So I picked up CeraVe Moisturizing Cream…
Picked up a tub of CeraVe Healing Ointment!
My thoughts on CeraVe Moisturizing Cream after 1 Month!
I tried CeraVe AM Facial Moisturizing Lotion with Sunscreen again for a day.
Categories:
Tags:

All Skin Types, Ceramides, CeraVe, CeraVe Eye Repair Cream, CeraVe Products, Dark Circles, Experience, Eye Care, Eye Cream, Fragrance-Free, Hyaluronic Acid, Niacinamide, Non-Comedogenic, Skin Care, Skincare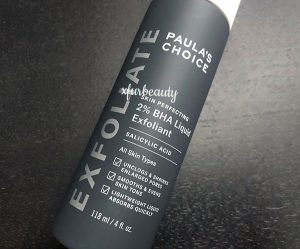 So I'm dealing with some random blackheads out of the blue and thought I would give Paula's Choice 2% BHA Liquid another chance. I didn't want to go purchase another bha liquid right now when I still have a full bottle of Paula's Choice 2% BHA Liquid. I didn't want to let it go to waste either. This bha liquid contains 2% salicylic acid. It's much stronger compared to another chemical exfoliant I'm using (Cosrx AHA BHA Clarifying Treatment Toner). Perhaps Cosrx is just way too gentle on my skin. I like it, but it's not helping much with deep, stubborn blackheads that won't budge. I needed something that's much stronger and much more effective against blackheads and acne in general.
I used Paula's Choice 2% BHA Liquid during the summer. It didn't go the way I thought it would. It gave me really bad acne. It wasn't the kind of acne where the skin breaks out initially before clearing up. I was just breaking out very horribly without seeing any improvements in my skin. So, this product has worked for me before. It's odd. If it has worked before, it should work again. Maybe my skin was just being weird. Something was going on. I don't know. Because this bha liquid was my to-go-to salicylic acid product at one point. I used it as my toner, and I never experienced my skin erupting in huge cystic acne or getting blackheads from it before. I thought I would try it again since I still have it, and my skin has transformed since. Now here are my thoughts on it!
I'm almost a week into using Paula's Choice 2% BHA Liquid. I started off using this bha liquid all over my face. I decided to just go for it. I didn't use a cotton pad. I didn't want to. This stuff isn't as affordable like it used to be, so I thought it would be a waste of product just pouring it onto a cotton pad. With this product, I dispense a little bit of product into my palm and gently pat it into my skin. There was a slight stinging sensation for 1-2 days, but it wasn't burning my face off. It settled into my skin just fine. And this is a chemical exfoliant. From my experience, that's a pretty normal thing to happen. After using the bha, I made sure I moisturized my skin like I've been doing (check out my moisturizers here).
The next morning, I woke up to very nice skin. It was less oily and shiny. No new blackheads from the product alone. It got rid of some annoying blackheads that I developed. My skin tolerated the product very well. No irritation or breakouts. So I continued to use it. The next day (day 2), I followed the same method as before. I noticed subtle breakouts around my nose and along my jaw, mouth area. There was one pimple underneath my eyebrow. That one hurt the most, lol. It looks like this bha liquid is doing its job. It helped to unclog some clogged pores that I didn't know existed or was just super stubborn. I'm on another acne treatment, but this product helped accelerate the process for clearer skin! Amazing! 🙌🏻
By day 3, some of the new breakouts healed. I noticed skin peeling from my face. My skin feels and looks smoother. It looks cleaner. I have less blackheads than before. Some of them turned into whiteheads. Uh oh. More acne? Yes and no, lol. By day 4, the new breakouts healed on their own. They would just crust off, and I'm left with even clearer and smoother skin. This is pretty amazing after not seeing any results during the summer months. Wow, is Paula's Choice 2% BHA Liquid finally working for me now? Because it's helping my acne. I know it's going to take much longer to clear out my pores, but I'm seeing visible improvements in my skin, and I'm just so thrilled that it's happening at a fast pace! By day 5 (today), my skin just looks so poreless and pretty. Also, I noticed that this product isn't stinging my skin as much anymore. Yay! I can't wait to finish up the week with this bha! It's doing wonderous things for my skin. So good, so far. It's working!! 👍🏻
For more posts on acne products 👈🏻
Categories:
Tags:

2% BHA Liquid, Acne, Acne Prone Skin, Acne Treatment, All Skin Types, BHA, BHA Exfoliant, BHA Liquid, Blackheads, Exfoliant, Experience, Oily Skin, Paula's Choice, Paula's Choice 2% BHA Liquid, Review, Skincare