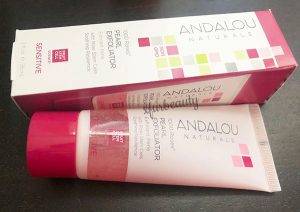 So I have another Andalou Naturals skin care product to talk about. Yes, another one! lol. If you missed out on my previous reviews on Andalou Naturals skin care products, click on the links below to check them out!
Review: Andalou Naturals Luminous Eye Serum
Review: Andalou Naturals 1000 Roses Eye Revive Contour Gel
The product I'm sharing this time is Andalou Naturals 1000 Roses Pearl Exfoliator. I was on the quest to find an amazing facial scrub. I thought I would give the brand Andalou Naturals a try. So this exfoliator is a mineral exfoliator with alpine rose stem cells. It gently sweeps away impurities, dull skin, and dry skin. Contains pomegranate to uplift tone. Has moisture-binding humectants to help revive skin's hydro lipid barrier for a flawless looking complexion. It's non-GMO, gluten-free, vegan, cruelty-free, pH balanced, hypoallergenic, and dermatologist tested. I finished the whole product. Now here are my thoughts on it!
My experience
This product is a gel with very tiny exfoliating beads in it. The beads are not harsh or abrasive. They're smooth. This exfoliator is indeed very gentle on the skin. It didn't burn or irritate my skin. I want to emphasize the gentleness of this facial scrub because it truly is. Even though I love how gentle it is on the skin, I wish it was more exfoliating and actually did something for my skin. I didn't think it did anything. I saw no improvements in the condition of my skin. I still had dead skin stuck to my face after use. It's supposed to be an exfoliator, right? Shouldn't it remove dead skin cells and leave my skin feeling softer and smoother afterwards? It just didn't do anything. It's too gentle. The amount of beads in this product is very sparse. It feels more like a facial cleanser than an exfoliator/facial scrub. Since the exfoliator was terrible at removing dead skin cells, I tried pressing the exfoliating beads onto my skin a little more. Giving it a little bit more pressure to feel the beads on my facial skin, but that didn't work either. It didn't help remove dead skin from my face. From this experience, I think this exfoliator is just too weak and just not right. When I'm exfoliating my facial skin, I want the process to be a smooth, effortless, and natural as much as possible. For that reason, I didn't like this facial scrub. I wasn't happy finishing the product. It's just a very bad product.
Pros & Cons
✅ Pros
Extremely gentle on the skin
Good for sensitive skin
Cruelty-free
Vegan
❌ Cons
Not enough exfoliating beads in this product.
Doesn't exfoliate the skin. I still had dead skin stuck on my skin after use.
Conclusion
Another Andalou Naturals product down. This exfoliator was just really bad. It didn't exfoliate like it's supposed to. It didn't sweep away impurities, dull, dry skin or uplift the tone. It didn't leave my skin looking flawless. My complexion didn't glow afterwards. I had no results from this product. It was a waste of money. I won't purchase again. It's not an exfoliator I would recommend. Don't buy.
Categories:
Tags:

1000 Roses, Andalou Naturals, Andalou Naturals 1000 Roses Pearl Exfoliator, Beauty, Cruelty Free, Exfoliator, Experience, Face Scrub, Facial Scrub, Gluten-Free, Hypoallergenic, Mineral Pearl Exfoliator, Non-GMO, Pearl Exfoliator, Results, Review, Skin Care, Skincare, Vegan