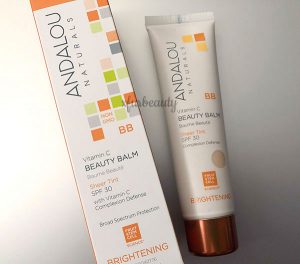 Here's a beauty balm that I used last summer. It's been sitting in my makeup bag unused. I still have ton of product left. I decided to try it again to see if it works. I didn't like it the first time. Let's see if it's any different this time around. I didn't want to let it go to waste. Either way! Let's try it! The makeup product is Andalou Naturals Vitamin C Beauty Balm. Yep, another Andalou Naturals product. I did a bunch of reviews on this brand in the past week or so. Check them out if you haven't yet!
Andalou Naturals 1000 Roses Eye Revive Contour Gel
Andalou Naturals 1000 Roses Pearl Exfoliator
Andalou Naturals 1000 Roses Rosewater Mask
Andalou Naturals Luminous Eye Serum
Andalou Naturals Clear Skin Lemon Sugar Facial Scrub
Here's some info on Andalou Naturals Vitamin C Beauty Balm real quick! >>> It's a bb cream that contains fruit stem cell complex and vitamin c. A multi-benefit balm providing broad spectrum from zinc oxide. A natural, sheer mineral tint for flawless coverage in one easy step! 98% nature derived, vegan, vegetarian, gluten-free, and cruelty-free.
That's awesome! I was attracted to this bb cream because it contains vitamin c and utilizes zinc oxide to protect the skin from harmful UVA and UVB rays! I wanted a bb cream that'll improve my complexion and also has some good SPF in it. This bb cream just looked so appealing and natural, so that's why I purchased it in the first place. This is round 2 of using the bb cream. And, also, it's the first day. Here are my thoughts! 👇🏻👇🏻👇🏻
My experience
This bb cream comes in a 2 fl. oz. (58 mL) tube with a twist cap. The product is a thick cream when dispensed from the tube. It feels soft and creamy. The shade is light-medium beige. It has a citrus smell to it. It smells really good. It makes me think of oranges. 🍊 YUM! This bb cream goes on the skin very well. It soft, blendable, and leaves the skin feeling moisturized due to how thick and rich the bb cream feels. Does it feel heavy on the skin? I would say it's between lightweight and heavy, so in the middle. Not too light and not too heavy. It leaves a dewy finish behind. Makes the skin feel a bit sticky though. It feels very moisturizing on the skin.
As for coverage, it is a sheer tint (as it claims to be), so it doesn't provide any coverage for dark under eye circles, blemishes, acne marks, and so on. It does help even out the skin tone a little bit and makes it appear brighter. I think that has to do with the zinc oxide in this product. If you're worried if this bb cream leaves a white cast on the skin, I'm sorry, it does! So if you have a darker, richer complexion, this may not work for you, but you can try it out if you want. It made my skin look a little whiter. Back to the zinc oxide, I love zinc oxide, but since it contains zinc oxide, if you have dry patches or dry skin in general, it might accentuate those areas. I noticed some dry skin on my face looking more obvious after applying this bb cream. The bb cream feels moisturizing on the skin, but it makes dry patches more noticeable. Something else about this bb cream I noticed is that it moves around on the face and settles into creases easily.
The bb cream utilizes vitamin c in the form of magnesium ascorbyl phosphate. This isn't the most effective vitamin c on my skin, but I love that it still has it. I love makeup and skin care that have vitamin c. Vitamin c helps to even out the skin tone, brighten it, and fights against free radicals and aging. But, unfortunately, I haven't noticed a difference in my complexion after using this product (today and last year). My skin didn't look brighter, more even toned, or even better. But it's nice to have it in the product along with my skin care. I just can't get enough of vitamin c, lol.
This is what the bb cream looks like. It's a light-medium beige color.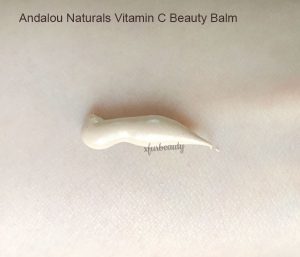 Pros & Cons
✅ Pros
Moisturizing
Contains SPF 30 (20.0% Zinc Oxide)
Contains vitamin c (magnesium ascorbyl phosphate)
Makes the skin look brighter (visually)
❌ Cons
Feels sticky on the skin
No coverage at all
Not long-lasting during the summer months
Not made for humid weather
Doesn't sit on the skin well, creases
Conclusion
My first time trying this bb cream wasn't too bad. My previous experience with this bb cream was much worse. I wonder if it has to do with the change in weather (summer vs winter). So I'm glad things are turning out differently this time. I would love for this bb cream to work. I've been searching for one that contains vitamin c and zinc oxide to brighten my skin and protect my skin from the sun. This hits both of those points. Also, it feels moisturizing on the skin. I'll put up with the stickiness and creasing if it works out. haha. All in all, the only thing that bothers me about this bb cream is that it settles into dry patches on the skin. I hope it stops doing that, but we'll have to see. Stick around for a new update in a week. See you all there! 😊
For more reviews on bb creams and makeup click here.
Categories:
Tags:

Acne, Acne Skin, Andalou Naturals, Andalou Naturals BB Cream, Andalou Naturals Vitamin C Beauty Balm, Anti-Aging, BB Cream, Beauty, Beauty Balm, Blemish Balm, Cosmetics, Experience, Foundation, Lifestyle, Makeup, Review, Sheer Tint, Skin Care, Skincare, Tined Moisturizer, Tinted, Vitamin C, Vitamin C BB Cream