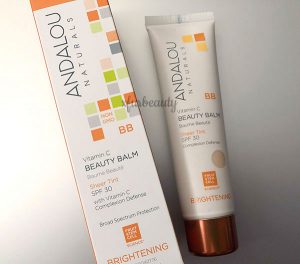 I had Andalou Naturals Vitamin C Beauty Balm on all day. Here's my first review on this bb cream right here. Now on to my thoughts on this bb cream! I thought it would take a week for me to make up my mind on this bb cream. Nope! Here are the results!
So I had OK results the first time I used it. The only thing that truly bothered me about the bb cream is that it would accentuate dry patchy skin. Well, sadly, that didn't change as the day went on having this bb cream on my face. My skin looked worse by the end of the night. I think the zinc oxide in this product is way too drying for my skin. I love how it protected my skin from the harsh UVA and UVB rays, but I'm not going to walk around with dry patches of skin on my face like I did today. That's one aspect I didn't like about the bb cream — it accentuates dry skin/patches on my face. There are other aspects of this bb cream that I tried to make work but couldn't, but it started to bother me real quick. My skin just looked terrible with this bb cream on in many other ways.
The bb cream felt too moisturizing and heavy on my skin. Even though this bb cream feels very moisturizing (and accentuated dry skin at the same time). It's a combination of moisturizing and making it look dry. It's has a weird moisture/dry effect on the skin. I didn't like it at all. So the bb cream felt too heavy on my skin. I've used other bb creams before that provided more, better coverage and felt more lightweight on the skin. The instructions on this product does state that it can be used daily alone or under makeup. Apply liberally 15 minutes before sun exposure and as needed. I only used it alone this time. I used it as a makeup primer before (under makeup). It just made my skin look so fake and caked. Also, applying liberally and as needed, with this bb cream, is a bit too much. It felt like there's a thick layer of makeup every time I apply this bb cream to my face. Layer after layer. No, just no. haha.
As mentioned before, it dried my skin out. I want to elaborate more on that. The bb cream didn't just accentuate dry patches, but it made the overall appearance of my skin look drier even though it didn't leave my skin feeling dry. Visually, the bb cream did not look nice on my skin. I want my makeup to look neat when applied to my skin. This bb cream just made it look like a huge mess. And I applied it correctly to my face. How can anyone mess up on that? It just didn't look good in the end. Just a huge pile of goop on the face. Yuck! The zinc oxide is definitely the culprit of the dryness. I've used other skin care products and makeup with zinc oxide, and they all dried my skin out and made it look aged. Also, the bb cream didn't stay put on my skin. After applying the bb cream to my face, it would swish around. It doesn't sit and cling on to the skin well. It moves around. It would transfer on to my clothes. If I gently just itched my face, the bb cream would smear and leave a makeupless spot on my face. It creased on my eyelids too. I found a thick chunk of product in the crease of my eyelids, lol.
Last but not least, it made me breakout! I don't recall this product making me breakout last summer, but it did by the end of the day. I noticed two little pimples on my chin. Ugh! Why did I bother trying this bb cream again??!! 😭 Hopefully it goes away soon! I feel that the bb cream is way too heavy, way too moisturizing, and way too cakey for my skin. It's thick, oily, and greasy. It felt like thick makeup suffocating my skin. I won't be trying it again. It didn't work before. It didn't work this time around. Never again. On to something new…
Categories:
Tags:

Acne, Acne Skin, Andalou Naturals, Andalou Naturals Vitamin C Beauty Balm, Anti-Aging, Antioxidant, BB Cream, Beauty, Beauty Balm, Blemish Balm, Cruelty-Free, Experience, Lifestyle, Makeup, Makeup Review, Results, Review, Sheer Tint, Skin Care, Skincare, Sun Protection, Sunblock, Sunscreen, Tinted Moisturizer, Update, Vegan, Vitamin C, Zinc Oxide