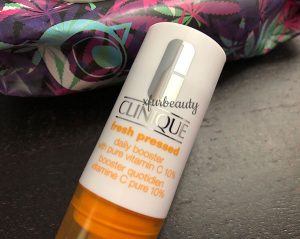 I received a sample of Clinique Fresh Pressed Daily Booster with Vitamin C 10% with my purchase! It's a vitamin c serum that's pure and fresh to help visibly brighten, even, and retexturize the skin. It's for dull, uneven skin, fine lines, wrinkles, dark spots, and aging skin. Skin that's textured. For dry, normal, combination, and oily skin. Doesn't contain parabens and phthalates. So I finished the whole sample of this product. Here are my thoughts on it!
My experience
I ended up not using the product on my face. It contains algae extract. From my experience with this ingredient, it clogs my pores terribly. So, I just used the product on my neck and décolletage. The product comes in vial where you press the top of the vial (rubber part) to dispense the product. The opening of the product (where the product comes out) is sealed when new (yesss!!). On the vial, it says to use the product within 7 days after activation. More about this soon…
So the product is a serum. It feels very gentle and moisturizing on the skin. Compared to other vitamin c serum I have used, it's a bit stickier and heavier. It's definitely not lightweight, but it's not super heavy on the skin. Very hydrating. As for results, I didn't notice a brightening effect on my skin. Honestly, I can't tell fully. Maybe I have to use it a little longer to see results. This product has a short use by date (7 days). After 7 days, I had a ton of product left. I still used it, by the way, lol.
Since the formulation of the product isn't compatible with my skin type, I'm not too ecstatic about this product. This isn't something I would purchase. The application bottle is weird and wasteful. Too much product comes out when dispensing the product. This is with only pressing the top of the vial once. With my other vitamin c products, I only use a few drops of product for the whole face plus neck/décolletage. It felt forced to use more product than necessary with the Clinique. I'm going to have to pass on this vitamin c. It's not going to work for me.
Pros & Cons
✅ Pros
Moisturizing
Gentle on the skin
Utilizes Ascorbic Acid
❌ Cons
Not for acne-prone skin (on my skin, it doesn't work, could work for you)
Annoying packaging
Didn't brighten up my skin
Too much product comes out (wasteful)
Conclusion
This vitamin c serum didn't work for me. I didn't see results upon the first application. The instructions on this product actually states that you'll see brighter skin with the first application. Um, no, I didn't. Even though I didn't use it on my facial skin. I would've noticed brighter skin on my neck and décolletage if there were any. It didn't look any brighter. But this vitamin c serum is moisturizing, which could help with fine lines and wrinkles. Moisturizing the skin is very important to keep the skin looking soft and fresh. Too bad it's not for my skin type. It was nice to try out.
For more reviews on vitamin c products 👈🏻
Categories:

Anti-Aging, Antioxidant, Beauty, Serum, Skin Brightener, Skin Care
Tags:

Acne, Acne Marks, Acne Prone Skin, Acne Scars, Acne Skin, Age Spots, Anti-Aging, Antioxidant, Booster, Brightening, Clinique, Clinique Fresh Daily Booster with Vitamin C 10%, Clinique Skin Care, Experience, Hyperpigmentation, Lifestyle, Review, Skin Care, Skincare, Vitamin C, Vitamin C Serum