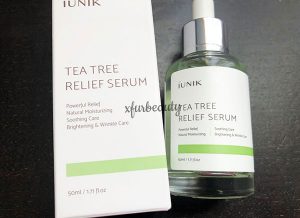 I'm currently using iUNIK serums. They are the Propolis Vitamin Synergy Serum and Black Snail Restore Serum. Go here to read more about them! I do have the Tea Tree Relief too. I first purchased it because it's a tea tree serum. I thought it could at least help with my acne (during that time). So this serum contains 67% tea tree extract and 19.5% centella extract. Both of these ingredients help to soothe the skin, reduce acne, brighten the complexion, and refine skin texture. On the label of the product, it states powerful relief, natural moisturizing, soothing care, brightening, and wrinkle care. I've had this serum for as long as I can remember. Possibly around the same time as the other iUNIK serums. Now I'm here to share my experience with the tea tree serum!
My experience
This serum is mint green in color. It looks really pretty. I was intrigued by it. But, it was really the tea tree that drew me in. I wanted a serum that's moisturizing and helps to reduce acne. And tea tree seems to work for my skin type. So, this serum doesn't contain pure tea tree (or tea tree oil). Looking at the ingredients, it contains Melaleuca Alternifolia (Tea Tree) Leaf Water. It's the diluted version of tea tree. It won't be as strong and effective as actual tea tree oil. But that's ok. Let's get into the feel and effectiveness of the product!
I use about 1-2 drops for the whole face and neck area. It feels just like the other iUNIK serums. It's soft, gentle on the skin, moisturizing. It has a stickiness to it. But it absorbed into the skin quite well leaving the skin feeling soft, glowy, and simply just hydrated. I liked the way the serum felt on my skin. After a few weeks of using this serum, I noticed tiny little clogged pores. I looked at the ingredients again. It contains wheat germ extract. Yeah, I should've known but sometimes skin care products work even if it contains comdeogenic ingredients. I wanted to try it out anyways, lol. Well, I stopped using this serum on my face because of the breakouts. It didn't work for my face, unfortunately.
The product does sound promising. It contains other ingredients like centella, niacinamide, licorice, and a bunch of other extracts that's good for the skin. I just can't use products with wheat germ extract. SO! I think it's very similar to the other iUNIK serums. They all seem to do the same thing. And that is to moisturize, soothe the skin, and leaves the skin feeling softer. I haven't noticed brightening from any of them (including the tea tree). It's a good moisturizing serum. And if you don't have any issues with the other ingredients in this product and want a tea tree product, this may work. I can't use it due to the wheat germ extract, lol.
Pros & Cons
✅ Pros
Moisturizing
Contains tea tree water
Soothing
Gentle on the skin
Makes the skin feel softer
❌ Cons
Broke me out (may work for you!)
Didn't brighten my skin
Conclusion
The tea tree was my least favorite out of the three (Propolis Vitamin Synergy, Black Snail Restore, Tea Tree) iUNIK serums I have used. The tea tree didn't help with my acne. I think it's too weak to do anything. I have major acne issues. I need something more potent and actually does something. I need to feel and see the changes, lol. With the tea tree iUNIK serum, all it does is just soothe and moisturize. That's what my other iUNIK serums do too. After my experience with iUNIK Tea Tree Relief Serum, I won't purchase again. I didn't really like it.
For more posts on iUNIK serums 👇🏻
Review: iUNIK Propolis Vitamin Synergy Serum
Review: iUNIK Black Snail Restore Serum
Trying iUNIK Propolis Vitamin Synergy Serum again. Let's see if it works! After 2 days… 🙂
Trying iUNIK Black Snail Restore Serum again. My Experience…
Categories:
Tags:

Acne Prone Skin, Acne Skin, Anti-Aging, Brightening, Dry Skin, Experience, Hydrating, iUNIK, iUNIK Tea Tree Relief Serum, Moisturizing, Skin Care, Soothing, Tea Tree, Wrinkle Care, Wrinkles