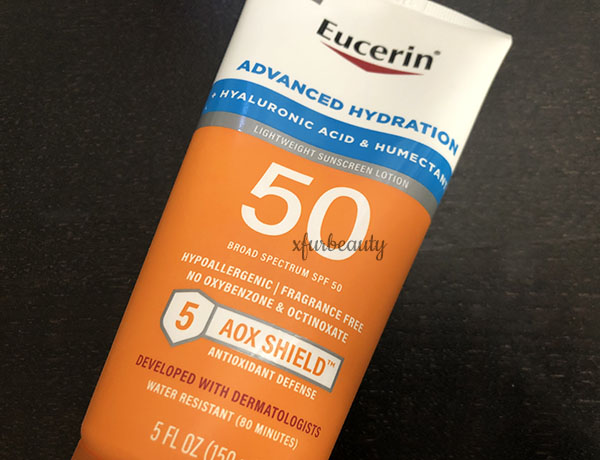 I have a new sunscreen to review. 🙂 I have the Eucerin Advanced Hydration SPF 50 Sunscreen Lotion with Hyaluronic Acid + Humectants. I've been eyeing this sunscreen for a while. I finally picked up a bottle to try it out. I've been trying to find a new sunscreen for the face. A sunscreen that doesn't leave a white cast behind and doesn't dry out the skin. This seemed like a good pick. This sunscreen is supposed to be lightweight and non-greasy with a dry touch finish that leaves no visible residue. It's formulated with 5 antioxidants, hyaluronic acid, and humectants for an immediate and long lasting hydrating effect. Developed with dermatologists. It's non-comedogenic (won't clog pores) and hypoallergenic. Suitable for sensitive skin and for daily use. Formulated for all skin tones. Free of fragrance, dyes, parabens, PABA, phthalates, oxybenzone, and octinoxate. It's water-resistant (up to 80 minutes) and sweat-resistant. It also comes in a bigger bottle (5 fl. oz.). I honestly can't stand sunscreens that come in tiny little bottles. I use a ton of sunscreen per day, and it gets so expensive. Here are my thoughts on Eucerin Advanced Hydration SPF 50! Did it work out? Read on to find out!
My Experience with Eucerin Advanced Hydration SPF 50 Sunscreen Lotion with Hyaluronic Acid + Humectants:
Texture & Application
This sunscreen is a lotion. The texture of the sunscreen is soft and smooth. I tried the sunscreen on the face and body. On the face, it felt very moisturizing, but it was very difficult to apply. The sunscreen doesn't glide across the facial skin well. It takes a while to blend the sunscreen into the skin. After blending, it leaves a little bit of white residue behind. This was weird because it's a chemical sunscreen. I've never experienced this with a chemical sunscreen before. They usually just absorb into the skin nicely without leaving any white residue or a cast behind. The product felt extremely sticky on my face. It didn't really set on the skin. I waited for about 30 minutes, and my skin still felt sticky. I didn't like the way the sunscreen sat on my skin. It claims to be non-greasy, but it feels very oily and greasy. Very, very oily. It was not a good experience using the product. I could see some of the hairs on the side of my face sticking up as well. The sunscreen also leaked into my hairline and made my hair feel sticky, greasy, and super shiny. As a face sunscreen, it didn't work for me. On the body, that's a different story. It worked. The product is moisturizing and blends into the skin well. I didn't have any issues applying the sunscreen lotion on my body.
It's a moisturizing sunscreen! 💦
One of the reasons why I purchased this sunscreen is because it's a hydrating and moisturizing sunscreen. And it is! But, it didn't work on my face. It felt too oily, greasy, and heavy on my facial skin. I didn't like using it as a face sunscreen. As a body sunscreen, it's nice. I've been using it on my hands, and it works for that purpose. Just not my face.
Burning eyes, smells like crap.
This product claims to be fragrance-free. In fact, it does have a smell to it. It has a chemical smell that bothered me. I honestly didn't like it. Even though I'm not using the sunscreen on my face (anymore), I still can't stand the smell of it using it on my body. It's so strong that it burns my eyes and makes my eyes watery. It's a bit too much for me. It's a sunscreen that actually smells like a sunscreen. It would be nice if the product didn't have a strong chemical smell to it. I'm not too fond of smells, I guess, lol.
Breakouts? Clogged pores??
Even though I loved how moisturizing this sunscreen is, I noticed clogged pores using it on my face after 2 days. The sunscreen is just too oily and greasy on my face. It makes my skin appear more shiny and oily too. That's just not good for my skin type. I noticed whiteheads along my mouth area and jawline. Ugh! I was sooo mad when I saw the breakouts. The sad thing is, I didn't expect this sunscreen to break me out just by looking at the ingredients list. But, it did, it broke me out.
Final Thoughts
Another sunscreen that I really wanted to work, lol. I feel like I'm just going through sunscreens, and it's freaking annoying. I was searching for a chemical sunscreen since they tend to be more moisturizing and don't leave a white cast behind. Well, this one left a little bit of white residue behind for some odd reason. My experience with it was just overall bad. It's nice that it's moisturizing, but does it really matter if it doesn't work on my skin? It irritated my eyes, left my skin feeling and looking greasy, was difficult to apply, felt heavy on the skin, and reapplying was a pain. I won't purchase it again. I can't recommend it either unless it's used as a body sunscreen. It just didn't work for me as a facial sunscreen. What a disappointment. I can't wait to finish the rest of the bottle and toss it out.
What Eucerin Advanced Hydration SPF 50 Sunscreen Lotion with Hyaluronic Acid + Humectants looks like:
Just your typical white lotion. 😊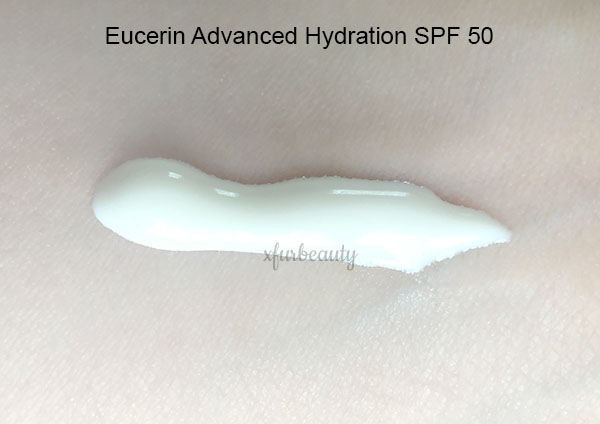 Categories:
Tags:

Acne, Acne Skin, Anti-Aging, Beauty, Broad Spectrum, Dry Skin, Eucerin, Eucerin Advanced Hydration, Eucerin Advanced Hydration SPF 50 Sunscreen Lotion with Hyaluronic Acid + Humectants, Experience, Hyaluronic Acid, Hypoallergenic, Lifestyle, Octinoxate-Free, Oily Skin, Oxybenzone Free, Review, Skin Care, Skin Care Routine, Skincare, SPF, SPF 50, Sun Care, Sunblock, Sunscreen, Water-Resistant, Wrinkles