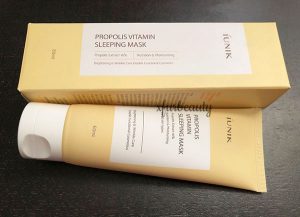 I have another sleeping mask! 🙂 It's iUNIK Propolis Vitamin Sleeping Mask! This sleeping mask contains 16% Propolis, 7% Hippophae Rhamnoides Fruit Extract, and 5% Centella Asiatica Leaf Water to deeply moisturize and nourish the skin over night. It's revitalizing, soothing, brightening, and has wrinkle care. It can be used during the day as a nourishing cream. Ideal for all skin types including sensitive skin. I've gone through a few tubes of this sleeping mask. Here are my thoughts on it! Did it moisturize my skin? Help with wrinkles or brighten the skin? Read on to find out!
My experience
This product feels very creamy. It spreads nicely on the skin. Feels very nourishing. It absorbs into the skin well, but it does leave a tacky, sticky feeling behind. Also, it smells like plastic. 🤮 I started off using this sleeping mask at night, so the tacky feeling of the product wasn't a problem. It didn't bother me too much. The smell? I just didn't think about it. lol. So this sleeping mask feels very moisturizing and nourishing on the skin. It's much more moisturizing compared to another sleeping mask I have, which is Cosrx Ultimate Nourishing Rice Overnight Spa Mask (click!). That's what attracted me the most to the iUNIK Propolis Vitamin Sleeping Mask. I needed more moisture in my skin. My skin was feeling very dry during that time. I had dry skin to heal before it cracks. I was out to cure this dry skin of mine that I was dealing with! iUNIK Propolis Vitamin Sleeping Mask did a better job at moisturizing my skin. Hands down! My skin felt softer, smoother, and simply just super hydrated when I had the sleeping mask on and after rinsing it off in the morning. It also left my skin looking brighter! My skin glowed! The texture of my skin just looked much better than before. I think it helped to fill in some fine lines and wrinkles too due to how moisturizing it is! This sleeping mask really does nourish and gives the skin what it needs to be, look healthy. I loved the results!
But, I had to stop using the sleeping mask. I started noticing hard sebum within my pores after using it for 2 weeks. I tried to make it work by taking a break and start using it again after a break several times. The results from the sleeping mask was soooo good, but my skin wouldn't have it. I noticed clogged pores and hard sebum in my skin in which I can pick out of my pores. Gross!! lol. When I tried using it in the morning as a daily moisturizer, my makeup would smear and shift throughout the day, haha. It wouldn't stay in place. My makeup was a huge mess. So, I stopped using it in the morning because of this and also because it clogged my pores. The tacky, sticky feeling of the product started to get to me too. Yeah, it moisturizes, but it doesn't feel comfortable on the skin.
Now let's check out the ingredients in this product!
I like the ingredients in this product. It contains Propolis Extract, Hippophae Rhamnoides Fruit Extract, Centella Asiatica Leaf Water, Niacinamide, and other ingredients that are very good for the skin. But something in this product just didn't click well with my skin. I just can't use it on my face anymore. Since this sleeping mask is really good at moisturizing, I used the rest of the product on my hands, feet, and legs. It does a wonderful job keeping those areas well hydrated!
Pros & Cons
✅ Pros
Contains Propolis, Hippophae Rhamnoides Fruit Extract, and Centella Asiatica Leaf Water
Very moisturizing
Brightens the skin
Helps with skin texture
Affordable
❌ Cons
Smells like plastic
Feels tacky and sticky on the skin
Breakouts
Too sticky for mornings
Doesn't work well under makeup. Makeup smears.
Conclusion
I love the results I got from iUNIK Propolis Vitamin Sleeping Mask. My skin felt so nice and moisturized. It was glowy and looked refined. The texture of my skin improved too. My skin looked so healthy using this product, except for the breakouts that happened while using it. Too bad it clogged my pores in the end. My skin really needed the extra moisture too. Well! There's that. It didn't work for me. On to the next!
For more reviews on iUNIK skin care products go here!!!
Categories:
Tags:

Anti-Aging, Beauty, Experience, iUNIK, iUNIK Propolis Vitamin Sleeping Mask, Lifestyle, Moisturizer, Propolis, Propolis Vitamin Sleeping Mask, Review, Skin Care, Skincare, Sleeping Mask