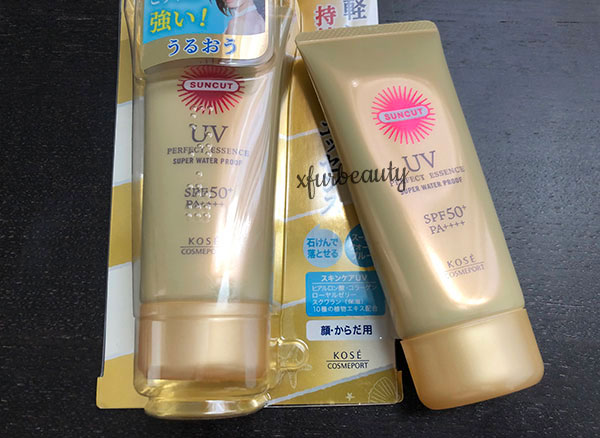 I didn't have any empties last month (October). Here are my skin care empties for the month of November! If you missed out on my empties for August and September 👈🏻
SOME BY MI Niacin 30 Days Miracle Brightening Sleeping Mask:
I've been trying to finish my last jar of SOME BY MI Niacin 30 Days Miracle Brightening Sleeping Mask. I tried using it on my face and body. My experience using it on my face was not that good. The sleeping mask feels very drying on the skin. I could see the skin along my chin cracking. It's not a good product if you have dry skin. I don't. I have oily skin, and this sleeping mask dried my skin out like crazy. It helped to temporarily brighten my skin, but the brightening effect faded within a week. Maybe my skin just doesn't like niacinamide in this product? I just know that it's very drying and made my skin feel awful. With the rest of the product, I used it on my body and won't repurchase ever again.
Kose Suncut UV Perfect Essence Super Waterproof SPF 50+ PA++++:
This sunscreen is lightweight, blends into the skin easily, absorbs quick, has SPF 50+ PA++++, comes in a 110 mL bottle instead of something tiny like 40-50 mL (yes!!!), sweat-resistant, water-proof. Ah, how this sunscreen could've been perfect because I can overapply and my skin wouldn't feel sticky or greasy. But, this sunscreen lists 'ethanol' as the second ingredient on the list. It smells like alcohol and dried my skin out and irritated it. I couldn't believe how my skin looked so aged after using it at least once. Sun protection is important, but this product is not for me if it makes my skin look all wrinkly because of how drying and irritating it is. I won't purchase again. By the way, I also tried it on my body and hands. It made my skin super itchy. I ended up with a bad rash and blisters.
Dear, Klairs Freshly Juiced Vitamin Drop:
This vitamin c serum feels gentle on the skin. It contains 5% ascorbic acid. The serum didn't irritate or burn my face. But I wasn't a fan of the texture of the product. It's on the oily side. As for fading acne marks, I didn't see much results using this serum. It didn't help to brighten my complexion either. Maybe the 5% concentration is just too low for my skin? All I know is that I didn't see any results while using it. So I wasn't able to use the whole bottle, the serum turned really orange. It oxidized. Hmmm, note to self, never purchase a vitamin c serum that claims to be formulated with stabilized vitamin c that comes in a clear, see-through bottle. It's clearly not stabilized. It turned really orange, and I kept it in a dark, safe place. I had to toss the serum out. Not recommended.
Vanicream Mineral Facial Moisturizer Broad Spectrum SPF 30:
This is a moisturizer with sunscreen. It feels like a moisturizer. It's thick, rich, and feels heavy on the skin. I have oily skin, so it felt very rich and heavy on my skin. It left my skin looking more shiny and greasy on the surface, but it helped to moisturize and soothed my skin. I don't think this is a bad product. It's just that, it's only SPF 30, and I'm using another product that contains similar ingredients to the Vanicream that works better for me. This product works to moisturize and protect. It's not something I need in my life right now. It was nice to try it out.
CeraVe Hydrating Mineral Sunscreen SPF 30 Face Sheer Tint:
One of the products I finished this month that I really like! It contains ingredients like ceramides and niacinamide. The sunscreen moisturizes my skin and helps to brighten my skin up. I haven't noticed any breakouts using it. I'm still keeping my eye out for any clogged pores just in case! Some things I would love to change about this product is to boost the SPF 30 to 50, make it water/sweat-resistant, and add more shades. The shade isn't a perfect match for my skin. It does blend into the skin, but I wish it wasn't too orangey. I wish it was a more natural-looking skin color. As for reapplication, it's really easy to reapply sunscreen with this product. There's no white cast. This sunscreen comes in a 1.7 fl. oz. (50 mL) tube. It would be nice if it was larger, especially for the price. It's 13.99 where I am. It's not super affordable compared to other sunscreens I have tried.
Neutrogena Hydro Boost Water Gel Lotion Sunscreen Broad Spectrum SPF 50:
I figured out that I still had a bottle of the SPF 50. I found it in my bag, lol. And it's still usable and hasn't expired yet. I didn't use it on my face. It's not the type of product for my facial skin. So I used it on my hands instead. The sunscreen absorbed into my skin very well and quickly. The fragrance was awful. I didn't like it at all. Since I didn't use it on my face, I didn't have to worry about the alcohol content in this product. I used this sunscreen up and threw it out. I won't repurchase. I hope this is the last Neutrogena Hydro Boost sunscreen that I have, haha!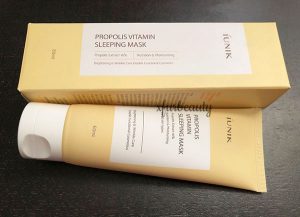 I have another sleeping mask! 🙂 It's iUNIK Propolis Vitamin Sleeping Mask! This sleeping mask contains 16% Propolis, 7% Hippophae Rhamnoides Fruit Extract, and 5% Centella Asiatica Leaf Water to deeply moisturize and nourish the skin over night. It's revitalizing, soothing, brightening, and has wrinkle care. It can be used during the day as a nourishing cream. Ideal for all skin types including sensitive skin. I've gone through a few tubes of this sleeping mask. Here are my thoughts on it! Did it moisturize my skin? Help with wrinkles or brighten the skin? Read on to find out!
My experience
This product feels very creamy. It spreads nicely on the skin. Feels very nourishing. It absorbs into the skin well, but it does leave a tacky, sticky feeling behind. Also, it smells like plastic. 🤮 I started off using this sleeping mask at night, so the tacky feeling of the product wasn't a problem. It didn't bother me too much. The smell? I just didn't think about it. lol. So this sleeping mask feels very moisturizing and nourishing on the skin. It's much more moisturizing compared to another sleeping mask I have, which is Cosrx Ultimate Nourishing Rice Overnight Spa Mask (click!). That's what attracted me the most to the iUNIK Propolis Vitamin Sleeping Mask. I needed more moisture in my skin. My skin was feeling very dry during that time. I had dry skin to heal before it cracks. I was out to cure this dry skin of mine that I was dealing with! iUNIK Propolis Vitamin Sleeping Mask did a better job at moisturizing my skin. Hands down! My skin felt softer, smoother, and simply just super hydrated when I had the sleeping mask on and after rinsing it off in the morning. It also left my skin looking brighter! My skin glowed! The texture of my skin just looked much better than before. I think it helped to fill in some fine lines and wrinkles too due to how moisturizing it is! This sleeping mask really does nourish and gives the skin what it needs to be, look healthy. I loved the results!
But, I had to stop using the sleeping mask. I started noticing hard sebum within my pores after using it for 2 weeks. I tried to make it work by taking a break and start using it again after a break several times. The results from the sleeping mask was soooo good, but my skin wouldn't have it. I noticed clogged pores and hard sebum in my skin in which I can pick out of my pores. Gross!! lol. When I tried using it in the morning as a daily moisturizer, my makeup would smear and shift throughout the day, haha. It wouldn't stay in place. My makeup was a huge mess. So, I stopped using it in the morning because of this and also because it clogged my pores. The tacky, sticky feeling of the product started to get to me too. Yeah, it moisturizes, but it doesn't feel comfortable on the skin.
Now let's check out the ingredients in this product!
I like the ingredients in this product. It contains Propolis Extract, Hippophae Rhamnoides Fruit Extract, Centella Asiatica Leaf Water, Niacinamide, and other ingredients that are very good for the skin. But something in this product just didn't click well with my skin. I just can't use it on my face anymore. Since this sleeping mask is really good at moisturizing, I used the rest of the product on my hands, feet, and legs. It does a wonderful job keeping those areas well hydrated!
Pros & Cons
✅ Pros
Contains Propolis, Hippophae Rhamnoides Fruit Extract, and Centella Asiatica Leaf Water
Very moisturizing
Brightens the skin
Helps with skin texture
Affordable
❌ Cons
Smells like plastic
Feels tacky and sticky on the skin
Breakouts
Too sticky for mornings
Doesn't work well under makeup. Makeup smears.
Conclusion
I love the results I got from iUNIK Propolis Vitamin Sleeping Mask. My skin felt so nice and moisturized. It was glowy and looked refined. The texture of my skin improved too. My skin looked so healthy using this product, except for the breakouts that happened while using it. Too bad it clogged my pores in the end. My skin really needed the extra moisture too. Well! There's that. It didn't work for me. On to the next!
For more reviews on iUNIK skin care products go here!!!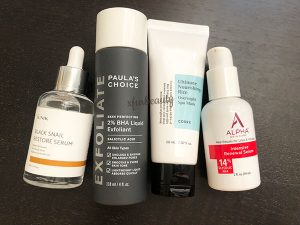 It's been 2 months on tret. I used it a few days a week at first until my skin acclimated to it. That went by quick, so I started using it every day at night. I haven't had any issues with using it every day since. My skin isn't red, peeling, or in pain. No irritation of any kind. It's so weird. I had issues with it using it every night before. All of a sudden, out of the blue, it's been such a breeze. It's like I'm applying water to my skin now. So interesting and odd at the same time! I wonder if it's working anymore. So that is why I've been trying out other skin care products. It looks like tret isn't helping with some forehead acne and blackheads on my nose. They've been really stubborn, and I need to get rid of them ASAP, so they can heal quickly and properly. This is what I tried during the second month of tret.
Skin Care Products I Tried…
Benzoyl Peroxide: I would slather BP all over my face if I could, but the side effects are just too much. The fumes get into my eyes and burn. But, BP truly does work to eliminate acne. Some days of the week, I'll spot treat areas where I notice congestion. That's about it. *sigh* Those BP days…
Glycolic Acid: I started using glycolic acid again when I was looking for another option to treat my acne (besides BP). I'm using Alpha Skin Care Intensive Renewal Serum (my first impression). Here's my 1 week review on the product. I did another update on this serum. Go here to read more about it (my 3 week update). Glycolic acid seems to be working this time around too. I'm stunned! It worked before then stopped working. Now, it's working again. It's been great for skin texture and the overall quality of my skin. Keeping my skin looking soft, smooth, and refined, but it didn't do much for my acne. Well, it did at first, but it stopped working on my acne. I'm still deciding if I should keep this serum in my routine. I was really looking for something that'll unclog my pores, and this serum seems too gentle on my skin to do just that. So, I took a break from it since I didn't see an improvement in my acne. I might bring it back if I think my skin needs it. I really don't know yet.
Some Products Worth Mentioning…
My skin seems to be tolerating almost all of the products I used before. Didn't work at one point in time, but it's working now. They are…
iUNIK Black Snail Restore Serum: This serum is very moisturizing. It helps to keep the skin soft and hydrated. Feels sticky at first but feels very nice on the skin. Once it sinks into the skin, it leaves the skin feeling smooth and moisturized. I have a little bit of this product left from using it twice a day. But am I going to keep using it when I'm done with the bottle? I'm not sure. I prefer the iUNIK Propolis Synergy Vitamin Serum a little bit more. I'll have to think about it. 🤔 The iUNIK Propolis Synergy Vitamin Serum is another serum that's working for me now too. 🙂 Love it!!
Cosrx Ultimate Nourishing Rice Overnight Spa Mask: I have a love-hate relationship with this moisturizer. It's moisturizing. It's probably the most moisturizing lotion I have used where I don't get huge cystic acne. But I decided to keep it in my routine and use it only on dry areas of my face. If I have a dry patch, I'll use this product to moisturize that specific area of my face. I don't use it all-over anymore. It causes too many problems. Makes my skin all oily, more blackheads, and forehead acne goes nuts. Moisturizing is important for skin health, but too much leads to consequences like breakouts (on my skin). I really like this moisturizer though. It truly does help moisturize my oily skin without leaving my skin feeling heavy and clogged.
Paula's Choice 2% BHA Liquid: I started using this BHA Liquid again. I went full on, lol, but I had to stop using it because it was drying my skin out. It works to tame the oilies on my facial skin, but I don't think it did anything for the blackheads on my nose. I was hoping it would do something about that. I like using this BHA Liquid when my skin is oily. I'll use it once in a while right now until summer arrives. That's when my skin is even more oily.
Here are some products I'm not too wild about anymore:
Cosrx AHA BHA Clarifying Treatment Toner: This toner hasn't helped much with acne whatsoever. I was hoping that it did a little bit of something. Doesn't seem like it's good at controlling the oil in my skin anymore. What happened? I don't know. It's an OK product. I'm not sure if I should keep it in my routine or not. It has a weird texture to it. I'm on the fence about this toner. We'll see what happens in the near future. lol.
Olay Regenerist Vitamin C Peptide 24 Brightening Facial Cleanser: I've been using the Olay Regenerist Facial Cleanser since last year. I started off with the Olay Regenerist Collagen Peptide 24 Cream Cleanser. The Vitamin C Peptide 24 Brightening Facial Cleanser is the exact same as the Collagen Peptide 24 Cream Cleanser in terms of results. I didn't notice brighter skin using the one with vitamin c. I loved this cleanser months ago when I was using it. That was when I didn't have a good BHA product in my routine. I know these facial cleansers aren't advertised as acne cleansers or cleansers with BHA, but it does contain salicylic acid in them. I can feel the salicylic on my skin when I use it. I would keep it around, but I'm using Paula's Choice 2% BHA Liquid instead. I just thought it would be a better option for me instead of this face wash. Maybe I'll use it again if Paula's Choice 2% BHA Liquid doesn't work out. More reviews on Olay Regenerist facial cleansers:
1 Week Using Olay Regenerist Collagen Peptide 24 Cream Cleanser. Goodbye Acne?
1 Month Using Olay Regenerist Collagen Peptide 24 Cream Cleanser & What I'm Doing Now for My Acne…
How My Skin Is Doing
The only acne I'm dealing with right now is a few pimples on my forehead. Some blackheads on my nose (so annoying). Sometimes some random pimple that pops out of nowhere. My skin is almost, just almost clear. Texture looks pretty good. It's looks smoother. I'm not liking that shiny forehead though. It looks so weird and odd, haha. I've been trying to keep my skin moisturized by using lightweight facial moisturizers, which don't provide enough moisture for my skin, but it's better than nothing. My skin hasn't broken out from those moisturizers (as of yet!). Right now, it's all about keeping my moisture barrier healthy and happy. But tret hasn't been drying. Or doing much for my acne like I hoped. I think I'm going to keep using it and wait it out. In the meantime, just search for something else to combat these stubborn pimples that just won't go away. After 2 months, I'm pretty much neutral with the results I'm getting from tret. I can't say much about it helping with fine lines and wrinkles. I think moisturizing my skin has helped a ton more. Well! That's my 2 month update on tret. Take it or leave it, lol. I'll see everyone next month!
⭐ If you missed out on my previous experience with tret…
My experience with tret the first week…
After 1 Month on Tret + Skin Care Routine. Here are My Results.
2 Months on Tret. My results. 🙂
Back to tret! 1 Week Results & My Skin Care Routine. Did it work? 🤔
A break from Tret & What I'm Doing Now
Surprise! Back on tret + Other Acne Treatments for Clear Skin. 🙂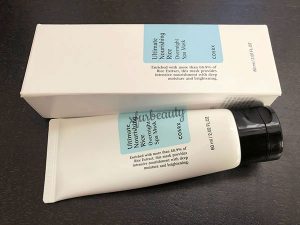 I attempted to try Cosrx Ultimate Nourishing Rice Overnight Spa Mask again after trying it out several times. Actually, many, many times. Check out my previous reviews on the rice mask here:
Review: Cosrx Ultimate Nourishing Rice Overnight Spa Mask
Another Update on Cosrx Ultimate Nourishing Rice Overnight Spa Mask!
So the reason why I tried the rice mask again is because I still have it. After a break from it, I decided to give it a go again due to experiencing dry skin. I thought, why not? lol. I started off using the rice mask a few times a week at night. I used it like how it's supposed to be used, a PM moisturizing product. And only a few times a week, no more than that. That went well. My skin felt softer and moisturized. Even though it contains rice extract and niacinamide, it didn't brighten my skin. I remember it temporarily brightening my skin and giving it a glow at some point but that didn't happen this time. This product isn't good at brightening the skin that's all I know. It is definitely moisturizing, and my skin felt hydrated and moisturized when I used it.
I started using it more often (including mornings), since it made removing flaky skin much easier. My skin would just peel off easily and effortlessly. Afterwards, leaving my skin feeling super hydrated and smooth. I loved the results and kept using the rice mask. Still, it didn't help brighten my skin. Isn't that what rice extract and niacinamide is for? Something about the ingredients in this product that just doesn't brighten the skin. It doesn't work! At least not on my skin. So my skin was well nourished while using this mask. That's the only reason why I kept using it. It's the most moisturizing skin care product that I have without causing cystic acne. But! I spoke to soon. This is what happened as I continued to use it…
Everything was going well. My skin felt nurtured, moisturized, super soft, and the general health of my skin improved due to how hydrated my skin was. It looked soooo dewy and healthy! Well, those improvements didn't last for long. My skin started to break out a little bit. I had tiny little pimples on my forehead. Some blackheads that were very stubborn. I had to toss in some Salicylic Acid to remove them. Even when using Salicylic Acid, it was pretty obvious that the rice mask was causing the breakouts. So, I had to stop using it to get rid of the pimples. After all of this fiasco, I attempted to use the rice mask a few times a week at night again (not every day). I thought I could just use it once or twice a week on my face and get away with the hydration, lol. That's all I really needed — a good moisturizer. Nope, my skin wasn't having it. I would still get breakouts.
Honestly, I think my time with the Cosrx Ultimate Nourishing Rice Overnight Spa Mask is over as a face moisturizer. I really wanted it to work (tried it multiple times and failed, lol), but some products just don't work for some people. This one and my face don't go well together. I'm not using it as a facial moisturizer anymore, but I'm not entirely done with it. It seems to make a good eye cream and body cream (in sensitive areas like my chest). I'll keep it around for that. It's very affordable for the amount of product. So if you have acne-prone skin that's oily, be careful. This may or may not work for you. It does contain oils, such as sunflower seed oil, palm oil, and palm kernal oil. I think the oils were a huge problem for me.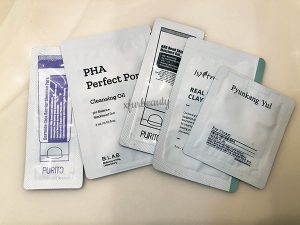 I have samples to try! A ton of them. 🙃 I'm going to start off with 5 samples that I have. Here's a list of product samples I am going to test out! They are…
Now on to the reviews… 🙂
Pyunkang Yul Eye Cream:
This eye cream smells like herbs, which made me curious to see what's in this eye cream. So I looked up the ingredients of the eye cream. Lo and behold, the first ingredient is Astragalus Membranaceus Root Extract. No wonder why it smelled so herby. Other ingredients that stood out to me include petrolatum, dimethicone, shea butter, licorice, sodium hyaluronate, and lactobacillus/ginseng root ferment filtrate. The texture of the eye cream is soft, silky, and creamy. It glides over the under eyes nicely and smoothly. It also blends into the skin very well with little effort. It reminds me of Benton Fermentation Eye Cream. The texture is very similar. And I really liked using Pyunkang Eye Cream due to the similarities they have. I think I'm falling in love with this eye cream…kinda…the herbal scent throws me off every time I use it…so…
Purito Dermide Cica Barrier Sleeping Pack:
I've used Purito Dermide Cica Barrier Sleeping Pack before <<< Go here to read my previous review on it! My thoughts on this sleeping pack hasn't changed. I didn't use it on my facial skin. I know what's going to happen. And that is breakouts! I don't want that, lol. I ended up using the sleeping pack on my body instead. It's rich and creamy like it was before. It's also moisturizing and helps to seal in moisture. Great for the moisture barrier. Too bad it's incompatible with my skin type. I've moved on to other sleeping packs and moisturizers that work better for me. I've also finished my tubes of Purito Dermide Cica Barrier Sleeping Pack and haven't purchased a new one since. Honestly, I've moved on to better skin care products that work for my skin. This isn't a bad product if it works for you. Everyone's skin is different.
B.LAB PHA Perfect Pore Cleansing Oil:
This is a very lightweight, elegant oil. It feels so soft and lovely. The oil moves over my facial skin smoothly and feels moisturizing on the skin. It's very different compared to the cleansing oils I have used. I'm glad I had a chance to try this cleansing oil out. I really liked the way it felt on my skin! Now let's look at the ingredients! It contains isopropyl myristate, which is comedogenic. BUT! The cleansing oil isn't left on the skin for too long. Just enough to remove sebum, oil, dirt, makeup. Speaking of makeup, it removed my waterproof eye makeup perfectly! No tugging involved! My makeup came off. 😀 This cleansing oil also contains jojoba seed oil, grape seed oil, honey extract, and tea tree oil, to name a few. No wonder why I liked it. It contains tea tree!! Even though it's the last ingredient on the list, lol. My experience with B.LAB PHA Perfect Pore Cleansing Oil was wonderful. I enjoyed every minute of it. I'm tempted to purchase the full-sized bottle now.
Isntree Real Mugwort Clay Mask:
This mask is green in color and has tiny little specs of exfoliating mugwort leaf powder in it. It didn't feel rough or abrasive on the skin. I didn't use it to exfoliate my face. I applied the mask as is. Just spread the product all over my facial skin and let it sit. It sticks to the skin pretty much instantly. I couldn't move the mask around anyways, lol. The mask feels lightweight and has an herb smell to it. I didn't care for the smell of the mask. It's whatever. I was more curious about what it could do for my skin. This mask contains kaolin and bentonite, which is very good for oily skin. It absorbs excess oil. The instructions says to leave the mask on for 10-15 minutes. I left it on for 10 minutes. After I rinsed the mask off, my skin didn't feel super dry like I thought it would. I use other clay masks that dry out my skin a bit too much. This one didn't. It absorbed the oilies on my facial skin and left my skin feeling clean. Not dry and taut. So the sample size was one application. I thought it was an enjoyable experience. Not sure if I would purchase it because I don't really need a clay mask right now. I have plenty of other products I have to finish up first. This one was OK from this experience. 🙂
Purito BHA Dead Skin Moisture Gel:
Yay! A BHA product to try! This product is a gel. It absorbed into my skin so quick! It literally vanished into my skin when I applied it to my skin. In an instant it disappeared into my skin. WOW. I'm impressed with the absorption! So this product contains, looking at the ingredients, aloe barbadensis leaf extract, betaine salicylate, sodium hyaluronate, and tea tree oil (loooveeee! my fave!!). That's not the full ingredients list, but that's what stood out to me the most. It has TEA TREE!! Even though it's at the end of the ingredient list. It does contain BHA but a weaker form of salicylic acid. Overall, the ingredients look pretty good. I'm not sure how effective it is. The sample was just a tiny pouch. I used it 1-2 times and my skin didn't break out either time. It leaves my skin feeling moisturized but not oily or greasy. This is something I would like to try again. I must now! lol. I've been trying to find a good BHA product and this one also contains tea tree.
Whew!! Those are my thoughts on these samples. So, it looks like it's 2/5 that I really liked! 🙂
Have you used any of these products before? If so, how did you like them? Did they work for you? Share your thoughts in the comment section!