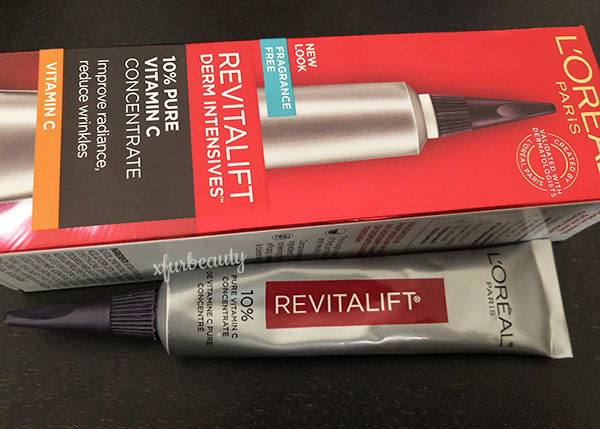 So I wanted to try a new vitamin c product out. I haven't found one that worked on my skin just yet. The vitamin c product that I picked up was the L'Oreal Revitalift 10% Pure Vitamin C Serum. On the packaging, it says that this is a lightweight 10% vitamin c concentrate that helps to restore skin's radiance in 1 week and reduces wrinkles. The serum was formulated without water and packaged in an air-tight metal tube. It's sealed and ready to use. Produced in controlled conditions to minimize oxygen exposure. It's fragrance-free, dye-free, and paraben-free. Contains no mineral oil or synthetic dyes. Suitable for sensitive skin. Did it work? Keeping reading to find out! Here's my experience with the L'Oreal Revitalift 10% Pure Vitamin C Serum!
My Experience with L'Oreal Revitalift 10% Pure Vitamin C Serum:
Texture & Application
The product comes in a sealed metal tube (1 fl. oz/30 mL of product). I only used a small pea-sized amount for the whole face and neck/chest area. The texture and consistency of the serum feels like silicones. Looking at the ingredients, I'm not shocked that it felt like I was applying silicones to my face. The texture of the serum is VERY silicone-y. I'm not a fan of products that are too silicone-like due to it potentially clogging my pores (from my past experience with silicone-based products). Besides the fact that it feels like silicones, the serum blends and smooths over the skin easily. It absorbs pretty quick. After application, the serum didn't feel sticky or tacky. It vanishes into the skin and feels like I have no product on my skin. When I was applying the serum to my face, it feels moisturizing. Once the product dries, it left my skin feeling rather dry. My skin felt dry for hours after. I started to develop flakes and crusties all over my facial skin, especially my jawline area. This serum does contain 10% vitamin c in the form of ascorbic acid. And vitamin c serums can dry out the skin in higher concentrations, from my experience. It'll be a good idea to use a moisturizer afterwards to prevent dryness.
Results..
I only lasted a week using this product. I used it twice a day, morning and night. Here are my results!
What the product claims…
1 Week: Brightens, more youthful and radiant skin. Skin looks more refined, looks more vibrant and smoother.
2 Weeks: Fine lines and uneven skin tone are visibly reduced.
4 Weeks: Wrinkles appear reduced. Dark spots and pores look less noticeable.
What happened…
Within one week of using this vitamin c serum, my skin looked brighter and more radiant. I actually noticed brighter and more radiant skin before it reached one week. It was after a few days. Oooo brighter and glowy skin! Since the serum dried my skin out, I didn't experience smoother skin. I tried using a moisturizer after applying the serum too. Nope, my skin was still dry, flaky, and crusty. It felt really rough on the surface. This serum really did a number on my skin. So freaking dry! I would've continued to use it along with a moisturizer to see if it works or not on my skin. My skin was already brighter within a few days. What other results could it bring? Also, this vitamin c serum didn't turn my face orange. Most vitamin c products do. I was very happy to notice a brighter, glowy complexion without the orange face, lol. BUT, I had to stop using the serum because…yeah…breakouts…
Breakouts?
This vitamin c serum ended up clogging my pores. I figured it was this product. Once I removed it from my routine, the breakouts disappeared. And, it's most likely the silicones. There's so much of it! My oily skin and this serum just didn't go well together. I noticed an increase in blackheads on my nose when using it and some other breakouts on my chin, forehead, and cheeks. They just popped out of nowhere. I stopped using this serum, and my skin looks clearer now. No new random breakouts.
Final Thoughts
The L'Oreal Revitalift 10% Pure Vitamin C Serum didn't work on my skin. It's too drying, contains too many silicones, and ended up clogging my pores. The product claims that it won't clog pores, but it clogged my pores. I noticed breakouts pretty early on but dismissed that it could be this vitamin c product. I used it twice a day, morning and night, too. Hoping that it would fade some acne marks, brighten up my complexion (which it did), and vitamin c is simply just a nice antioxidant to have in a skin care routine. I'm glad I figured out early on that this product isn't compatible with my skin type. It would suck even more if I kept using it and ruined my skin. I might just go back to my previous vitamin c product or search for a new one.
This is what the vitamin c serum looks like. The product comes sealed and comes in metal tube. The applicator of the product is very nice. It makes it easy to dispense a specific amount of product. 👌🏻 I'm seriously in love with this type of packaging. 🥰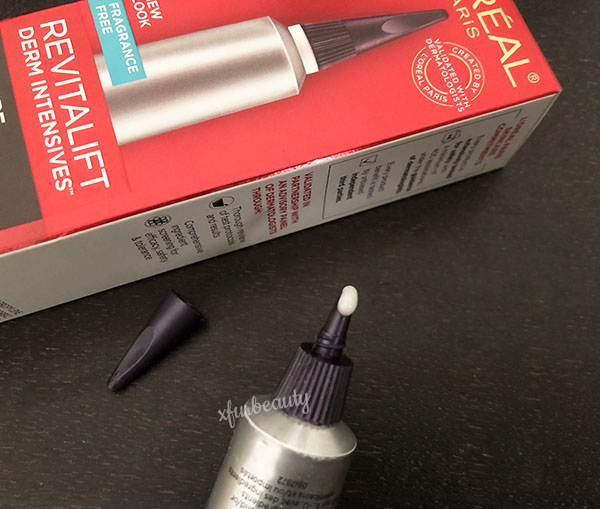 Categories:
Tags:

10% Vitamin C, 10% Vitamin C Serum, Anti-Aging, Ascorbic Acid, Beauty, Experience, L'Oreal Revitalift 10% Pure Vitamin C Serum, L'Oreal, Lifestyle, Pure Vitamin C, Review, Skin Care, Skin Care Products, Skincare, Vitamin C, Vitamin C Serum, Wrinkles