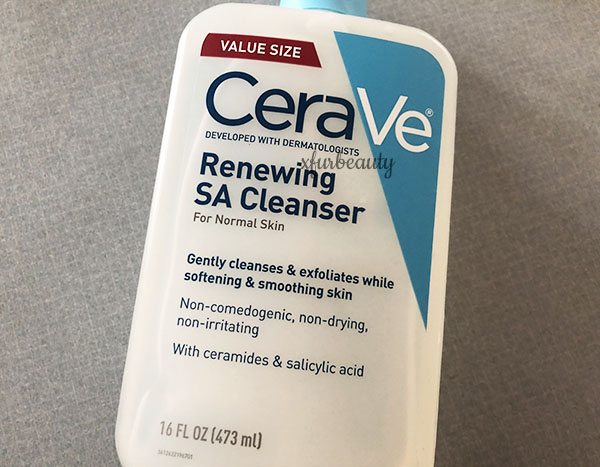 I picked up CeraVe Renewing SA Cleanser! I've been thinking about trying this cleanser out for ages! I mean, years. I've read about it and heard good things about it. I've also seen pretty bad reviews on it too. Like how this cleanser gave people acne. 😲 The CeraVe Renewing SA Cleanser was constantly on my mind. But, my experience with CeraVe products (cleansers in this case) have been pretty bad. I've tried the Hydrating Facial Cleanser and Foaming Facial Cleanser. Both of these cleansers did not cleanse my skin well. They both left residue on my skin, and I ended up breaking out in acne. I tried the Acne Foaming Cream Cleanser too. With this cleanser also, it didn't clean my skin well and did nothing for my acne. What a waste. Now I'm using the Renewing SA Cleanser. Here are my day to day thoughts on this cleanser. I wonder if I'll last a week. By the way, my previous cleanser is Neutrogena Hydro Boost Hydrating Cleansing Gel with Hyaluronic Acid Fragrance Free. Don't forget to check out my review on that product! A new update on it coming up soon! The reason why I'm using CeraVe Renewing SA Cleanser now is because I wanted something less drying. Yeah, so weird because the Renewing SA Cleanser has salicylic acid in it. But, it also contains ceramides to moisturize the skin. Neutrogena doesn't have any of that.
Let's start! Here's my first day experience!
Day 1:
I started using the CeraVe Renewing SA Cleanser at night. I debated for hours before taking the plunge. I was so hesitant and afraid of using this cleanser on my skin even though I purchased it already. Is it going to dry my skin out (contains salicylic, think it's 0.5% or less than 1%). So, that's not a high percentage. My bha liquid is 2%. I do pretty good on it too. Is the cleanser going to break me out? My skin is decent right now. I didn't want to go through another breakout from this cleanser. Putting my fears away, I tried it. This cleanser is a gel. The pump/dispenser comes with a lock. Opening it was annoying. The first pump took a while to come out. I used 2 pumps for my whole face. It slightly lathered up and foamed with water. The product felt soft and soothing on my skin. I really enjoyed it. I loved the way it felt on my skin. Once I rinsed the cleanser off, my skin felt clean, a little moisturized, and not dry at all. It seems like CeraVe is more moisturizing than Neutrogena Hydro Boost Hydrating Cleansing Gel. Hmmmm! By the way, if you're new to my blog, I have very oily skin that can become dehydrated fast. This cleanser wasn't drying on my skin after a single use. Who knows what might happens the next day or in the next few days.
Day 2:
I thought to myself, should I use this cleanser twice a day or once a day? What to do? Since I'm already in it to win it, I decided to use it twice a day. Neutrogena was a tad bit drying too, but it cleaned my skin and didn't cause breakouts. Not a bad cleanser, from my skin's perspective. I used CeraVe this morning with good results. The cleanser actually is the foamy, lathery type of cleanser. Full-on foam all over my face! I loved it! It was a great experience. It's been so darn long that I've experienced a cleanser this foamy and so lathery. I'm freaking excited! I massaged the cleanser into my skin and let it do its thing. Felt a bit tingly this time. I didn't notice it the first time. Also, don't open your eyes when using this cleanser, it burns. Once I rinsed it off, my skin felt clean but not tight or dry. My skin looked so glowy, smooth, and hydrated. Keep in mind, I'm not even using a moisturizer right now, and my skin didn't even dry out. I won't get my moisturizer until tomorrow (Day 3). Can't wait! But my skin loved the results this morning. At night, the effect was the same! The cleanser left my skin feeling clean without drying my skin out. The difference is that I noticed some hard sebum plugs falling out of my pores. I was able to pick them out. Is my skin purging or is the cleanser clogging my pores? I don't know yet. It's only been 2 days. We'll see what happens tomorrow.
Day 3:
I didn't wake up to new breakouts this morning. I left the cleanser on my skin a little bit longer than usual to give the salicylic acid some time to do its job. My skin didn't feel dry or tight from doing this. Once I washed my face, it felt the same as before. It felt clean. This cleanser is not drying out my skin at all (as of yet). It feels very nice. I love that it actually cleans my face. This is the first for a CeraVe cleanser. At night, I noticed some blemishes. Uh oh. 😲 They weren't there this morning. The blemishes are in my breakout-prone areas like my chin. I've been dealing with closed comedones in that area of my face for years. I'm not getting new breakouts. Well, it doesn't look like it. It looks like the pimples were already there and now moving up to the surface (so I hope!). I just hope that it's just my skin purging. It's only day 3, so it's difficult to tell. I'll have to keep using this product. But, so far, I'm really enjoying this face wash. It's still not drying out my skin using it twice a day yesterday and today. Everything is going well so far. And guess what arrived today? My moisturizer! Now I have a moisturizer that I can use at night. I'm not sure if I'll use it in the morning. We'll see what happens. It's nice to add some moisture back to the skin. 😌 It makes my skin look more healthy and balanced.
Day 4:
Let the purge begin!! I had one single pimple that came to a head this morning (chin area). It popped when I was washing my face, lol. I thought that was the only pimple I had. But, by night, I noticed more pimples. I had some closed comedones on my upper lip and more on my chin. Those closed comedones moved up and turned white. I developed one cyst. It was a tiny pimple. Now it's a gigantic cyst. So, from what's going on, it looks like my skin is purging. It took 4 days to reach this stage. I mean, I noticed some pimples days before, but now they're really turning into actual pimples. Much bigger ones. Whiteheads and one cyst. I really hope this is a short purge and not just breaking out. I'll stick it out. I'm already 4 days in. I was really generous with the cleanser at night too, lol. I'm so glad I purchased the value size, haha. After cleansing my skin at night, that cyst shrunk in size. It seems like it's working.
Day 5:
I woke up with a new pimple on my cheek. I wonder where that came from. It appeared out of thin air! I also noticed some on the side of my face and forehead. Just tiny little ones. They're more like hard sebum plugs. I could easily pick them out. So the pimples that popped up yesterday have reduced in size dramatically. That one cyst from yesterday isn't swelling as much anymore and diminished in size even more too. CeraVe Renewing SA Cleanser still leaves my skin feeling clean and doesn't dry out my skin, but I feel like there's thick layer of dead skin on my face. I might have to add an acne leave-on treatment into my skin care routine to remove the dead skin and to prevent pores from clogging. I haven't used any since a week ago. I took a break to heal my skin. The salicylic acid in the CeraVe Renewing SA Cleanser doesn't seem to be enough. CeraVe doesn't specify the percentage of salicylic, so I'm going to assume it's a low percentage. Seems like it's working to unclog my pores, but I need something stronger to tame my acne throughout the day. Lol, I was hoping that this face wash would do all of the work. I just hoped, haha.
I started using a 2% bha liquid tonight along with the CeraVe Renewing SA Cleanser. To some this may be overkill, but my skin feels too moist. I wonder if it's the new moisturizer I'm using. It's a mattifying moisturizer too. I funny thing is that I didn't think it felt too moisturizing on the skin. It sits on my skin pretty well and doesn't leave my skin feeling or looking oily. So good, so far when it comes to not making my skin feel too heavy or greasy. Breakouts? Who knows! Another product I have in my routine is a vitamin c serum. This product could be causing breakouts too. I started using it almost around the same time as the CeraVe Renewing SA Cleanser. So, I don't know which product it is that could be causing breakouts. Hopefully it's not CeraVe, haha. Between the two, I decided to stop using the vitamin c serum. I'm not a fan of the texture of the serum. Thankfully, that's all I'm using on my skin besides sunscreen. My skin care routine is still minimal, which makes it easier to pinpoint what's working and what's not. Goodbye vitamin c. 👋🏻 For now.
Day 6:
When I was washing my face this morning, I noticed ZERO new pimples. I think I eliminated the product that was clogging my pores this whole time! Maybe it was part purging from CeraVe and part vitamin c serum clogging my pores. I was getting weird random breakouts in the past few days. Now, they're gone! I used 2% bha liquid last night and this morning. I didn't experience any dryness or irritation. No itchy skin. Before washing my face tonight (still using CeraVe Renewing SA Cleanser twice a day!!), I didn't notice any new breakouts. My skin looks good. What is this madness??!! lol. My skin is almost clear! I still have some tiny little closed comedones, but I have no new active pimples. No whiteheads, pustules, or cysts. That vitamin c serum really did me wrong. Now I have to see if my new moisturizer is working on my skin or not. I've used it 7 times already. It's going well so far. I'm currently using it twice a day without any issues. Hopefully no breakouts from it. Skin looks pretty good at day 6, but I still have a long way to go!
Day 7:
It's the 7th day using CeraVe Renewing SA Cleanser. I'm still using it twice a day, morning and night. I made it to the 7th day! I didn't expect this to happen. Usually my skin would have retaliated by now. So this cleanser seems to be working on my skin. I haven't noticed any new pimples after ditching the vitamin c serum. The breakouts must've been from the vitamin c product rather than the CeraVe Renewing SA Cleanser. That's unfortunate to know, but I'm glad it's been figured out. I can continue on with the CeraVe Renewing SA Cleanser. With this cleanser, every time I use it, I notice an increase in skin brightening and glow to my skin. The cleanser hasn't dried my skin out yet. It doesn't seem like it will. It's been 7 days of using it already. But, I'm going to keep my eye on my skin. My overall experience with the CeraVe Renewing SA Cleanser has been good. It's gentle, soothing, and moisturizing. There was a tingling sensation, but I haven't experienced any of that as the days went on. My skin just looks better whenever I use this cleanser. I'm already thinking of making it my main facial cleanser if it keeps on working and doesn't clog my pores!
That's my 1 week experience with CeraVe Renewing SA Cleanser! Stay tuned for my WEEK 2 experience. Coming up next week! I hope this was helpful. 🙂
The vitamin c serum I was using ~ L'Oreal Revitalift 10% Pure Vitamin C Serum
Categories:
Tags:

1 Week Experience, 2% BHA Liquid, Acne, Acne Care, Acne Prone Skin, Acne Skin, Beauty, BHA Liquid, Breakouts, CeraVe, CeraVe Cleanser, CeraVe Renewing SA Cleanser, CeraVe SA Cleanser, CeraVe SA Wash, Experience, Face Moisturizer, L'Oreal Revitalift 10% Pure Vitamin C Serum, Lifestyle, Loreal, Moisturizer, Review, Salicylic Acid, Salicylic Acid Cleanser, Skin Care, Skincare, Vitamin C Serum, Week 1 Experience