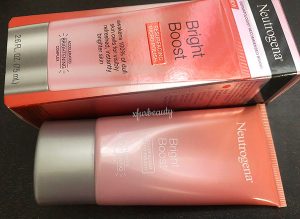 It looks like I'm on a roll with products with alpha hydroxy acids. Neutrogena Bright Boost Resurfacing Micro Polish is an exfoliant I've been using to remove dead skin cells from my facial skin. I do use peeling gels, but they're super gentle on the skin. I needed something that's more aggressive and effective on my skin. I wasn't seeing the results I wanted to see using peeling gels. I still like peeling gels. They feel nice on the skin, but I needed a product that helps to remove dead skin when my skin is sloughing off. So I chose this product! This is a polishing facial scrub that cleanses away dirt, oil, grime, impurities, and bacteria. It's formulated with glycolic acid and mandelic acid. Helps to exfoliate the skin and make it smoother and brighter. I've been using it for a couple of weeks now. Here's my experience with it!
My experience
This polish is a cream with fine exfoliating particles. It has a floral scent to it. It's not fragrance-free. Fragrance is listed as an ingredient. The fragrance doesn't bother me. It's not too bad. So I was very excited for this face polish! It's because I haven't found a good, effective facial exfoliant in so long. Most facial scrubs I've used were too harsh on my skin or not aggressive enough. The base of the product would sometimes irritate my skin. And that didn't work for me. My face would turn red and burn. With the Neutrogena Bright Boost Resurfacing Micro Polish, the base is soothing and creamy. It doesn't burn my skin. Also, it contains fine, tiny exfoliating particles to remove dead skin cells. It's aggressive enough to remove dead skin cells on my face without being harsh. The polish does sting/tingle the skin just a little bit (much different than burning) when applied to the skin (contains glycolic acid and mandelic acid), but I don't leave it on for too long. Just a few minutes then rinse.
So this polish helped to remove all of that flaky dead skin that I was dealing with. It happens a few times a week where I have a chunk of dead skin sitting on my top of my face (needs to be removed!!). It works! Without having to put too much pressure on the skin. I just smooth the exfoliating scrub all over my face. Once I feel that the dead skin has been detached from my facial skin, I rinse it off. I'm left with softer, smoother, more glowy skin afterwards! As for acne, it's really hard to tell if it helps acne or not. I mainly purchased it to remove dead skin. And chemical exfoliants (glycolic acid, mandelic acid) are more effective when left on the skin. I'm already using a glycolic acid product (my thoughts on it here). For me, this polish is a nice little addition to my routine to remove dead skin cells. It seems to be working for me. I only use it a few times a week. It's perfect for those days when my skin is extremely oily. Beyond greasy, ahem! It just wipes all of the oil away and leaves my skin feeling and looking happy. The results are softer, smoother, prettier skin. 🙂
This is what the polish looks like. Ever so creamy!!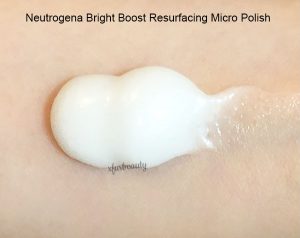 Pros & Cons
✅ Pros
Contains glycolic acid, mandelic acid
Brightens the skin
Exfoliating particles feel gentle on the skin
Removes gunk, dead skin cells from the skin
Effective exfoliant
❌ Cons
May be to aggressive for sensitive skin (patch test first!)
Conclusion
After a couple of weeks of using this polish, I really like it. Sometimes when I use an exfoliating brush or other facial scrubs, dead skin doesn't come off properly. They're still stuck on my face. With this polish, it really helps! I've seen noticeable improvements after each use! My skin is softer, smoother, and more glowy afterwards! I highly recommend this product! It's been awesome!
For more reviews on Neutrogena skin care products go here!!
Categories:
Tags:

Acne, Acne Prone Skin, Acne Treatment, Blemishes, Bright Boost, Clogged Pores, Face Polish, Neutrogena Bright Boost Resurfacing Micro Face Polish, Neutrogena Skin Care, Resurfacing Micro Face Polish, Review, Skincare