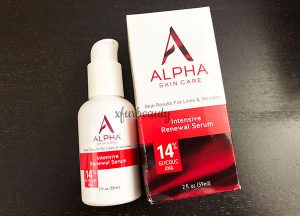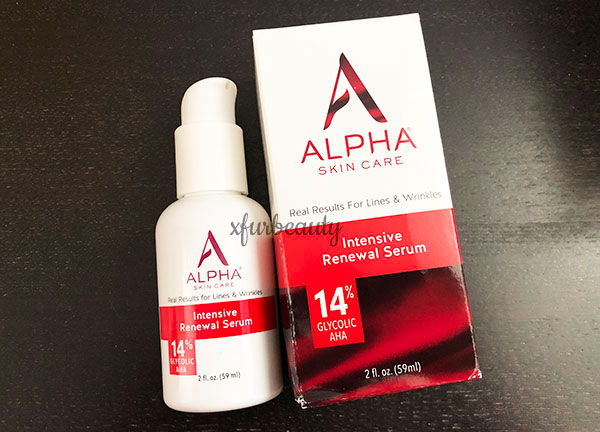 I've used Alpha Skin Care Intensive Renewal Serum on and off. I think it's the perfect time to re-add it back into my skin care routine. I'm looking for something else other than benzoyl peroxide to treat my acne. I'm still using benzoyl peroxide whenever I can, but I just wanted something else like glycolic acid or lactic acid. I happen to have some leftover Alpha Skin Care Intensive Renewal Serum. I can test it out to see if it works. Luckily, I don't have to purchase a new bottle of serum! Yay! 🙂
I've only used it once. I know, that's not that much time, but here are my results…
Alpha Skin Care Intensive Renewal Serum contains 14% glycolic acid. It does contain other ingredients too, such as glycerin, matricaria extract, green tea extract, sodium hyaluronate, aloe baradensis juice, to name a few more. This serum feels liquidy when dispensed. I use about 2 pumps. That's more than enough to cover my whole face and neck area. The product absorbs into the skin very well. By the way, I only use it at night since glycolic acid (14%) makes the skin more prone to sensitivity and sun damage. Yes, I make sure to wear my sunscreen every day. But still, I want to prevent my skin from damage as much as possible. So this serum does tingle when applied to the skin, but it eventually goes away within a few minutes. I didn't have any issues with that.
After a night of using this glycolic acid serum, my skin looked more refined and smoother the next morning. It helped to decrease sebum in my skin. I was having trouble with oily skin some days of the week. It would just get really messy and oily. I liked how this serum just killed the oil off. I also woke up with some new breakouts. I wasn't surprised, since that's one of the main reasons why I wanted to start using glycolic acid. I wanted to unclog some stubborn clogged pores that won't budge. I'm on tret, but it doesn't seem like it's helping much with some pimples. It's getting really annoying. I'm still using benzoyl peroxide, but I wanted to see if glycolic acid could possibly do anything for those stubborn, annoying clogged pores. It doesn't hurt to give it a chance again.
My results have been good so far. I mean, it's only been a single day. But after noticing breakouts (pores unclogging) and a decrease in blackheads on my nose, I think it's doing what it's supposed to do. Hopefully it'll get rid of them entirely as I continue to use it. Benzoyl peroxide works for that too, but glycolic acid did both — made my skin look smoother in texture and is eliminating blackheads. I've tried BHA for blackheads, but it wasn't that great. I still use a facial cleanser with salicylic acid (read more about it here). It's not something I would give that much credit for fighting against my acne. Seems like most salicylic acid products don't work on my acne, or I haven't found one that works. Oh well, haha.
So my overall skin texture is softer and smoother. The changes are so noticeable!! I think I'm going to keep using this glycolic acid serum a few times a week. Maybe 2-3 times a week and take it from there. If tret isn't doing much, gotta look elsewhere to fix the problem. I'm already seeing changes in my skin after a day. I'll make an update soon if it's doing anything for my skin or not. 🤞🏻
⭐ If you missed out on my previous experience with tret…
My experience with tret the first week…
After 1 Month on Tret + Skin Care Routine. Here are My Results.
2 Months on Tret. My results. 🙂
Back to tret! 1 Week Results & My Skin Care Routine. Did it work? 🤔
A break from Tret & What I'm Doing Now
Surprise! Back on tret + Other Acne Treatments for Clear Skin. 🙂
Categories:
Tags:

Acne, Acne Marks, Acne Scars, Acne Skin, Acne-Prone Skin, Alpha Skin Care Intensive Renewal Serum, Anti-Aging, Blemishes, Exfoliant, Experience, Glycolic Acid, Glycolic Acid Serum, Hyperpigmentation, Review, Skin Care, Skincare, Thoughts, Wrinkles