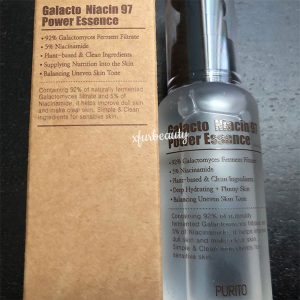 After a couple of days of using Benton Fermentation Essence without any issues, I started using Purito Galacto Niacin 97 Power Essence. It's another galactomyces product. Purito's product contains 92% galactomyces, 5% niacinamide, bfida ferment lysate, lactobacillus ferment, and other ingredients like allantoin and adenosine. The ingredients in the Purito Galacto Niacin 97 Power Essence is very short and straight to the point. Since Benton Fermentation Essence worked for me, my skin shouldn't have any problems with Purito's serum. I'm not looking for another galactomyces product, but I had this one stashed away in the corner. At one point in time, I thought it broke me out because of the galactomyces. I actually stopped using all products that contained galactomyces. Turns out my skin doesn't have any problems with it. I'm looking at my skin after using products with galactomyces, and it looks like everything is going well. No breakouts. No skin irritation of any kind. 😊 The problem was this right here. Yes, you know it, my vegan years. It truly ruined my health and the health of my skin in the end. Be sure to check out my experience and what went on!
So this serum feels lightweight on the skin and absorbed very quickly. I loved how it just sunk into my skin right away, but it also helped to absorb excess sebum on my face too. It left my skin matte. I'm using a richer, thicker, heavier face cream, and my skin is left oily every time, so it's awesome that this serum can just reduce the oils on my face instantly. This serum doesn't feel heavy on the skin or leave the skin feeling sticky. It feels like I'm applying water onto my skin but with added benefits. With this serum, I noticed a brighter complexion the next morning after using it only once! The niacinamide in this product really works! That doesn't happen very often with my skin with niacinamide. Another product that I found that contains niacinamide and works is SOME BY MI Niacin 30 Days Miracle Brightening Sleeping Mask. It works to brighten the skin and make it glow as well. Just like the Benton Fermentation Essence, I didn't get breakouts from this serum. It looks like my skin does well with galactomyces ferment filtrate but also bfida ferment lysate and lactobacillus ferment. Seems to work for me this time around! YAYY!! 🙌🏻
But, I'm not sure if I'm going to keep this serum in my routine. I just have a couple of bottles of the serum to knock out. I'll think about it in the meantime, haha. So far, it's not too bad. My skin is glowing!!
If you missed out on my experience with Benton Fermentation Essence, check out these posts:
I Used Benton Fermentation Essence Last Night. This Is What Happened.
An Update on Benton Fermentation Essence. Did It Clog My Pores??
Categories:
Tags:

Acne, Anti-Aging, Anti-Wrinkle, Beauty, Brightening Serum, Experience, Ferments, Fine Lines, Galactomyces, Galactomyces Serum, Niacin, Niacinamide, Purito, Purito Galacto Niacin Power Essence, Review, Skin Care, Skincare, Wrinkles