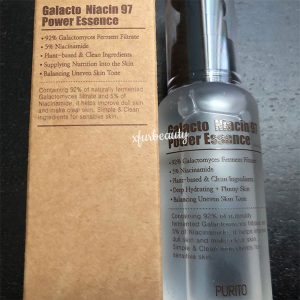 After a couple of days of using Benton Fermentation Essence without any issues, I started using Purito Galacto Niacin 97 Power Essence. It's another galactomyces product. Purito's product contains 92% galactomyces, 5% niacinamide, bfida ferment lysate, lactobacillus ferment, and other ingredients like allantoin and adenosine. The ingredients in the Purito Galacto Niacin 97 Power Essence is very short and straight to the point. Since Benton Fermentation Essence worked for me, my skin shouldn't have any problems with Purito's serum. I'm not looking for another galactomyces product, but I had this one stashed away in the corner. At one point in time, I thought it broke me out because of the galactomyces. I actually stopped using all products that contained galactomyces. Turns out my skin doesn't have any problems with it. I'm looking at my skin after using products with galactomyces, and it looks like everything is going well. No breakouts. No skin irritation of any kind. 😊 The problem was this right here. Yes, you know it, my vegan years. It truly ruined my health and the health of my skin in the end. Be sure to check out my experience and what went on!
So this serum feels lightweight on the skin and absorbed very quickly. I loved how it just sunk into my skin right away, but it also helped to absorb excess sebum on my face too. It left my skin matte. I'm using a richer, thicker, heavier face cream, and my skin is left oily every time, so it's awesome that this serum can just reduce the oils on my face instantly. This serum doesn't feel heavy on the skin or leave the skin feeling sticky. It feels like I'm applying water onto my skin but with added benefits. With this serum, I noticed a brighter complexion the next morning after using it only once! The niacinamide in this product really works! That doesn't happen very often with my skin with niacinamide. Another product that I found that contains niacinamide and works is SOME BY MI Niacin 30 Days Miracle Brightening Sleeping Mask. It works to brighten the skin and make it glow as well. Just like the Benton Fermentation Essence, I didn't get breakouts from this serum. It looks like my skin does well with galactomyces ferment filtrate but also bfida ferment lysate and lactobacillus ferment. Seems to work for me this time around! YAYY!! 🙌🏻
But, I'm not sure if I'm going to keep this serum in my routine. I just have a couple of bottles of the serum to knock out. I'll think about it in the meantime, haha. So far, it's not too bad. My skin is glowing!!
If you missed out on my experience with Benton Fermentation Essence, check out these posts:
I Used Benton Fermentation Essence Last Night. This Is What Happened.
An Update on Benton Fermentation Essence. Did It Clog My Pores??
Categories:
Tags:

Acne, Anti-Aging, Anti-Wrinkle, Beauty, Brightening Serum, Experience, Ferments, Fine Lines, Galactomyces, Galactomyces Serum, Niacin, Niacinamide, Purito, Purito Galacto Niacin Power Essence, Review, Skin Care, Skincare, Wrinkles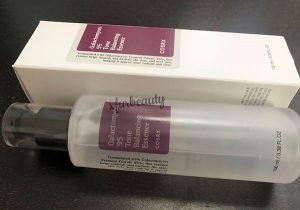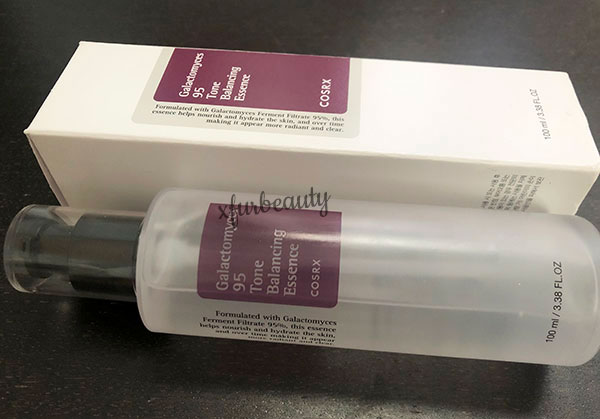 I've been using Cosrx Galactomyces 95 Tone Balancing Essence for a couple of years now. I can't believe it's been that long. I'm here to share my experience with this product! Before I do, let's learn more about the essence! It's formulated with 95% Galactomyces Ferment Filtrate. This ingredient helps to nourish and hydrate the skin. It makes the skin appear radiant and clear. It brightens and smooths dull skin. Helps to minimize the look of dark spots and hyperpigmentation. Reduces the appearance of fine lines. The product is free of parabens, alcohol, phthalates, and sulfates. Now here's my experience and results with Cosrx Galactomyces 95 Tone Balancing Essence!
My experience
The product is 3.38 fl. oz. (100 mL). It's the same size as the other Cosrx skin care products that I've used, such as Cosrx Oil-Free Ultra-Moisturizing Lotion (with Birch Sap), Cosrx Hyaluronic Acid Hydra Power Essence, and Cosrx Advanced Snail 96 Mucin Power Essence. <<< Click the links to check out my posts on these products!! Some of them are my HG! Now back to the Galactomyces 95 Tone Balancing Essence! This essence is watery when dispensed from the bottle. It's a pump bottle, by the way. I only use 1 pump for each application. That's more than enough product. It absorbs into the skin very nicely. It simply just vanishes into the skin and leaves the skin feeling clean and moisturized. I loved how lightweight this essence is on my facial skin. It doesn't leave any residue behind and doesn't feel sticky either.
So I first started out using this essence on my face, but I had to stop. It's because I learned that my facial skin can't tolerate galactomyces. I've tried other skin care products (more reviews coming soon!) with galactomyces, and my skin broke out. I would get tiny little closed comedones all over my face, especially my forehead. I would also develop blackheads out of the blue. The outcome was just terrible. But, from my past experience from using the essence on my face, it did help provide a good amount of moisture to my skin. I don't recall it brightening my skin or fading acne marks/post-inflammatory hyperpigmentation. It didn't help with fine lines and wrinkles. It was just a very hydrating essence. Much better compared to what I'm using right now — Cosrx Hyaluronic Acid Hydra Powder Essence and Cosrx Advanced Snail 96 Mucin Power Essence. Too bad, my skin rejected it. haha.
Since I can't use it on my facial skin, what am I doing with it now??
I'm using it on my upper body or any dry areas on the rest of my body. I'm trying to use it up, lol. Even though this product moisturizes the skin very well, I don't see the point of purchasing it again just for that purpose. I have other less expensive moisturizers that moisturize my skin without costing too much.
Here's a quick summary of the ingredients in this product:
Galactomyces Ferment Filtrate, Niacinamide, Sodium Hyaluronate, Betaine, Panthenol, Glycerin, 1,2-Hexanediol, Allantoin, Butylene Glycol, Xanthan Gum, Ethyl Hexanediol, Adenosine
The ingredient list is very short and simple. Galactomyces Ferment Filtrate being the first ingredient. It also contains niacinamide, sodium hyaluronate, and panthenol.
Pros & Cons
✅ Pros
Lightweight
Absorbs into the skin instantly
Feels moisturizing on the skin
Doesn't feel sticky. No residue left behind.
❌ Cons
Clogged my pores
Doesn't brighten the skin or help with hyperpigmentation
No reduction in fine lines
Conclusion
I would love to keep this essence in my routine for the moisture it provides the skin. But, unfortunately, it's not compatible with my skin type. Galactomyces and my skin just don't go well together. I get crazy clogged pores from left to right in a matter of days after using this particular skin care ingredient. If your skin can handle galactomyces, this is a nice lightweight, hydrating essence. As I mentioned before, I didn't see any other benefit besides the essence moisturizing my skin.
For more reviews on Cosrx skin care products click here
Categories:
Tags:

Anti-Aging, Anti-Wrinkle, Beauty, Brightening, Cosrx, Cosrx Galactomyces 95 Tone Balancing Essence, Essence, Experience, Facial Essence, Facial Serum, Galactomyces, Galactomyces Ferment Filtrate, Galactomyces Serum, Hydrating, Lifestyle, Moisturizer, Moisturizing, Review, Skin Care, Skin Care Products, Skincare, Wrinkles