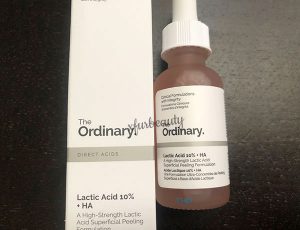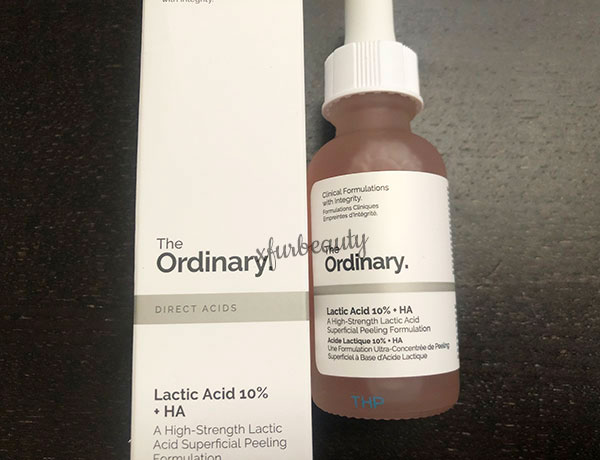 Here's another The Ordinary product! 😊 I tried the Lactic Acid 10% + HA! The purpose of this serum is to help with uneven skin tone, texture, skin congestion, and targets the signs of aging. It has a pH of 3.60-3.79. Notable ingredients in this serum are lactic acid, hyaluronic acid, and tasmanian pepperberry. It's vegan and cruelty-free. I've used plenty of lactic acid serums before with great results. I wonder why I stopped. Let's see if this one works! Here's my experience with this serum! I hope this is helpful! 😁
My experience
This serum comes in a 1 oz. dropper bottle. The color of the serum is pretty cool. It's just something I noticed when using it, lol. So I only use about 2-3 drops of this serum twice a day, in the morning and at night. This lactic acid serum feels very gentle on the skin, so I didn't have a problem with using it twice in a single day. It feels lightweight and absorbs into the skin well, but it leaves a weird film behind on the skin. From my experience, almost all The Ordinary skin care products are like this. I chose the 10% lactic acid. They also have the 5%. I didn't think the 5% would do anything for my skin, so I went with the higher strength. The 10% didn't feel harsh on my skin at all. Lactic acid, in general, from my experience, is a pretty gentle exfoliant. On my skin, that is. One of the reasons why I prefer lactic acid over glycolic acid. Both of these exfoliants give similar results, but I like lactic acid due to how gentle it is on my skin while producing results.
So the first ingredient in this serum is water. It does contain Propanediol, but it's not high up on the list. It's not a terrible ingredient, but it seems like my skin has problems with products that have a high concentration of Propanediol. My skin gets so dry, itchy, and irritated. This serum does contain glycerin and sodium hyaluronate too. My skin didn't burn or tingle using this serum. Lactic acid is the second ingredient. I did notice some skin peeling, but it didn't make a huge difference in my skin. I did get some breakouts. I thought my skin was purging, but it turns out the product itself was breaking me out. The breakouts were very similar to The Ordinary Niacinamide 10% + Zinc 1%. I started to get closed comedones, and my skin never cleared up. Luckily, I realized that this product was causing clogged pores in less than 2 weeks. I stopped using it immediately and the closed comedones slowly went away. Another The Ordinary product that doesn't work? Who knew, lol. I haven't had much success with this brand. It's a very affordable product though.
Pros & Cons
✅ Pros
Gentle on the skin
Feels lightweight
Absorbs in the skin well
Contains 10% Lactic Acid and Sodium Hyaluronate
pH 3.60-3.79 for exfoliation
Affordable
❌ Cons
Breakouts from the formula (not purging)
Leaves a weird film behind on the skin
Conclusion
Another serum from The Ordinary that I wished worked. It's a simple lactic acid product that's very affordable. Since it breaks me out, I won't purchase it again. It could work for someone else. Just not on my skin. An exfoliant that I'm using right now is Cosrx AHA BHA Clarifying Treatment Toner. 👈🏻 Check it out!
Categories:
Tags:

10% Lactic Acid, Acne Skin, Acne Skin Care, Beauty, Exfoliant, Hyaluronic Acid, Lactic Acid, Review, Skin Care, Skin Care Products, Skincare, The Ordinary, The Ordinary Lactic Acid 10% + HA