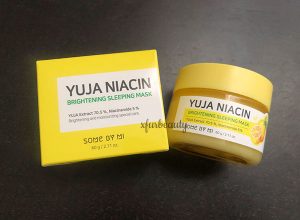 I have a new moisturizer or what they call a sleeping mask. Cosrx Ultimate Nourishing Rice Overnight Spa Mask is also a sleeping mask, but I use it as a daily moisturizer. It works. 🙂
So the purpose of SOME BY MI Niacin 30 Days Miracle Brightening Sleeping Mask is to achieve a radiant, youthful complexion. It contains yuja extract, gluthathione, niacinamide, aquaxyl, fructan, and vitamins to moisturize and revitalize the skin. Good for dry, dull, uneven skin tone or eye bags. A quick-absorbing formula that's light and refreshing with a relaxing citrus sent for a good night's sleep.
OoOoOooooo! That sounds pretty awesome!
The sleeping mask comes in a 60 gram jar. It's a lightweight gel-cream formula. Very easy to use. Feels smooth and soothing on the skin. It really does go on the skin nicely and absorbs quickly into the skin. Doesn't leave any sticky residue behind. I like the texture of this product a lot more compared to my lotion moisturizers. It's because I have oily skin. And gel or gel-cream formulas don't leave my skin looking sticky, greasy, or an oily mess. My skin just drinks up the cream like water. So far, I haven't noticed any breakouts from the product, but I only use it a few times a week. I don't think it'll be something I'll use more often, since I find it a bit drying. It's not moisturizing enough for daily use. So I'll use it in combination with my other moisturizers that I'm using right now. This cream also has a citrus scent to it (as mentioned earlier). I didn't care for it, lol. At least it doesn't smell too bad.
Let's see what's in this product! It contains citrus junos fruit extract (70.5%), niacinamide (5%), panthenol, and jojoba seed oil. There's a bunch of extracts like peppermint and hippophae rhamnoides fruit extract. It also contains arbutin, glutathione, ascorbic acid, biotin, and a ton of other good stuff for the skin. The ingredients look pretty nice. As for results, after using it at night (when I use the cream), I noticed softer skin that's a little brighter in the morning. I saw temporary results the next day, which is pretty cool. I hope with long term use that it helps to get rid of acne marks and hyperpigmentation. That's what drew me to this product in the first place. I'm still dealing with that annoying stuff. Seems to take forever to go away.
After 2 weeks of using this sleeping mask, I think it's OK. The only downside to it is that it's just not the most moisturizing. But I think it's a good addition to my routine to help improve my skin, especially with acne and acne marks. Alright! I'll make another update in a few more weeks. I hope that I don't breakouts from it. Everything is going well so far but who knows what might happen. I'll see everyone in the next update! 😎
This is what the product looks like. It's a pretty pastel yellow shade. The box was sealed with a sticker, but the jar itself wasn't. It doesn't have seal.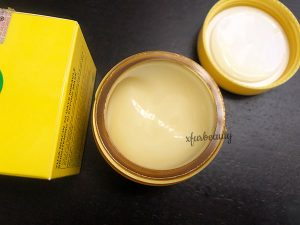 Categories:

Acne, Anti-Aging, Antioxidant, Beauty, Moisturizer, Skin Brightener, Skin Care
Tags:

Acne, Acne Prone Skin, Acne Skin, Beauty, Brightening, Gel Moisturizer, Moisturizer, Niacin, Night Moisturizer, Oily Skin, Review, Skin Brightening, Skin Care, Skincare, Sleeping Mask, SOME BY MI, SOME BY MI Niacin 30 Days Miracle Brightening Sleeping Mask