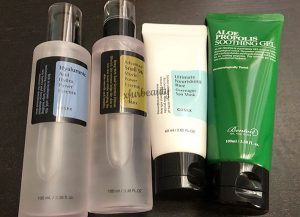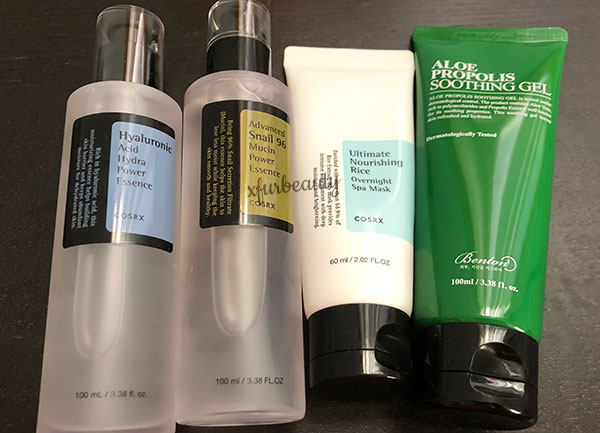 Here's an update on my moisturizers. Moisturizing my skin has helped so much with skin dryness, flaky skin, and just skin that looks aged. My skin looked so bad without moisturizing. I knew that I needed to moisturize my skin, but I couldn't find a moisturizer or a set of moisturizers that worked on my skin. I have problematic skin. It's genetics. I have very oily skin that's easily clogs. So I'm battling to keep my skin pimple-free at the same time. It's tough. Not easy at all when so many moisturizers are pore-clogging and just not suitable for my skin type. But here I am with a set of moisturizers that I use. I talked about them in my first moisturizer post. Now here's an update on what I think about each product.
⭐ Cosrx Hyaluronic Acid Hydra Power Essence
I still love this essence. It's still not the most hydrating, but I still like it for what it is. It gives my skin some moisture, doesn't break me out, and sits on my skin nicely. It's a good option for people with oily skin. It doesn't leave the skin looking shiny or greasy. It absorbs into the skin very well. I've been using this essence twice a day without any issues. It's a staple in my routine now. Love it!
⭐ Cosrx Advanced Snail 96 Mucin Power Essence
Unlike Cosrx Hyaluronic Acid Hydra Power Essence, I don't use the Snail Mucin Essence every day. It's too moisturizing on my skin. My skin starts to act up when I use it too often. This is something I use 1-2 times a week or when my skin feels drier than usual. Sometimes I use it in the morning if I need it, but I prefer to keep it at night.
⭐ Benton Aloe Propolis Soothing Gel
Since my skin is getting a little bit more sensitive, I can feel this moisturizer burning my skin, lol. But I'm still using it, hah! It's a nice soothing aloe gel (when it doesn't sting the skin). It absorbs into the skin well and leaves it somewhat moisturized. The moisture doesn't last long, but it's something to use that doesn't cause breakouts. The smell of the product is getting to me though. It has a weird scent to it that I'm not fond out.
⭐ Cosrx Ultimate Nourishing Rice Overnight Spa Mask
The most moisturizing moisturizer I use is the Cosrx Ultimate Nourishing Rice Overnight Spa Mask. I love how it leaves my skin moisturized. But did it leave my skin looking brighter? I'm not impressed with the brightness. I was hoping it'll fade some acne marks, since it contains rice extract and niacinamide, but I haven't seen much. It does a great job at keeping my dry skin moisturized. It does feel a little bit oily though. This moisturizer is not oil-free, by the way. It contains sunflower seed oil, palm oil, and palm kernel oil. I can't believe I've lasted this long using this product, lol.
⭐ Cosrx Oil-Free Ultra-Moisturizing Lotion (with Birch Sap)
This is the latest moisturizer I added to my moisturizing routine. This is on par with Cosrx Ultimate Nourishing Rice Overnight Spa Mask in terms of moisture. It leaves the skin so moisturized without making the skin look like a greasy mess. It also contains lemon peel and tea tree oil. I wish tea tree oil wasn't at the end of the ingredient list. Tea tree oil is one of my favorite natural acne-fighting ingredients. It helps to tame my acne. I used to use a tea tree oil face wash that worked wonders for my skin for so many years. I miss it! But this moisturizer has done my skin good. I like it. 🙂
I hope this was helpful. Thank you for reading. 🙂
Categories:
Tags:

Acne Prone Skin, Acne Skin, Aloe, Aloe Gel, Benton, Benton Aloe Propolis Soothing Gel, Brightening, Cosrx, Cosrx Advanced Snail 96 Mucin Power Essence, Cosrx Hyaluronic Acid Hydra Power Essence, Cosrx Ultimate Nourishing Rice Overnight Spa Mask, Dry Skin, Experience, Hyaluronic Acid, Hydra Power Essence, Hydrating, Moisturizer, Moisturizing, Niacinamide, Oily Skin, Propolis, Propolis Soothing Gel, Review, Reviews, Rice Mask, Rice Spa Mask, Skin Care, Skincare, Snail Essence, Snail Mucin, Snail Mucin Power Essence, Soothing