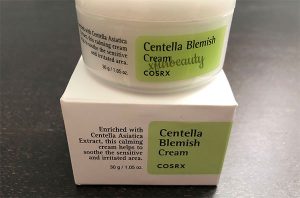 I stumbled upon Cosrx Centella Blemish Cream when I was searching for an acne treatment that is more gentle and less drying on the skin. Something that isn't benzoyl peroxide or salicylic acid. Something that reduces redness and calms irritated skin. This seems to be it by reading the benefits of this product…
Product claims
Soothes irritated skin
Calms inflamed red skin
Prevents acne scars
☝ It says prevents acne scars. I'm mind blown if it actually does.
My experience
This product comes in a 30 gram (1.05 oz.) jar. The jar is very tiny. It's pricey for the amount of product. Retail price is $21, but you can find it for less. This cream is a thick white paste. Very creamy in texture. It smells like tea tree oil with a bunch of other stuff that I can't pinpoint, but it smells weird. I started using this blemish cream as a spot treatment. The instructions advises to apply a thick layer of the cream on troubled, blemished spots. That's what I did. I applied a thick layer on my pimples and left it on overnight. I woke up the next morning and noticed that some of the product had crusted off. It could be due to how oily my skin is. I seem to wake up every morning with so much oil on my face.
As for the results, this is not a fast blemish fighting cream. It took 3-4 days to notice a reduction in size of pimples. But it does work. It just doesn't work as quick as benzoyl peroxide, which reduces the size of pimples in 1-2 days. That's how fast benzoyl peroxide works on my skin anyways. I did notice that the swelling and redness did go down after 1-2 days of using this blemish cream. My pimples looked less red, less inflamed, and calm. It also soothed the skin surrounding the spot. Interesting! So it did work to reduce inflammation and soothe irritated skin as it claims! It makes it less noticeable and easier to hide pimples with a concealer.
So…
I wanted to get the most out of this blemish cream, so I tried using it as an all-over blemish treatment in the morning and at night. It was very difficult to apply the cream with my other skin care products in the morning. It would pill and took longer to set. I didn't have time to wait, so I gave up on that after plenty of attempts. I tried using it as an all-over blemish treatment at night. It worked just the same as I was using it as a spot treatment. But I stopped using it as an all-over treatment because I thought it was a waste of product. Do I really need to do this? Do I?? lol. The jar is tiny, and it's rather expensive. I just went back to spot treating at night, since that's all I really need. It seems to work better that way.
At first, when I started using this blemish cream, I wasn't sure if it was worth it or not. I actually ended up really liking it when my skin cleared up from my other acne treatments. This is a gentle alternative to treating blemishes. It's not as effective as the more aggressive acne treatments like benzoyl peroxide and salicylic acid, but it's something different. It contains tea tree oil, which my skin seems to tolerate well. It also contains zinc oxide, which is really good for acne and inflammation. Also, centella to help reduce redness and soothe the skin. It does contain oils, such as Sunflower Seed Oil, Palm Oil, and Palm Kernel Oil, but it didn't bother my skin. I'm only using it as a spot treatment, so it doesn't matter. It still works. ☺
Did it help prevent acne scars??
I can't tell. I don't think it did. I guess it's something. But it works to reduce red, inflamed skin. If I have a pimple that's highly inflamed, I'll dab a little bit of this cream on top at night and wake up the next morning with a less angry pimple. I'll have to see if it helps to prevent acne scars when I finish the whole jar.
Here's my Cosrx Centella Blemish Cream. I've had it for 3 months. I've used only half a jar. Take note that I wasn't consistent with this product. I stopped using it for a few weeks and jumped back on it because I wanted a more gentle alternative to spot treat pimples. 🙂 I love it so far.
Pros & Cons
✅ Pros
Contains centella, tea tree oil, and zinc oxide
Moisturizing
Doesn't dry out the skin
Reduces inflammation
Soothes the skin
Gentle on the skin
❌ Cons
Expensive for a 30 gram jar
Slow results
Has an odd smell
Crusts off the skin in the morning
Conclusion
My overall experience with Cosrx Centella Blemish Cream has been very good. I didn't think I would like this product when I first started to use it, but it does what it's supposed to do. It reduces inflammation and soothes the skin. Still on the fence if it helps to prevent acne scars or not. This blemish cream may not work as fast as benzoyl peroxide or salicylic acid, but it still works. I love how gentle it is on the skin, and it helps to fight pimples at the same time. My skin doesn't feel or look irritated or red when using it…or after rinsing it off in the morning. The combination of ingredients is amazing for the skin. It contains centella, tea tree oil, and zinc oxide to combat acne, redness, inflammation, and swelling. Nothing irritating or harsh. It helps to heal the skin instead of working against it. All I need to do is dab some of this cream on my spots and wake up the next morning with less stressed skin. I think this is a really nice cream to have around. It helps to treat pimples naturally. If you're looking for an alternative or have sensitive skin, give this a shot. My skin seems to like it. I approve of this! 👍🏻