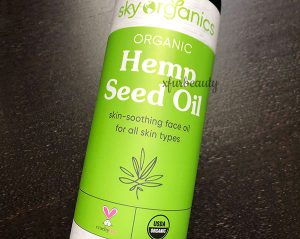 Hello everyone. Here's more about my cleansing routine, which changes ever so often. I'm always trying to find the right products for my skin, and the only way to find out is to try out products to see if they work for me or not. So I make sure I remove my makeup (and sunscreen) thoroughly every night. I'm currently using a cleansing oil (iUNIK Calendula Complete Cleansing Oil) and another oil to help break down tough makeup (especially eyeliner, mascara). iUNIK Calendula Complete Cleansing Oil isn't enough to remove my makeup effortlessly. Don't forget to check out my review on that cleansing oil! Since I want to remove my makeup properly without putting too much pressure on my skin, I am using Organic Hemp Seed Oil to do just that. I first purchased this organic hemp seed oil to moisturize my skin. My skin was extremely dry and needed something heavy duty, but that didn't work out. It was too much for my skin. I had hope for it even though I knew that my skin wasn't going to be able to tolerate it in the end. *sigh* It was too oily on my skin. Yes, I know, it's an oil, haha. My blemish-prone skin couldn't handle it. I was just hoping that it could work…
So what are the benefits of organic hemp seed oil for the skin?
Organic hemp seed oil has so many benefits. Some benefits are…
Moisturizing the skin
Locks in hydration
Reducing acne scars
Soothes inflamed skin
Diminishing fine lines and wrinkles
Balances sebum production
That looks amazing for someone with oily, acne-prone skin. Yes, I fell for it. I had to try it out to see what it's all about. Also, I've read so many reviews that hemp was this amazing oil for acne. And how great it is. How it treated acne and acne scars. But, my skin didn't like the oiliness of it. This oil smells really bad too. The oil isn't rancid. That's just what organic hemp seed oil smells like. That's one of the other reasons why I stopped using it for a while. I couldn't stand the smell of it. But I don't regret trying it at least once. It was an interesting experience. Now I'm not that too curious about it anymore. It's a thing of the past to use it as a moisturizer. Never again will I use it as a moisturizer. It wasn't good for my acne-prone skin as I had hoped for. But it did help with inflammation and locking in moisture. I can attest to that.
Using hemp seed oil as a cleansing oil instead…
I decided to bring organic hemp seed oil back into my routine as a cleansing oil. I had a nearly full bottle of organic hemp seed oil that hasn't been touched in such a long time. I needed to use it up somehow. And it just happened, I started using it as a cleansing oil along with my iUNIK Calendula Complete Cleansing Oil. Instead of using 2 pumps of iUNIK Calendula Complete Cleansing Oil, I only used 1. This cleansing oil is just terrible at removing my eye makeup. I've tried it so many times, and it still has a hard time removing my eyeliner and mascara. When adding the organic hemp seed oil, tada! It worked! My eye makeup breaks down much more easily without too much effort. Also, the organic hemp seed oil comes in a bigger bottle. It's 473 mL, while iUNIK is 200 mL. The organic hemp seed oil is also less expensive too. Honestly, I'm just using the iUNIK Calendula Complete Cleansing Oil just because I have it. I can't wait to finish it. After cleansing my skin with oils, I don't rinse it down the drain. Why? IT CLOGS THE DRAIN.
This is what I did…
I use a facial wipe. Even when I was using iUNIK Calendula Complete Cleansing Oil alone, it slowed down my drainage. That is the reason why I started to use facial wipes again. I know, I know, facial wipes are wasteful and not eco-friendly. I have a bunch of wipes laying around unused. It'll be more wasteful if I didn't use them. But really, I thought cleansing oils would be a better option to replace facial wipes, but that idea turned out to be a dud. The facial wipes I have are still good to use. I'm going to use them up first. After that, I'll be on the quest to find an environmental-friendly alternative. So on my skin, using pure oil is actually more affordable and simple in the long run. I don't need fancy schmancy cleansing oils to remove my makeup. Pure oils do a great job at removing all of that gunk, debris, dirt, oil, makeup, sunscreen on my face, and I've been doing this for so many years. But all of a sudden I wanted to try out some cleansing oils. Hmm. I've tried oils from jojoba oil, grapeseed oil, coconut oil (yep, doesn't clog my pores as a makeup remover!), and olive oil (love evoo!). They all work great and yield similar results, or I can say even better results! I just follow up with a facial cleanser afterwards after wiping the oil off of my facial skin to make sure my skin is clean and spotless. Works every time!
My review on Sky Organics Organic Hemp Seed Oil
Since every product is different with similarities, I thought I'd do a quick review on my organic hemp seed oil, which is Sky Organics Organic Hemp Seed Oil. It just happened to be this brand. I don't have a preference yet. That's if I ever try other hemp seed oils in the near future. 🙂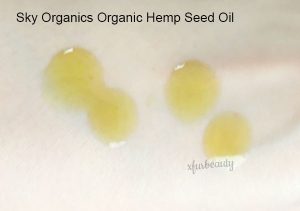 This oil is a yellowish-green color. Smells exactly like what it's supposed to smell like, which is hemp. I'm not a huge fan of the smell of hemp, so this was truly awful to me. I can't stand it. I remember using it as a moisturizer on my skin, and I couldn't take it anymore. It's so bad, lol. When I'm using it as a makeup remover, it isn't as bad because it's not on my skin for long. I gently massage some oil into my skin just for a few minutes then I remove it with a facial wipe. Works great! The oil is thick. It's not as thick as castor oil (if you've used that oil before), but this oil is definitely on the thick side. As a moisturizer, it feels pretty greasy at first, but it doesn't feel as heavy and thick when rubbed into the skin, which was surprising. It absorbs into the skin very nicely and leaves the skin feeling moisturized. But I've learned the hard way that my skin doesn't like oils. My nose doesn't like this particular oil either. Perhaps it might work better for someone with normal or dry skin. It didn't work on my oily, blemish-prone skin. Since it's an oil, it provided too much moisture for my skin. I developed pimples because of it. Organic hemp seed oil is not for me as a moisturizer, but it's works very well as a cleansing oil.
Will I purchase it again? Maybe. Maybe not. I'm not sure. I do have a preference for other oils. This was something new and different that I wanted to try out. Who knows what the future may bring. It's been working as a makeup remover for me. This isn't a bad product if you're looking for a good hemp seed oil product. Just be aware that it doesn't have a pleasant smell.
If you missed out on my review on Simple Micellar Cleansing Water check it out!
Categories:
Tags:

Acne, Acne Scars, Beauty, Dry Skin, Hemp Oil, Hemp Seed Oil, Oily Skin, Organic Hemp Oil, Review, Skin Care, Sky Organics, Sky Organics Organic Hemp Seed Oil