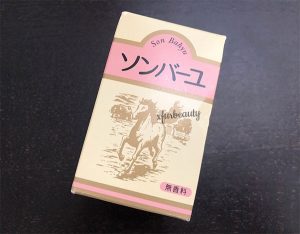 So it looks like horse cream didn't work for me. It was this one in particular — GUERISSON 9 Complex Cream. I loved how the cream transformed my skin to a dry, wrinkled, crusty mess to a highly moisturized, supple, glowing, beautiful complexion within ONE day. But after a few weeks, my skin started to retaliate against the cream. I believe it has to do with the other ingredients in the product, such as silicones, beeswax, and possibly some other oils. I'm not a huge fan of beeswax in my skin care due to my bad experience with it. It causes acne. Perhaps that was it. The cream had a silicone feel to it that I didn't like. The combination of ingredients in the cream just wasn't for my skin type. Now let's move on to this new product that I have! It's horse oil (from Son Bahyu)! 😃
So I purchased a jar of 100% pure horse oil. Yep, 100% pure horse oil! You read that right! Since I've been using a horse cream with horse oil in it, I'm not weirded out or grossed out by it anymore. It's like using snail slime or any other skin care product that contains animal by-products. I think I've adapted to it by now. It is what it is. Plus, I had really good results from the horse cream besides the minor breakouts I got from it. I really wished the cream worked out for me, but my skin is just so complicated. It's very particular about ingredients and the formulation of a product. Oh well. Sometimes it just doesn't, can't work out, and the horse cream is one of those products. *sigh*
Back to the horse oil! Why horse oil? What are the benefits? What's so special about it? 🐎 Horse oil helps to improve skin elasticity, wrinkles, acne, eczema, sunburn, and cuts. It's anti-inflammatory, locks in moisture, and helps to repair the skin barrier. Interesting! That sounds pretty amazing! And you know what? I noticed most of those benefits (since I don't have every skin disorder listed) in my skin when I was using the cream. My skin looked better and more youthful. I believe it's one of the first products I have used that moisturized and improved my skin dramatically (besides prescription creams). This cream can be purchased over-the-counter easily and it delivers results the next day! 🙂
What The Product Looks Like
The horse oil came in a 70 mL jar bottle with white, pink, brown, yellow coloring. It has a photo of a horse on the packaging. I think the design and packaging is very cute. It's a tiny little bottle, keep that in mind. It has Japanese words on it. This is a Japanese skin care product.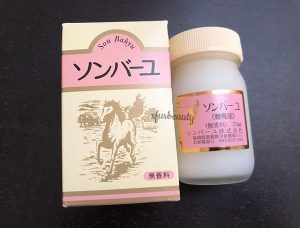 When opened, this is what the actual product (oil) looks like. It's not melted. It's a solid oil (fat). I mean, it is horse fat after all. Horse 🐴 fat in a jar.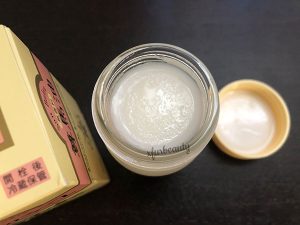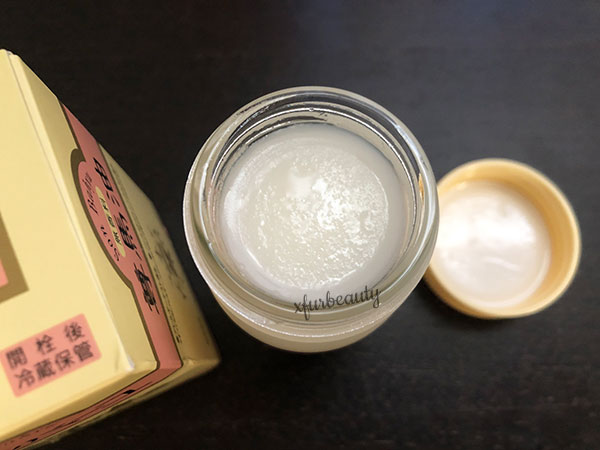 My Experience After Using 100% Pure Horse Oil
I started using this horse oil about a few days ago. The oil is very soft, smooth, and feels very different compared to what I'm used to using as a moisturizer. For example, my gel moisturizers, creams, and other oils. This is essentially pure horse fat I'm putting on my face. With this product, it's absolutely not necessary to use a lot of product. I mean, the product comes in a 70 mL jar bottle. It's a small amount of product, and it's pretty pricey too. So you're probably wondering, how do I apply horse oil to my face??? There are plenty of ways to do it, but this is how I do it. I take a small amount of product, rub it between the palms of my hands, and gently pat the oil into my skin. The oil should coat the skin and eventually sink into the skin as much as it can. It's an oil, so I don't expect it to sink in all the way but absorb into my skin over time as it's on my skin.
This oil feels very lightweight on the skin. It's nothing like the horse cream I used where it's soft, creamy, and feels like silicones. The horse oil is what it is. A lightweight oil. Pure oil. It feels moisturizing on the skin without leaving the skin feeling heavy or greasy. I thought the finish of the oil looked really nice and settled on my skin quite well. It's not dripping or melting from my face. Sits on my skin wonderfully. Gosh! I literally have HORSE FAT on my face, and it doesn't even feel like it! 😐
As for results, after the first day of using the oil, I noticed that my skin was highly moisturized but not to the point where it looked like a greasy mess. My skin didn't feel sticky or heavy either. The oil absorbed into my skin throughout the night without any problems. So a little goes a long way for it to be effective. So this oil does a great job at moisturizing the skin, but it feels more lightweight on the skin compared to the horse cream that I was using, which did wonders for my skin (minus the breakouts). I'm going to continue to use the horse oil and see what happens. So far, I like the way it feels on my skin. I just hope it doesn't clog my pores. My skin doesn't do well with oils that's why. But we'll see! Wish me luck! And see everyone in the next update!
If you missed out on my posts on GUERISSON 9 Complex Cream…
Trying Horse Cream for the First Time. My Experience!
My Results After Using Horse Cream on My Face for a Night!
Tonight's Results From Using Horse Cream.
I Stopped Using Horse Cream. What Happened?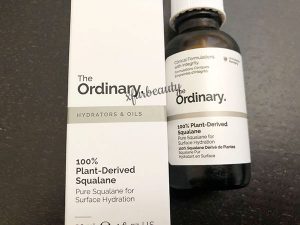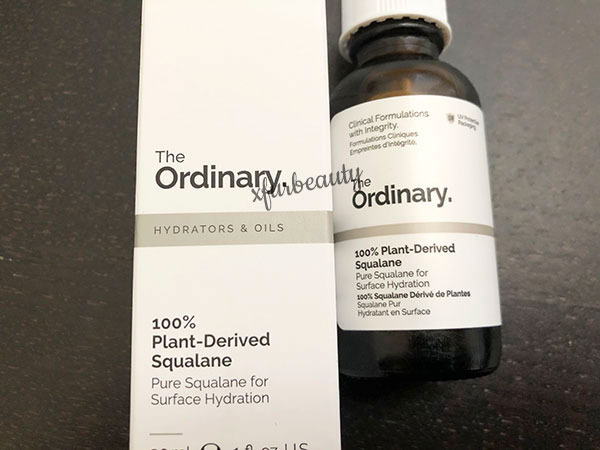 Almost all of The Ordinary skin care products I have tried failed on me. I took a chance with The Ordinary 100% Plant-Derived Squalane once again. I've probably used this squalane oil so many times trying to make it out. The purpose of this oil is to replenish lost moisture, provide barrier support, and to maintain healthy-looking skin. It is vegan and cruelty-free. There's only a single ingredient in this product. It is 100% Pure Plant-derived Squalane. I've been trying to find a lightweight moisturizer or just give my skin some hydration. I thought squalane oil could work, since it seems to work for most people. I keep hearing good things about it! Yep, trying to make it work after so many failed attempts, lol. Here are my results for the billionth time. I'm just kidding, but I've used it a bunch of times hoping it would work each time. Anyways, this is what happened to my skin this time.
My experience
This squalane oil comes out feeling oily. I know, that may sound obvious, since it's an oil but not all oils feel super oily. This one does. I take about 3 drops. Sometimes more if I feel if it's necessary. Pat it into my skin and smooth it all over my facial skin and neck. Let it absorb. Since it's an oily oil, it takes time to absorb into the skin, but it eventually does. This oil left my skin feeling moisturized. Felt really nice on the skin. I'm glad it only contains one ingredient in it unlike the other The Ordinary skin care products. Even though I loved the way it felt on my skin, I noticed closed comedones after 2 days of using it. I didn't want to believe it was the squalane oil but it was. I accepted it and stopped using it immediately. After discontinuing the oil, the breakouts stopped. So, using this oil was terrible for my skin from the beginning. I don't know why I keep trying to make it work. It just doesn't work on my skin. Maybe I'll try another squalane oil from another brand (or not, haha). The Ordinary and me don't go well together for some reason. It applies to this product too.
Pros & Cons
✅ Pros
Plant-derived squalane
Moisturizes the skin
Feels nice on the skin
Vegan
Cruelty-free
❌ Cons
Breakouts, closed comedones
Conclusion
Another The Ordinary skin care product that doesn't work on my skin. I really wanted it to work due to the skin dryness I've been dealing with from my acne treatment. But, nope, it didn't work at all. I'm officially done with it. And I'm truly done with it this time, lol. I will probably use the rest of the oil on my body like I do with other products that don't work on my face. I won't repurchase after I finish it.
If you missed out on my tret journey…
My experience with tret the first week…
After 1 Month on Tret + Skin Care Routine. Here are My Results.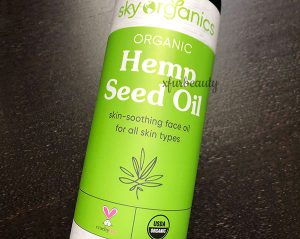 Hello everyone. Here's more about my cleansing routine, which changes ever so often. I'm always trying to find the right products for my skin, and the only way to find out is to try out products to see if they work for me or not. So I make sure I remove my makeup (and sunscreen) thoroughly every night. I'm currently using a cleansing oil (iUNIK Calendula Complete Cleansing Oil) and another oil to help break down tough makeup (especially eyeliner, mascara). iUNIK Calendula Complete Cleansing Oil isn't enough to remove my makeup effortlessly. Don't forget to check out my review on that cleansing oil! Since I want to remove my makeup properly without putting too much pressure on my skin, I am using Organic Hemp Seed Oil to do just that. I first purchased this organic hemp seed oil to moisturize my skin. My skin was extremely dry and needed something heavy duty, but that didn't work out. It was too much for my skin. I had hope for it even though I knew that my skin wasn't going to be able to tolerate it in the end. *sigh* It was too oily on my skin. Yes, I know, it's an oil, haha. My blemish-prone skin couldn't handle it. I was just hoping that it could work…
So what are the benefits of organic hemp seed oil for the skin?
Organic hemp seed oil has so many benefits. Some benefits are…
Moisturizing the skin
Locks in hydration
Reducing acne scars
Soothes inflamed skin
Diminishing fine lines and wrinkles
Balances sebum production
That looks amazing for someone with oily, acne-prone skin. Yes, I fell for it. I had to try it out to see what it's all about. Also, I've read so many reviews that hemp was this amazing oil for acne. And how great it is. How it treated acne and acne scars. But, my skin didn't like the oiliness of it. This oil smells really bad too. The oil isn't rancid. That's just what organic hemp seed oil smells like. That's one of the other reasons why I stopped using it for a while. I couldn't stand the smell of it. But I don't regret trying it at least once. It was an interesting experience. Now I'm not that too curious about it anymore. It's a thing of the past to use it as a moisturizer. Never again will I use it as a moisturizer. It wasn't good for my acne-prone skin as I had hoped for. But it did help with inflammation and locking in moisture. I can attest to that.
Using hemp seed oil as a cleansing oil instead…
I decided to bring organic hemp seed oil back into my routine as a cleansing oil. I had a nearly full bottle of organic hemp seed oil that hasn't been touched in such a long time. I needed to use it up somehow. And it just happened, I started using it as a cleansing oil along with my iUNIK Calendula Complete Cleansing Oil. Instead of using 2 pumps of iUNIK Calendula Complete Cleansing Oil, I only used 1. This cleansing oil is just terrible at removing my eye makeup. I've tried it so many times, and it still has a hard time removing my eyeliner and mascara. When adding the organic hemp seed oil, tada! It worked! My eye makeup breaks down much more easily without too much effort. Also, the organic hemp seed oil comes in a bigger bottle. It's 473 mL, while iUNIK is 200 mL. The organic hemp seed oil is also less expensive too. Honestly, I'm just using the iUNIK Calendula Complete Cleansing Oil just because I have it. I can't wait to finish it. After cleansing my skin with oils, I don't rinse it down the drain. Why? IT CLOGS THE DRAIN.
This is what I did…
I use a facial wipe. Even when I was using iUNIK Calendula Complete Cleansing Oil alone, it slowed down my drainage. That is the reason why I started to use facial wipes again. I know, I know, facial wipes are wasteful and not eco-friendly. I have a bunch of wipes laying around unused. It'll be more wasteful if I didn't use them. But really, I thought cleansing oils would be a better option to replace facial wipes, but that idea turned out to be a dud. The facial wipes I have are still good to use. I'm going to use them up first. After that, I'll be on the quest to find an environmental-friendly alternative. So on my skin, using pure oil is actually more affordable and simple in the long run. I don't need fancy schmancy cleansing oils to remove my makeup. Pure oils do a great job at removing all of that gunk, debris, dirt, oil, makeup, sunscreen on my face, and I've been doing this for so many years. But all of a sudden I wanted to try out some cleansing oils. Hmm. I've tried oils from jojoba oil, grapeseed oil, coconut oil (yep, doesn't clog my pores as a makeup remover!), and olive oil (love evoo!). They all work great and yield similar results, or I can say even better results! I just follow up with a facial cleanser afterwards after wiping the oil off of my facial skin to make sure my skin is clean and spotless. Works every time!
My review on Sky Organics Organic Hemp Seed Oil
Since every product is different with similarities, I thought I'd do a quick review on my organic hemp seed oil, which is Sky Organics Organic Hemp Seed Oil. It just happened to be this brand. I don't have a preference yet. That's if I ever try other hemp seed oils in the near future. 🙂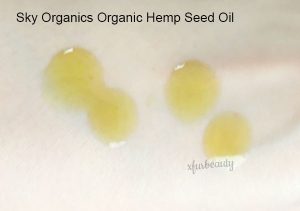 This oil is a yellowish-green color. Smells exactly like what it's supposed to smell like, which is hemp. I'm not a huge fan of the smell of hemp, so this was truly awful to me. I can't stand it. I remember using it as a moisturizer on my skin, and I couldn't take it anymore. It's so bad, lol. When I'm using it as a makeup remover, it isn't as bad because it's not on my skin for long. I gently massage some oil into my skin just for a few minutes then I remove it with a facial wipe. Works great! The oil is thick. It's not as thick as castor oil (if you've used that oil before), but this oil is definitely on the thick side. As a moisturizer, it feels pretty greasy at first, but it doesn't feel as heavy and thick when rubbed into the skin, which was surprising. It absorbs into the skin very nicely and leaves the skin feeling moisturized. But I've learned the hard way that my skin doesn't like oils. My nose doesn't like this particular oil either. Perhaps it might work better for someone with normal or dry skin. It didn't work on my oily, blemish-prone skin. Since it's an oil, it provided too much moisture for my skin. I developed pimples because of it. Organic hemp seed oil is not for me as a moisturizer, but it's works very well as a cleansing oil.
Will I purchase it again? Maybe. Maybe not. I'm not sure. I do have a preference for other oils. This was something new and different that I wanted to try out. Who knows what the future may bring. It's been working as a makeup remover for me. This isn't a bad product if you're looking for a good hemp seed oil product. Just be aware that it doesn't have a pleasant smell.
If you missed out on my review on Simple Micellar Cleansing Water check it out!
I've always been a fan of squalane oil. A lot of my skin care products contain this ingredient, but I wanted to a serum with only squalane as the ingredient. I picked up ArtNaturals (new brand to me) Squalane Oil to try out. More about it below…
About ArtNaturals Squalane Oil:
For oily, dry, combination, normal, acne-prone, mature skin
Brightens
Heals dry, stressed skin
Softens skin
Antioxidant rich
Fights signs of aging
Tones complexion
Vegan
Review:
I was so excited for this oil to heal my dry skin. When I dispensed a couple of drops of oil into my palm. The oil didn't feel oily, but a little more watery than I expected. This oil didn't have smell to it. So I used it for a couple of weeks hoping that it would do something for my skin. Sadly, it didn't. It didn't hydrate my skin like it's supposed to. I was very disappointed. Maybe it's because it feels diluted? Because I purchased another squalane oil product after this. And that oil feels more oily than watery (more about this soon!!). I eventually stopped using this squalane oil on my skin and moved on to something new. As mentioned, I'm using a different squalane oil now. My experience with ArtNaturals Squalane Oil wasn't that great. It's supposed to be squalane oil, but…I'm just really disappointed in the outcome. A review on my other squalane oil coming up next! I wouldn't recommend this particular brand. Skip it.
Reviews on oils:
Update: Rosehip Oil for Acne Skin
Organic Hemp Seed Oil for Acne Skin
Update: Organic Hemp Seed Oil for Acne Skin
I have a new (ahem) skin care product to share. 🙂 I've used this one before too in the past. It did make me breakout, so why am I trying it again? It's because I'm on Tretinoin. Since I have dead skin cells coming off of my face naturally, I think that can help prevent my skin from breaking out. I hope. hehe. So here I have, Acure Brightening Glowing Serum! It's a part of the Acure 'brightening' line (like the Acure Brightening Day Cream). More about the serum below.
About Acure Brightening Glowing Serum:
Contains argan oil, pumpkin, cranberry
Argan oil restores moisture
Borage oil soothes
Cranberry and pumpkin seed oils add antioxidant protection
All skin types
100% vegan
Sulfate free
Mineral oil free
Petrolatum free
Formaldehyde free
Cruelty-free
My thoughts on Acure Brightening Glowing Serum:
I've used the serum as long as I've used the day cream. I haven't had any issues with the serum…yet. I like it a lot more than the day cream. It's lightweight, hydrating, and calms my irritated skin down. I love how it locks in moisture. It doesn't leave my skin feeling or appearing greasy. The fact that it's a 'brightening serum' is awesome. As I mentioned earlier, I've used this brightening serum before. Check out my previous review here: Acure Brightening Glowing Serum. Does it Work? Looks like I developed some acne from it before. Once again, I'm on Tretinoin. The results could be different this time around. Who knows. I'm going to go for it anyways. It's a good product overall from my past experience besides the breakouts. Right now, no breakouts so far. Skin feels moisturized without feeling oily, greasy, or shiny. Let's see what happens. I'm looking forward to it (if it works, lol).