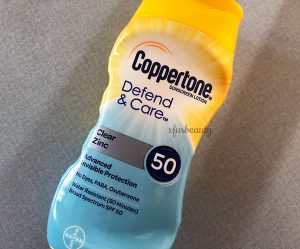 At the beginning of this summer, I picked up Coppertone Defend & Care Clear Zinc 50 for my body. I was searching for a physical sunscreen for my body, but this was close enough, lol. It's not a completely physical sunscreen but mixed. It has a combination of physical and chemical filters (Octinoxate 7.5%, Octisalate 4.5%, Zinc Oxide 9.7%). Good enough, I guess. haha. My body isn't too picky like my face. So the product is called Clear Zinc. I'm assuming the sunscreen should go on clear and not leave a white cast behind. We'll see about that! It's water resistant (80 minutes). It doesn't contain any dyes, PABA, and Oxybenzone. It looks like a basic sunscreen that can be used on beach days. It comes in a 6 fl. oz. bottle. If this was used on the face, I would consider this a good amount of product. On the body, not so much. I've seen larger bottles of sunscreen for the body. But let's try it out! Here's my experience with Coppertone Defend & Care Clear Zinc 50! ☀
My experience
This sunscreen goes all the way back to the beginning of this summer. I've had it for a while now. Here are my thoughts on it. The product is a gel-cream. It looks like a cream but feels like a gel. It's gloopy when dispensed from the bottle. I started using this sunscreen on my body first. It feels like a typical sunscreen lotion when applied to the skin. Nothing really stands out about it. I did noticed that the sunscreen tends to leave a slight white cast on my skin. From my experience with this sunscreen, I don't think it would work on skin that's tan or darker. I didn't like it myself even though I'm not tan. I prefer sunscreens that blend into my natural skin tone. With the white cast, it tends to settle into fine lines and creases. Also, it transfers white stains onto clothes, other fabrics, and surfaces as well. This sunscreen isn't moisturizing, so if you have dry skin, it'll accentuate the dryness even more. I think it's just the zinc doing that, lol. The reason why I tend to shy away from mineral-based sunscreens most of the time. They are, in general, drying on the skin. This sunscreen also has a plastic smell to it. It smells like a bunch of chemicals. I didn't like it. Well, let's see how it goes for my face. I decided to try it out anyways. It might work better. I can only hope! Read on…
I wasn't too impressed with the sunscreen on my body, but I decided to try it on my face, since it contained SPF 50. I wanted a higher SPF at that time. I gave it a go regardless of my experience with the sunscreen on my body. haha. Applying the sunscreen to my facial skin was more challenging. The sunscreen is best applied in droplets. When too much is applied to the skin at once, it gets really messy and doesn't absorb into the skin properly. My face ends up being white due to the white cast it leaves behind. On the face, the product moves around a lot. It's streaky. It's hard to tell if I'm applying an even application. Reapplication is just terrible too. The product would just build up and leave a horrible white cast behind on the skin every time I reapply the sunscreen. It looked like I was wearing a mask. It also accentuated dry patches on my skin. The product would settle in places, such as my eyebrows. It turned them white! It eventually dried out my skin so bad in the end making fine lines and wrinkles look more prominent. Also, the smell of the product gave me headaches. I can't imagine having this product on my face daily. It smells so awful. The strong fumes irritated my eyes. They became so teary and red. And yes, this sunscreen broke me out. I developed closed comedones. It was pretty scary. Another product that sits on top of my skin and clogs my pores. There's just too many of them!
After this experience, it looks like this sunscreen is better off used as a body sunscreen. But I really wanted it to work on my face! It's SPF 50 with zinc and comes in a 6 fl. oz. bottle. It would've been awesome if it did! But, nope, it didn't work. Now let's look at the ingredient list real quick! Just at a glance, it contains beeswax. My skin hates that stuff, but I had to try it out anyways. Next time, I won't. It's an ingredient that I am going to stay away from. Well! The rest of the sunscreen goes on my body. Never on my face ever again!
This is what Coppertone Defend & Care Zinc 50 looks like! Just your typical beach sunscreen.
Pros & Cons
✅ Pros
Contains SPF 50 (Octinoxate 7.5%, Octisalate 4.5%, Zinc Oxide 9.7%)
Comes in a 6 fl. oz. bottle
Affordable
Water-resistant (80 minutes)
Doesn't contain dyes, PABA, Oxybenzone
❌ Cons
Dries the skin out
Strong fumes
Burns the eyes
Leaves a white cast behind
Clogs pores (closed comedones!!)
Conclusion
Another big bottle of sunscreen that didn't work on my face, but my body does ok with it. It irritated my facial skin terribly. It dried out my skin, left a white cast behind (looked like I was wearing a mask!!), burned my eyes, and made fine lines and wrinkles more prominent. Also, I developed closed comedones while using this product. Yuck! It's a decent sunscreen for the body. Just not for the face. But it's not for me. I didn't like it at all. The smell of this product is such a huge turn off. I can't put up with it. It gave me bad headaches. And I read so many good reviews on it. All lies! I won't purchase again. Moving on and on to the next best thing!
Go here to read more on sunscreens 🙂
Categories:
Tags:

Beauty, Clear Zinc, Coppertone, Coppertone Defend & Care Clear Zinc 50, No Dyes, Oxybenzone Free, Paba Free, Review, Skin Care, Summer, Sun Care, Sunblock, Sunscreen, Water Resistant, Zinc Sunscreen