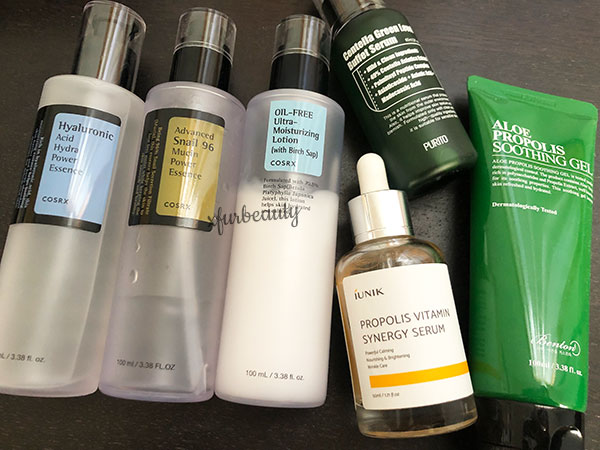 It's been 2 weeks of using tret to treat my acne. My skin did very well the first week. More than I expected. Go here to read more about it: My Acne Journey: 1 Week In…
Here's my experience for the second week!
The second week went pretty well. I had to switch up the way I used tret. I decided to push through the process as I mentioned in Week 1. That's what I did this week. I just pushed through it. How I managed to do it was sandwiching tret when my skin feels more vulnerable and sensitive than usual. This means that I would apply my moisturizers first. After that, apply tret. Lastly, apply my moisturizers. This actually worked. I woke up the next morning with better looking skin. My skin also had a chance to heal without stopping my use of tret. It's weird, but it worked out fine. I was able to continue to use tret without major issues. I was going to do this method a few times a week only, but it turns out that my skin gets dry and the flakes tend to get stuck on my skin (more difficult to remove too) when I apply tret directly to my skin. I couldn't put up with that on a daily basis. It irritates my skin and makes my skin look more awful. So, after noticing positive results from sandwiching tret, I continued to move forward with the sandwich method. My skin doesn't feel too dry. My skin isn't hurting. I'm still flaking, but the dead skin comes off much easier. I like what I'm seeing. 🙂 I did get some new breakouts this week but nothing major. No cystic acne. Just little, small bumps that disappeared as the days went on. I left most of them alone besides a few. I treated the others that bothered me with benzoyl peroxide. They healed right up the next morning. But, I have to be careful with this because I noticed that using benzoyl peroxide leaves a mark behind on my skin. More on this later. So there's that! There are other things I changed too. I stopped using some products, started using some products. Yeah, obviously. hah. I tend to switch up my skin care often to make my skin happy. I (my skin) can't seem to make up its mind either! But, it is what it is!
What products am I using??
I started using products that I gave up on my skin for a few days, but I hated them so much. Here are the products I'm talking about!
Skin Care Products I Stopped Using
Continued: Skin Care Products I Stopped Using
My Review on Coxir Ultra Hyaluronic Acid Cleansing Oil + More Skin Care Products I Stopped Using!
It was just too much for my skin. It helped heal my skin, but it was just too heavy. I also tried using oils again (rosehip oil, squalane, horse oil). I ended up with a few pimples from using the oils. I applied some benzoyl peroxide on those spots. Amazingly those pimples disappeared the next morning! Since I developed breakouts from using oils, I stopped using them. My skin went back to normal. No new zits. So! I stopped using these products because I don't care for them anymore. I feel like they're too excessive. They didn't do much for my skin. I'm really just trying to use them up. Ugh! There's just so many of them. If I wasn't too impulsive when it comes to buying skin care, this wouldn't be happening, haha. Out of the bunch, the only product that I liked was the Purito Galacto Niacin 97 Power Essence. This essence feels very lightweight on the skin and helps to tame the oils on my facial skin. I'm starting to like this essence. Not sure if I'm going to purchase it again. Maybe use it while I have it. Who knows. But, love how it helps to improve my oily skin. I haven't had any issues with it whatsoever, but I think it's pretty redundant using this product, since it contains galactomyces and niacinamide. I have other products that contain these ingredients that I use on my face. I just like the texture of the essence. It sinks into my skin like no other. 🙂
I also tried slugging with CeraVe Healing Ointment. It does help to heal and retain moisture in the skin, but I couldn't sleep with it on my face at night. The stickiness of the product just got everywhere even though I used a thin layer of the product. It would get in my hair. I woke up the next morning with it seeping into my eyes. Ouch! I'll just use it to apply on spots if my skin gets burned or itchy or something. I'm done slugging. I've tried slugging before with the same experience. I just wanted to try it again. Once again, it's a no. It's not for me even though it did leave my skin feeling and looking nice the next morning. It's too much of a hassle to put up with.
My results after 2 weeks!
After 2 weeks of using tret, my skin did improve. I had skin peeling from my face, especially my acne-prone areas, such as around my mouth and between my brows. I had acne that was underneath the surface of my skin coming out. Finally! There was a spot on my face that had a bump underneath. It's finally gone! Tret helped to remove the dead skin cells and push it up the surface. It healed and I'm very happy that it's gone, lol. It was so stubborn! My overall complexion looks very nice. It's more even-toned and clearer. Acne marks are becoming lighter too due to the skin peeling every day this week. Even though my skin looks pretty good, I'm not sure if I'm going to stick to the sandwich method for next week. It seems like there's too much moisturizing going on some days of the week. My skin is getting really oily. I think I might have to change things up again and apply tret directly to my skin. We'll see what happens. I'll just play it by ear, but I want to get to the point of being able to apply tret without having to buffer. Everything is going well so far. I'm excited to see what next week brings!
Coming up, my skin care routine! I haven't made an update on what I'm using in a while. 🙂
If you missed out on my first week experience, here's the link again.
Categories:
Tags:

2 Weeks, 2 Weeks Experience, 2 Weeks Results, Acne, Acne Journey, Acne Marks, Acne Prone Skin, Acne Scars, Acne Skin, Anti-Aging, Anti-Wrinkle, Beauty, Blemishes, Clear Skin, Dark Spots, Experience, Lifestyle, My Acne Journey, Pimples, Results, Review, Skin Care, Skincare, Wrinkles