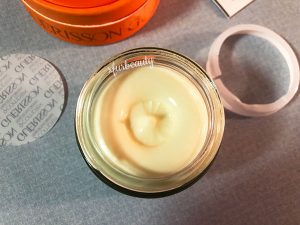 My results were really good from last night. I was really ecstatic because of this. You can read more about my experience right here. So I just washed my face. My skin feels SO SOFT! I had dry skin and flakes that were easily removed due to how the cream moisturized my skin. It's like it healed my skin from dryness. I love it! Also, I noticed that this cream prevents my sunscreen from drying my skin out or at least minimize the drying effect I get from it. My sunscreen contains mineral filters! They're effective at protecting the skin from UVA and UVB rays, but I can't stand the drying effect it has on my skin. It makes my skin look terrible, especially when my makeup dries my skin out too. That's a double whammy! But this cream helps to reverse that dryness and flakiness that I experience. So, this cream did a great job at making my skin look nourished and hydrated during the day. Yay!
So, it looks like I like the cream and what it does to/for my skin. The results are very nice. But I'm just worried that it might break me out. After today, I noticed a single pimple on my forehead but that's it. I didn't see any other pimples anywhere. My skin is pretty much clear all over. I'm not sure if it's from the cream or not. SO! I decided to go on and continue to use the cream. I also was able to increase my use of chemical exfoliants tonight to fight against breakouts in general plus that random pimple, haha! Since the cream is just so deeply moisturizing and nourishing. It's such an amazing cream that seems to work. Well! I hope the pimple reduces in size tomorrow. My skin feels and looks healthy overall. It's strengthening my moisture barrier. My face was burning a little bit from my acne treatments but not anymore. Now let's see what's going to happen tomorrow! Stay tuned for the next update!
If you missed out, here it is again!
Trying Horse Cream for the First Time. My Experience!
My Results After Using Horse Cream on My Face for a Night!
Categories:
Tags:

Acne, Acne Prone Skin, Acne Skin, Anti-Aging, Beauty, Experience, Face Cream, Facial Cream, Fine Lines, GUERISSON, GUERISSON 9 Complex Cream, Horse Cream, Horse Oil, Moisturizer, Niacinamide, Night Cream, Night Moisturizer, Review, Shea Butter, Skin Care, Skincare, Update, Wrinkles