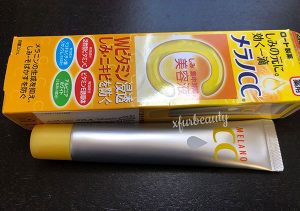 I noticed that I had a tube of Melano CC Vitamin C Essence sitting around. I decided to start using it again. I love vitamin c products. It's been so long since I've used this product. Maybe it'll work this time around (compared to prior experiences with it), lol. I've gone through two tubes of it already! Here's a little bit about this product! It's an essence that is formulated with vitamin c and vitamin e. Vitamin c helps to fight against pimples, marks, and dark spots. Vitamin e helps to soften and hydrate the skin for visibly fair, radiant, and healthy skin. It also contains Dipotassium Glycyrrhizate to sooth redness, calm irritated skin, and restore suppleness. Alpinia Seed Extract to brighten and even out the skin tone. That sounds all nice and dandy! I'm feeling very hopeful about this essence. Let's get more into it! 🙂
The first thing about this product that stands out to me was the packaging. It's amazing! It's sealed shut. That means the active ingredient in this product is protected. All you have to do is snip the tip of the spout open, and you're all set to go! No spillage. I really love it!! When dispensing the product, give the tube a good squeeze. The product comes out in single droplets. It gives you a lot of control on how much product you want to use. I use about 5-6 drops for my whole face, and I spread the rest to my upper body. The product feels oily when applied to the skin, but the oiliness vanishes when it absorbs into the skin. It feels quite moisturizing. It doesn't leave an oily residue behind, but it does leave the skin looking dewy.
I use the essence twice a day, morning and night. You don't have to use vitamin c twice a day if you don't want to. It's not necessary, but this stuff lasts forever, and I love applying skin care products to my face, lol. I enjoy it. This vitamin c is pretty moisturizing as I mentioned earlier. It's not drying at all using it twice a day. I like it. haha. I haven't had any issues using it this much. No skin irritations, redness, itchiness, or even breakouts! Yay! That's awesome! I thought this essence would break me out due to the oily nature of the product. It's oil-based. But, nope! No issues with it yet. I hope it works out! Everything is going well so far!
So I've been using it for less than a week. Of course, I'm not going to see results this quickly. Vitamin c takes time to work. A long time to work. It's not something that magically happens over night. But, from my past experience with this vitamin c product, it took about 3-4 months for me to see improvements in my skin, such as a more even complexion and fading of acne marks. Even at that many months, not all of my acne marks faded. It just looked lighter, which is better than nothing. I don't remember it working on freckles though. I don't think anything topical works for freckles, and I've used a ton of skin care products, lol. But that's OK. If this essences gives my skin a more luminous, even toned complexion in combination of making my acne marks lighter over time, I would love that more than anything!
Well! Stick around to see my future results! So far, I'm enjoying this essence. 👌🏻
For more reviews on brightening skin care products go here!!!
Categories:
Tags:

Acne Marks, Acne Scars, Acne Skin Care, Beauty, Brightening, Brighter Skin, Essence, Experience, Lifestyle, Melano, Melano CC, Melano CC Essence, Melano CC Vitamin C Essence, Review, Skin Care, Skincare, Vitamin C, Vitamin C Serum