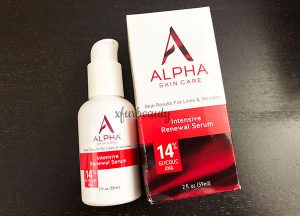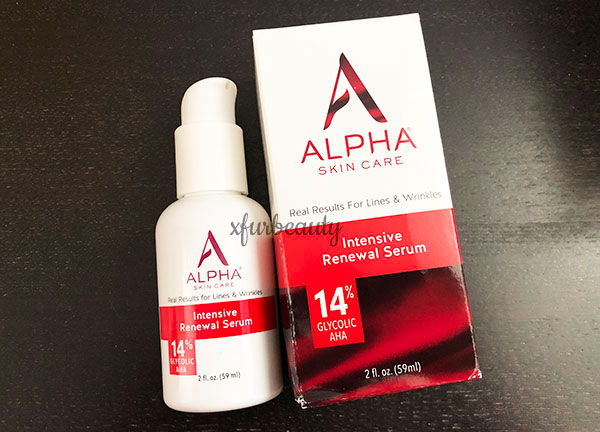 It's been 1 WEEK of using Alpha Skin Care Intensive Renewal Serum! This is what happened after a single week! If you missed out on my previous post on Alpha Skin Care Intensive Renewal Serum, don't forget to check it out!! Click that link! 🙂
I started off using the serum only at night. I alternated it with another acne treatment. Go here to read more about it!! So, I didn't use the serum every single night. So far, it's been working for me. Every time I use the serum, I wake up with skin that's softer, smoother, and more refined the next morning. The difference is very noticeable (before and after). I'm very happy with the results just after the first night of using it and as I continue to use it. Even though the main reason why I started using the serum again is to treat my stubborn, clogged pores, I noticed an improvement in *any* fine lines and wrinkles (not deep wrinkles) that exist on my face. My skin looks more even toned and glowy. It looks so much better than before. This is so exciting because I've been on an acne prescription cream for years now, and it hasn't done much for my acne compared to this serum. I've been really trying to clear my skin FOR YEARS with little results. And, fortunately, this magically worked again. It didn't work last summer when I tried it. The results are very odd (in a good way) and surprising this time around!
I was planning on sticking to using the serum only at night and every other night, but I decided to start using the serum in the morning after the first couple of days. Yeah, I didn't expect that to happen but it did. This decision seems rushed, but my skin didn't tingle anymore using the serum. I didn't have any major irritation or redness. My skin is just getting better and better by the day! Honestly, I think the formulation of this product is so much gentler compared to other AHA products I've used before even though it states that it contains 14% glycolic acid (pH 3.7). I've used a lower percentage that felt stronger and more aggressive on my skin. This serum just sunk into my skin, and my skin took it pretty well. In the beginning, I didn't want to use it in the morning because it's an AHA product. But, I'm hardly ever outdoors anyways since it's been cooler outside. I changed my mind, haha. I'm also using SPF 50 instead of 30 (just in case) to protect my skin from harmful UV rays.
So after increasing my dose of this serum, there's an even greater improvement in my acne and oily skin. Instead of unclogging pores every other day at night. It's more of an every day thing now. It has accelerated the healing process considerably. I just hope it doesn't stop working. As I mentioned earlier, it's a more gentle AHA product. It feels weaker compared to other AHA products I've used before (especially for the percentage). But I'm going to stick to it for now and see what happens. BUT! I'm not planning on using it in the morning for too long. From my personal experience with using glycolic acid this much, my skin is more prone to burning. The reason why I don't use glycolic acid too often or any other chemical exfoliant for that matter!! Especially during the summer when the sun is beaming. My skin burns so much faster even when I'm using SPF and reapplying! I love the results though! Just have be extra cautious with sun exposure that's all.
That's my one week update! Everything is going good so far! My skin has improved. Acne is going away along with some fine lines. Deep wrinkles? No. Not at all. But we'll see within a few more weeks. Stay tuned for my next update! See you all there!!
⭐ If you missed out on my previous experience with tret…
My experience with tret the first week…
After 1 Month on Tret + Skin Care Routine. Here are My Results.
2 Months on Tret. My results. 🙂
Back to tret! 1 Week Results & My Skin Care Routine. Did it work? 🤔
A break from Tret & What I'm Doing Now
Surprise! Back on tret + Other Acne Treatments for Clear Skin. 🙂
Categories:
Tags:

1 Week Results, Acne, Acne Marks, Acne Scars, Acne Skin, Acne-Prone Skin, AHA, Alpha Skin Care Intensive Renewal Serum, Anti-Aging, Blemishes, Exfoliant, Experience, Glycolic Acid, Glycolic Acid Serum, Hyperpigmentation, Lifestyle, Results, Review, Skin Care, Skin Care Products, Skincare, Thoughts, Wrinkles