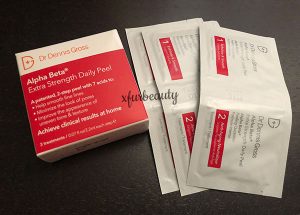 I received a sample of Dr Dennis Gross Alpha Beta Extra Strength Daily Peel a while ago with one of my orders. The box came with 3 sample pieces. Each with an exfoliating treatment and an anti-aging neutralizer. What is this system supposed to do???
This is a two-step AHA/BHA anti-aging system. Each pad is pre-dosed with seven acids to reduce the look of fine lines and wrinkles, acne scars, pores, dull skin, uneven texture, shine, and blemishes. For dry, combination, normal, and oily skin. It is vegan, cruelty-free, gluten-free, and comes in a recyclable packaging.
The star ingredients in this product are glycolic acid (reduces visible signs of aging), salicylic acid (reduces clogged pores and supports natural collagen), and lactic acid (supports natural cell renewal).
Let's look deeper into the ingredients…
The exfoliating treatment: The first two ingredients in the exfoliating treatment is Water and Alcohol Denature (SD Alcohol 40-B). Ouch! I'm not a fan of products with alcohol. They tend to irritate and dry my skin out! The exfoliating treatment also contains Glycolic Acid, Salicylic Acid, Lactic Acid, Mandelic Acid, Malic Acid, Citric Acid, and Salix Alba Willow Bark Extract. If you're wondering what the seven exfoliating acids are in this product, that's what they are! Glycolic Acid being at the top of the ingredient list. Alcohol is listed again at the end of the ingredient list. *sigh* That's just too much. And it does contain fragrance (if you're sensitive to fragrance).
The anti-aging neutralizer: It contains Sodium Bicarbonate along with anti-aging ingredients, such as Resveratrol, Retinol, Ascorbic Acid, Ubiquinone, Phospholipids, Adenosine, Tocopheryl Acetate. I can see why it's called an 'anti-aging' neutralizer from the ingredients it contains!
The first step is a combination of AHAs and BHAs to exfoliate the skin. Treat the signs of aging and support cell renewal. The second step provides the skin with retinol and resveratrol to maximize anti-aging benefits. It helps to hydrate and smooth the skin for a more youthful appearance.
But did it work? Here's my experience with the peel!
I was very excited about this product. Perhaps it could help get rid of breakouts and smooth out my skin. At least do something good! Well, let's see if it does! So the product was very easy to use. All you have to do is massage (Step 1) the pad onto clean, dry skin until the pad is dry. Wait 2 minutes. Let the product sit and soak into the skin. Repeat with Step 2. The peel tingled my skin just a little bit, but it felt nice on the skin. It felt like it was doing something. It didn't irritate my skin or turn it beet red. I noticed acne bumps shrinking in size when using the peel! I had a pimple on the side of my temple that became smaller when I applied the peel to it. I actually gave it special treatment by holding the peel on the pimple. Letting the product soak into that pimple. The product worked! It didn't dry my skin out like I thought it would. Alcohol is listed as one of the first ingredients and listed again at the bottom of the list. Once again, my skin didn't feel stripped or dehydrated after use.
From my experience, after finishing the samples, I think this is a good product for acne-prone skin. It's gentle and effective. It made my skin look better afterwards and improved my acne on the spot. So this could work for those times when there's a huge pimple that's throbbing underneath the surface and you have somewhere important you have to be. It won't get rid of the pimple right away, but it helps to reduce the swelling. So would I purchase the full-size product?? Unfortunately, this product is quite expensive. For the full-size product, it's $88 for 30 treatments. In my opinion, I think it's a good product. It exfoliates, helps with acne, and makes the skin look smoother, but I don't think it's worth that much. Especially for $88 (30 treatments only). That's pretty much overpriced for what you get. There are other peels and acne treatments out there that are more affordable and also as effective as this peel. I won't purchase the full-size product. This is what I'm using instead! Check out my experience on it here:
Starting Alpha Skin Care Intensive Renewal Serum!
After 1 Week of Alpha Skin Care Intensive Renewal Serum! My Results!
My Experience with Cosrx AHA BHA Clarifying Treatment Toner
Categories:
Tags:

Acne, Acne Prone Skin, AHA, AHA Exfoliating Pads, BHA, Blemishes, Clear Skin, Complexion, Dr Dennis Gross, Dr Dennis Gross Alpha Beta Extra Strength Daily Peel, Exfoliant, Exfoliating, Experience, Fine Lines, Glycolic Acid, Lifestyle, Review, Salicylic Acid, Skin Care, Skin Care Products, Wrinkles