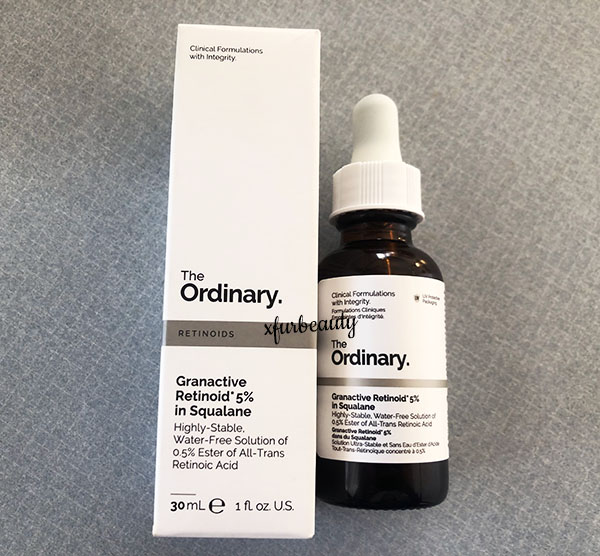 I've had this serum for a while, but I never used it on my face. I was just using it on my body to finish it up. Well, that all changed when I decided to use it on my face instead and see if my skin would benefit from it. I'm not blown away with the results I'm getting from my other acne skin care products, so I thought I would give this serum a try before I eliminate it from my life. This is the Granactive Retinoid 5% in Squalane from The Ordinary. The purpose of this serum is to target textural irregularities and signs of aging. It helps to improve the appearance of fine lines and dynamic lines that arise from loss of collagen and elastin while evening out the skin texture and skin tone. It's suited for dry skin and comes in an anhydrous formula. The key ingredients in this product are Hydroxypinacolone Retinoate and Squalane. Now on to my experience!
My Experience with The Ordinary Granactive Retinoid 5% in Squalane:
Texture & Application
The texture of the serum is oily. The first ingredient in this product is squalane. It also contains jojoba seed oil. I was aware that the serum would be oily on the skin, but I wanted to try it out anyways. With this serum, I used only a few drops for the whole face including the neck and chest area. It's not necessary to use that much product. The serum is easy to spread across the skin due to the oils in the product. The serum made my skin feel moisturized, but it left my skin feeling greasy. My skin appeared shiny after application. I didn't like the way it felt or looked on my skin. It seems like it didn't fully absorb into my skin. The product just sat on top of my skin. Sleeping with this serum on my face at night was uncomfortable. I dreaded every single second of it. On the bright side, my skin didn't feel dry using this serum at all even when it contains 5% granactive retinoid. I didn't have to moisturize my skin with another product afterwards. This serum alone provided my skin with enough moisture.
Results…
I only used this product for 1 night. I tried using it the next night, but I had to rinse it off my face (more on this in the breakouts section). This serum is very gentle on the skin. I didn't have any type of irritation or even redness. My skin tolerated the active ingredient in this product. No itchiness or burning. Nothing. And that's a good thing. As for results, I noticed an immediate brightening effect in my skin after applying it. My skin glowed. It looked more even. Am I just seeing things? No, it's really this serum. My skin appeared brighter instantly. I wasn't able to use it for too long, so it's very difficult for me to say if it helped with fine lines or other wrinkles. I wished I was able to use it, but let's move on to why I stopped using it.
Breakouts?
After using it the first night, my skin was more even and bright. I was so surprised how good my skin looked. By the second night, I applied the serum as usual. But, I noticed my skin felt like it was clogging up. I had hard sebum plugs in my skin. I was able to pick them out easily. That's when I knew I was breaking out from this serum. *sigh* It's not a purge. I'm actually breaking out from this product. I think it's the oily texture of the product that's damaging my skin. Squalane? Jojoba seed oil? Possibly other ingredients clogging my pores? Yep, loved how it brightened up my skin instantly and moisturized my skin, but this serum triggered my acne. Acne is what caused me to drop this serum. Here goes another The Ordinary serum that doesn't work on my face. It's the last from what I have.
Final Thoughts
I was so excited to try this serum out. It's a gentle, non-irritating form of retinoid. It's available over the counter. It's always sold out! I just purchased it because I wanted to try different formulations of retinol/retinoid out. It was a gamble. I loved how it brightened my skin. My skin appeared smoother and glowy. But once again, another serum that my skin dislikes. Acne, acne, and more acne when I used it. Maybe my skin just doesn't like squalane and oily skin care products. I really thought this could be different, but I guess not. What to do with it now? Use the rest of it on my body. It's not a terrible product. It just didn't work for my skin type (oily). I think this would work better for someone with sensitive, dry skin. If you have oily skin, it just adds on top of the oils that the skin naturally produces. Oh, well. It's time to move on…
Here are the ingredients in this product if you're interested:
Squalane, C12-15 Alkyl Benzoate, Bisabolol, Dimethyl Isosorbide, Caprylic/Capric Triglyceride, Simmondsia Chinensis (Jojoba) Seed Oil, Hydroxypinacolone Retinoate, Solanum Lycopersicum (Tomato) Fruit Extract, Rosmarinus Officinalis (Rosemary) Leaf Extract, Hydroxymethoxyphenyl Decanone.
Categories:
Tags:

Acne, Acne Skin, Acne Skin Care, Anti-Aging, Beauty, Experience, Granactive Retinoid, Lifestyle, Results, Retinoid, Retinoid 5%, Review, Skin Care, Skincare, Squalane, The Ordinary, The Ordinary Granactive Retinoid 5% in Squalane, The Ordinary Skin Care, Wrinkles