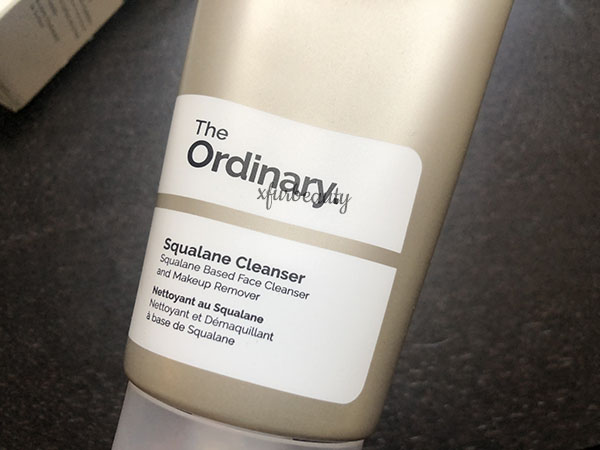 I've had this product for a while. I forgot that I purchased it, lol. So just last week, I started using it. I've been using water-resistant sunscreen every day, and I needed a product that'll help to remove every single drop of product that's on my face. I'm also using a homemade cleansing oil to remove my makeup (if I'm using any) and sunscreen. Double the cleansing duty! Using a cleansing oil and The Ordinary Squalane Cleanser seems like a good idea. Why not? I have a bottle of it. Let's try it out!
Squalane on my face! Yes, no??
I'm not too big on squalane. I can't use this ingredient on my face. I've tried squalane oil on my face, and it seems like it just sits on my face and doesn't moisturize my skin. It also gets in my hair and makes it oily. I tried using it in the morning and at night. I tried using it in the morning only and at night only. It didn't work out either way. It makes a huge mess. But the main reason why I stopped using it is because it makes me breakout every single time I use it. My skin just doesn't like oils in general. I've also tried other oils like jojoba oil, rosehip oil, and argan oil. Plenty of others too. They all failed on me. I even had to give up on my heavy, rich moisturizing cream because it started to clog my pores. I didn't know it was my moisturizer that was causing breakouts until I stopped using it. My skin definitely looks so much better without oils and rich creams.
My Thoughts on The Ordinary Squalane Cleanser!
So I purchased this product in 1.7 oz. It also comes in a larger size (5 oz.). I bought this product on a whim. I didn't think much about it at that time. The packaging of this product feels pretty cheap. I've used other products from The Ordinary in this type of packaging, and they all have the same feel to them — tacky and cheap. When dispensed from the tube, the product is a white cream. It's not runny. I mixed it with a little bit of water to lather it up. This cleanser doesn't lather up. It just feels creamy on the skin. It didn't feel like a legit cleanser. It's not foamy. Not even one bit. I ended up using it as a makeup and sunscreen remover instead of a stand alone cleanser right after I used my cleansing oil. So what I did was cleanse my face with my cleansing oil and remove the oil with a cotton pad with micellar water. I didn't know I had a new bottle of micellar water so I'm using that too, lol. More on this micellar water product in another post! Once my skin is dry and clean, I take a small dollop of the squalane cleanser, mix it with a little water, and massage it into the skin. The squalane cleanser actually rinses clean and helps to remove whatever is left on my skin. That can be any leftover residue, dirt, debris. I liked how it rinsed off clean. It didn't leave any residue behind or make my skin feel sticky. It was really easy to use and rinse off. Some facial cleansers can get a little messy. This one was really simple to move across my face. It reminds me of a cleansing balm without being or feeling oily.
This is what the squalane cleanser looks like. Ooooooooo, kinda interesting. lol.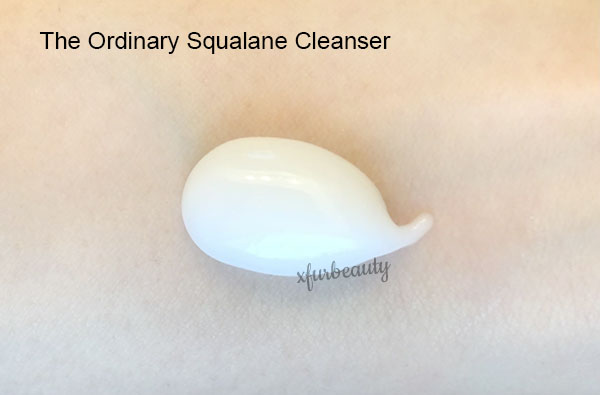 Overall, I think this product works. I'm not going to replace my main cleanser with it by any means. I'm still feeling sketchy about squalane since I've had bad experiences with it. But, I didn't have to leave this product on my face for long. It gets rinsed off. I haven't had any breakouts from using this squalane cleanser (yet). It doesn't seem like it'll be a problem. I hope! ha! Will I purchase it again? Honestly, I don't really need it. I'll use it in the meantime since I have it. I still prefer my cleansing oil as my makeup remover. I'm currently using a mixture of almond oil and olive oil. I kind of spontaneously created this mixture out of the blue. Olive oil is definitely one of my favorite makeup remover oils. So it's a no for me on The Ordinary Squalane Cleanser. It could work for others though.
You can read more on my thoughts on The Ordinary skin care products right here!
Categories:
Tags:

Acne, Acne Skin, Anti-Aging, Beauty, Cleanser, Dry Skin, Experience, Face Wash, Facial Cleanser, Makeup Remover, Oily Skin, Review, Skin Care, Skincare, Squalane, Squalane Cleanser, The Ordinary, The Ordinary Squalane Cleanser, Wrinkles