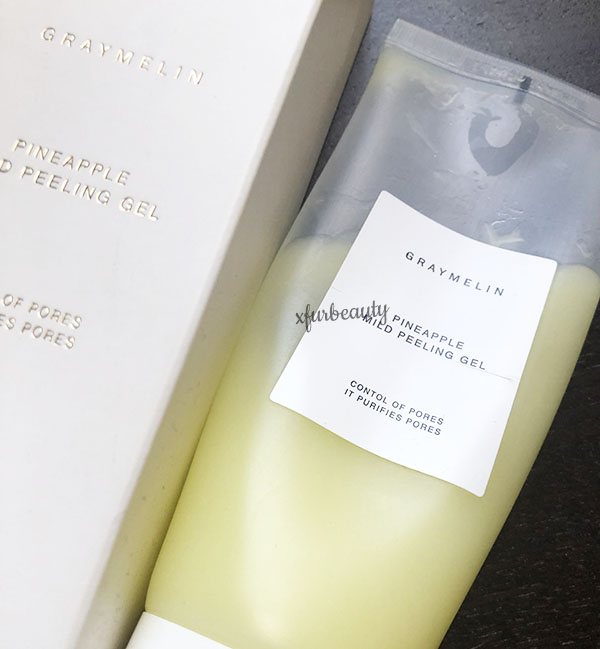 I've been using Graymelin Pineapple Mild Peeling Gel for about a month (maybe even longer). I used it on and off whenever I needed to gently exfoliate my skin. This peeling gel contains pineapple extract. Bromelain in pineapple extract helps to effectively remove dead skin cells and sebum buildup from the pores. It also contains apple water and yellow 7 complex to deliver rich vitamins to moisturize and brighten the skin. This is my experience with this peeling gel!
My Experience
I thought this product looked really pretty. It's a pale yellow that's really cute. The instructions says to apply a proper amount of product to dry skin after cleansing. Gently massage to exfoliate dead skin cells and rinse off with lukewarm water. That's what I did. The product feels very soft and soothing on the skin. It has a slight plastic smell to it that didn't bother me too much. When massaged into the skin, the product transforms into little tiny soft balls on the skin. It's supposed to exfoliate the skin. I liked the way it felt on my skin, and it's fun to use, but this product did not exfoliate my skin that well. It didn't help remove sebum buildup. It is moisturizing, but it didn't brighten my skin up as it claims to do. It just felt like I was using it for fun. The reason why I know this product isn't good at exfoliating is because I had skin peeling from my face (from my acne treatment), and this peeling gel did very little to remove the dead skin. I'm talking about skin that could easily be scrubbed or rubbed off. I still had dead skin on my face after using the peeling gel. That was a huge disappointment in the effectiveness of the product.
So the peeling gel didn't live up to its claims. I think it's better to use an exfoliant with beads or even a facial brush. I took a facial brush and brushed off the dead skin from my face. Majority of the dead skin cells came off quickly. It worked much better. And it's also less expensive than this peeling gel that did very little to remove dead skin cells. Looking at the ingredients, the first ingredient is apple fruit water. Next, water, cellulose (what creates the tiny soft balls that roll on the skin). It also contains a bunch of other ingredients including pineapple fruit extract (star ingredient of this product!), allantoin, turmeric root extract, and grapefruit seed oil. This peeling gel contains isopropyl alcohol too. I'm not a fan of drying alcohols in my skin care products even if it doesn't feel drying on the skin. I just prefer my products to be without it. This peeling gel didn't dry my skin out, by the way. It was hardly even on my skin for that long. It didn't break me skin out either. Of course, it wasn't on for that long. I only used it as a gentle facial exfoliant.
This is what the Graymelin Pineapple Mild Peeling Gel looks like.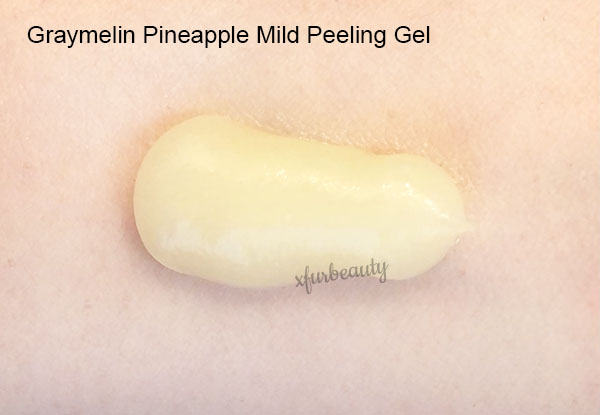 After using this product, I like how it's gentle on the skin. I think it's really fun to use. At the same time, I hope it's doing some good for my skin. But, the results were not significant. I feel like I'm just tossing my money away for a product that didn't give me any results. I didn't think it was worth it. Seems like a 'for fun' product and that's not what I'm looking for. I won't purchase again after I finish it.
Categories:
Tags:

Acne, Acne Prone Skin, Acne Skin, Anti-Aging, Beauty, Clogged Pores, Exfoliant, Experience, Graymelin, GRAYMELIN Pineapple Mild Peeling Gel, Peeling Gel, Pineapple Peeling Gel, Review, Skin Care, Skincare, Wrinkles