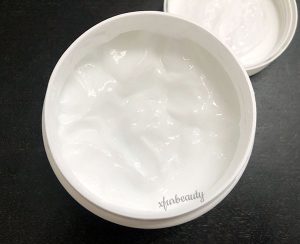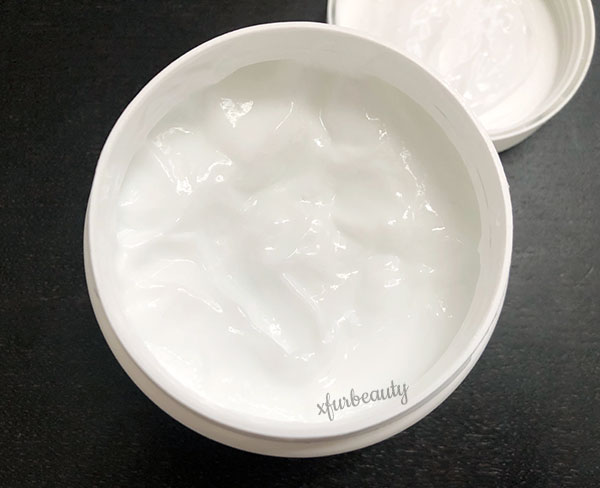 I've been using CeraVe Moisturizing Cream for about a month. I was very ecstatic about this product. Everyone talks about it. It gets a ton of praise. It contains ceramides and hyaluronic acid. It's made for very dry skin, dry skin for the face and body. Wonderful! But, I didn't use it on my face. I heard a ton of horror stories that this cream causes closed comedones and breakouts. From my personal experience with CeraVe, I believe them. CeraVe doesn't go on my face. Not the products I've had experience with so far. They all clogged my pores. Giving me cystic acne, closed comedones, blackheads, whiteheads. All of the acne that you can imagine. It was just terrible. My skin just looked very bad using CeraVe creams/moisturizers on my face. So, I only used the moisturizing cream on my body. Now here's my experience with CeraVe Moisturizing Cream after a month of use! 😊
The texture of the cream is very nice. It's soft and smooth to touch. It's very creamy and soothing on the skin. I couldn't wait to use it because of this. I started off using this cream twice a day then eventually only used it at night due to how thick the cream felt on my skin. It's odd. The cream feels heavy on the skin, but it doesn't go on heavy. It absorbs and sinks into the skin pretty well. But it leaves a thin layer of film behind on the skin that I didn't like. It sits on top of the skin. I think that's where the heaviness of the cream comes into play. Sometimes my skin would get itchy when using this cream too. I didn't think much about it, so I continued to use it at night to moisturize my skin.
As I continued to use the cream at night, I noticed that my arms would get itchy the next morning. I noticed that this would happen too often than it should. Maybe it's too moisturizing? Maybe it's too heavy on my skin? That annoying thin layer of residue that it leaves behind? I mean, it does contain petrolatum and heavier ingredients compared to what I usually use, which is a lightweight moisturizer. So I stopped it on itchy areas (which was mainly my upper body), but I kept using it on my legs and hands. Perhaps it's best to keep this moisturizing cream for my legs and use it as a hand cream. Or use it on dry spots on my skin when necessary. It's great that it contains ceramides and hyaluronic acid. It's also fragrance-free and leaves my skin feeling ultra-soft and smooth, but I'm not sure if I'm going to purchase it again. I'll use the rest of the moisturizing cream and see what happens next.
For more reviews on CeraVe skin care products go here!
Categories:
Tags:

1 Month, 1 Month Review, Beauty, Ceramides, CeraVe, CeraVe Healing Ointment, CeraVe Ointment, Chafed Skin, Cracked Skin, Dry Skin, Dye Free, Fragrance Free, Healing Ointment, Hyaluronic Acid, Lanolin Free, Moisturizer, Moisturizing, Non Comedogenic, Ointment, Petrolatum, Review, Skin Care, Skin Protectant, Skincare, Thoughts, Winter Skin Care
I picked up a tub of CeraVe Healing Ointment! I have a tube of Aquaphor, but it wasn't working too well for me. It made my skin really itchy, didn't glide on my skin easily, and didn't help moisturize my skin that much either. Yeah, I know it's an occlusive, but I needed something that my skin could tolerate much better. I've always wanted to try CeraVe Healing Ointment. I also have the CeraVe Moisturizing Cream, but there's no way I can use that cream on my face. It contains ingredients that clogs pores. On my skin, it does. It could work for someone else. Everyone's skin responds differently to products. So this ointment contains petrolatum as the main ingredient (46.5%). An effective occlusive that helps to seal in moisture into the skin. It also contains dimethicone, ceramides, cholesterol, vitamin e, hyaluronic acid, and panthenol. This healing ointment is just petroleum jelly with extra skin care benefits. And that's exactly what I wanted. Also, I was curious to see if the CeraVe Healing Ointment surpasses Aquaphor or plain ol' petroleum jelly.
This product was formulated to temporarily protect, soothe, and hydrate the skin. It contains ceramides to help restore and maintain the skin's natural barrier. Hyaluronic acid to help retain skin's natural moisture. Suitable for dry, cracked, and chafed skin. Fragrance-free and lanolin-free. It says it's non-comedogenic (we'll see!!), preservative-free, and dye-free.
Here's my experience with CeraVe Healing Ointment! ☺
My experience
I started using CeraVe Healing Ointment not too long ago. About less than a week ago. I thought about using it on my face, but I decided not to. Just not yet. I'll leave it for days when my skin ever gets irritated and red. I tried using Aquaphor and 100% Pure Petroleum Jelly during those times, and I felt like clawing my face off! With this healing ointment, I use it on sensitive areas like my eye area and neck. I have really dry skin around my eyes and my neck gets really itchy. I can't just use anything on it. It gets irritated really fast. This healing ointment helps to seal in moisture while providing skin repairing ingredients and moisture to the skin. I've had no irritation from this product in those areas, and I really love it! It also helps to prevent my acne treatments from drying my eye area out or leaking down to my neck area and preventing rashes.
The healing ointment feels soft and smooth. It's thinner compared to Aquaphor (if you have used that before) and a little bit lighter compared to pure petroleum jelly. Just a tad. Since CeraVe Healing Ointment contains other beneficial skin care ingredients besides petrolatum, it makes the product even better. I needed some extra moisture and healing properties in a petrolatum-based product. I tried using it all over my body, and it made the skin on my body feel silkier and softer. My skin felt super moisturized. But, I couldn't continue to use it all over my body for a reason. My skin started to get itchy. It must be due to the stickiness of the product. So I think this healing ointment is really good at spot treating dry, taut, and irritated areas of the skin instead of using it as an all-over body moisturizer. It's a nice product to have around just in case to treat skin flare-ups.
The product does come in a jar. Not sanitary at all. So I make sure to wash my hands before dipping my fingers into the jar. A spoon can be used too to scoop out the product. I'm not sure if I'm going to purchase the jar version again if I ever consider using it on my face. As you can see, I've been using the ointment from the seal, lol. I haven't poked at the ointment in the jar yet, haha! Soon…
This is what the ointment looks like. It comes sealed.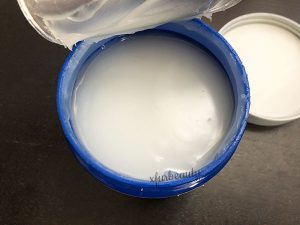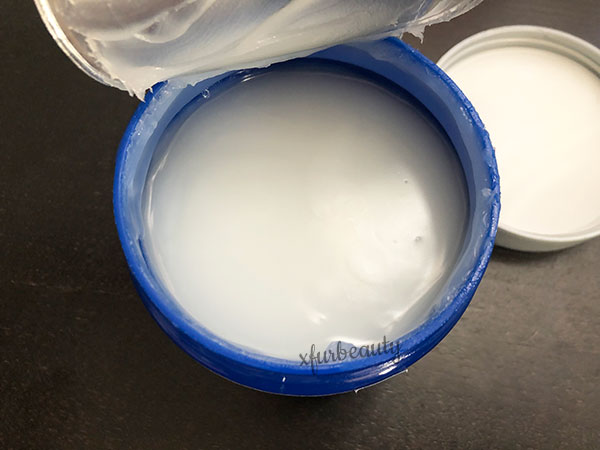 Pros & Cons
✅ Pros
Contains ceramides and hyaluronic acid
Nice petrolatum product!
Feels silky and soft
Glides on very easily
Doesn't irritate the skin
Soothing
Leaves the skin feeling softer
Fragrance-Free
Lanolin-Free
Dye-Free
❌ Cons
Conclusion
So far, I really like this ointment. I love that it's not just a petrolatum skin care product. It contains other ingredients, such as ceramides and hyaluronic acid. It's also fragrance-free and lanolin-free. I wonder if it's the lanolin in Aquaphor that's making me itchy. I'm not allergic to lanolin, by the way. Just a thought. Well, not that I know of. The only downside to the product (as of now) is that it comes in a jar. Perhaps I'll just purchase the tube version when I finish the jar. I'm not sure how long that's going to take because this tub of petrolatum comes in a decent size. Overall, I like it a lot more compared to Aquaphor and Pure Petroleum Jelly. It's working!
If you're interested in more reviews on CeraVe, click on this link!
Categories:
Tags:

Beauty, Ceramides, CeraVe, CeraVe Healing Ointment, CeraVe Ointment, Chafed Skin, Cracked Skin, Dry Skin, Dye Free, Fragrance Free, Healing Ointment, Hyaluronic Acid, Lanolin Free, Non Comedogenic, Ointment, Petrolatum, Review, Skin Care, Skin Protectant, Skincare, Thoughts