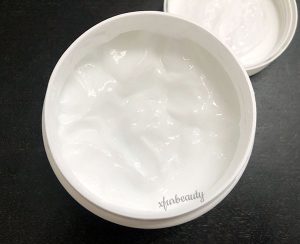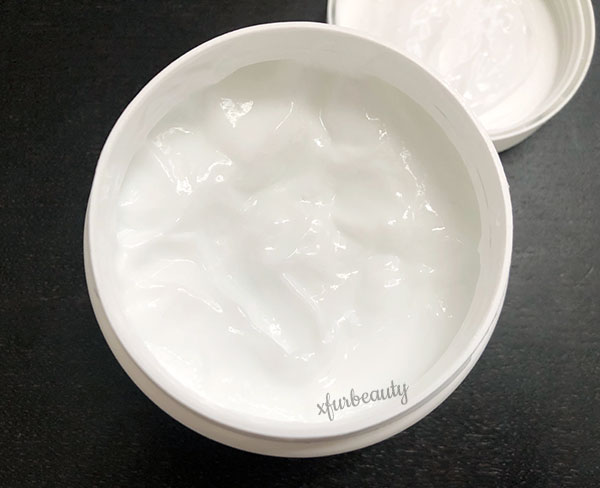 I've been using CeraVe Moisturizing Cream for about a month. I was very ecstatic about this product. Everyone talks about it. It gets a ton of praise. It contains ceramides and hyaluronic acid. It's made for very dry skin, dry skin for the face and body. Wonderful! But, I didn't use it on my face. I heard a ton of horror stories that this cream causes closed comedones and breakouts. From my personal experience with CeraVe, I believe them. CeraVe doesn't go on my face. Not the products I've had experience with so far. They all clogged my pores. Giving me cystic acne, closed comedones, blackheads, whiteheads. All of the acne that you can imagine. It was just terrible. My skin just looked very bad using CeraVe creams/moisturizers on my face. So, I only used the moisturizing cream on my body. Now here's my experience with CeraVe Moisturizing Cream after a month of use! 😊
The texture of the cream is very nice. It's soft and smooth to touch. It's very creamy and soothing on the skin. I couldn't wait to use it because of this. I started off using this cream twice a day then eventually only used it at night due to how thick the cream felt on my skin. It's odd. The cream feels heavy on the skin, but it doesn't go on heavy. It absorbs and sinks into the skin pretty well. But it leaves a thin layer of film behind on the skin that I didn't like. It sits on top of the skin. I think that's where the heaviness of the cream comes into play. Sometimes my skin would get itchy when using this cream too. I didn't think much about it, so I continued to use it at night to moisturize my skin.
As I continued to use the cream at night, I noticed that my arms would get itchy the next morning. I noticed that this would happen too often than it should. Maybe it's too moisturizing? Maybe it's too heavy on my skin? That annoying thin layer of residue that it leaves behind? I mean, it does contain petrolatum and heavier ingredients compared to what I usually use, which is a lightweight moisturizer. So I stopped it on itchy areas (which was mainly my upper body), but I kept using it on my legs and hands. Perhaps it's best to keep this moisturizing cream for my legs and use it as a hand cream. Or use it on dry spots on my skin when necessary. It's great that it contains ceramides and hyaluronic acid. It's also fragrance-free and leaves my skin feeling ultra-soft and smooth, but I'm not sure if I'm going to purchase it again. I'll use the rest of the moisturizing cream and see what happens next.
For more reviews on CeraVe skin care products go here!
I picked up a tub of CeraVe Healing Ointment! I have a tube of Aquaphor, but it wasn't working too well for me. It made my skin really itchy, didn't glide on my skin easily, and didn't help moisturize my skin that much either. Yeah, I know it's an occlusive, but I needed something that my skin could tolerate much better. I've always wanted to try CeraVe Healing Ointment. I also have the CeraVe Moisturizing Cream, but there's no way I can use that cream on my face. It contains ingredients that clogs pores. On my skin, it does. It could work for someone else. Everyone's skin responds differently to products. So this ointment contains petrolatum as the main ingredient (46.5%). An effective occlusive that helps to seal in moisture into the skin. It also contains dimethicone, ceramides, cholesterol, vitamin e, hyaluronic acid, and panthenol. This healing ointment is just petroleum jelly with extra skin care benefits. And that's exactly what I wanted. Also, I was curious to see if the CeraVe Healing Ointment surpasses Aquaphor or plain ol' petroleum jelly.
This product was formulated to temporarily protect, soothe, and hydrate the skin. It contains ceramides to help restore and maintain the skin's natural barrier. Hyaluronic acid to help retain skin's natural moisture. Suitable for dry, cracked, and chafed skin. Fragrance-free and lanolin-free. It says it's non-comedogenic (we'll see!!), preservative-free, and dye-free.
Here's my experience with CeraVe Healing Ointment! ☺
My experience
I started using CeraVe Healing Ointment not too long ago. About less than a week ago. I thought about using it on my face, but I decided not to. Just not yet. I'll leave it for days when my skin ever gets irritated and red. I tried using Aquaphor and 100% Pure Petroleum Jelly during those times, and I felt like clawing my face off! With this healing ointment, I use it on sensitive areas like my eye area and neck. I have really dry skin around my eyes and my neck gets really itchy. I can't just use anything on it. It gets irritated really fast. This healing ointment helps to seal in moisture while providing skin repairing ingredients and moisture to the skin. I've had no irritation from this product in those areas, and I really love it! It also helps to prevent my acne treatments from drying my eye area out or leaking down to my neck area and preventing rashes.
The healing ointment feels soft and smooth. It's thinner compared to Aquaphor (if you have used that before) and a little bit lighter compared to pure petroleum jelly. Just a tad. Since CeraVe Healing Ointment contains other beneficial skin care ingredients besides petrolatum, it makes the product even better. I needed some extra moisture and healing properties in a petrolatum-based product. I tried using it all over my body, and it made the skin on my body feel silkier and softer. My skin felt super moisturized. But, I couldn't continue to use it all over my body for a reason. My skin started to get itchy. It must be due to the stickiness of the product. So I think this healing ointment is really good at spot treating dry, taut, and irritated areas of the skin instead of using it as an all-over body moisturizer. It's a nice product to have around just in case to treat skin flare-ups.
The product does come in a jar. Not sanitary at all. So I make sure to wash my hands before dipping my fingers into the jar. A spoon can be used too to scoop out the product. I'm not sure if I'm going to purchase the jar version again if I ever consider using it on my face. As you can see, I've been using the ointment from the seal, lol. I haven't poked at the ointment in the jar yet, haha! Soon…
This is what the ointment looks like. It comes sealed.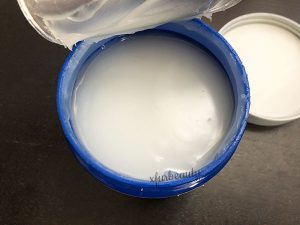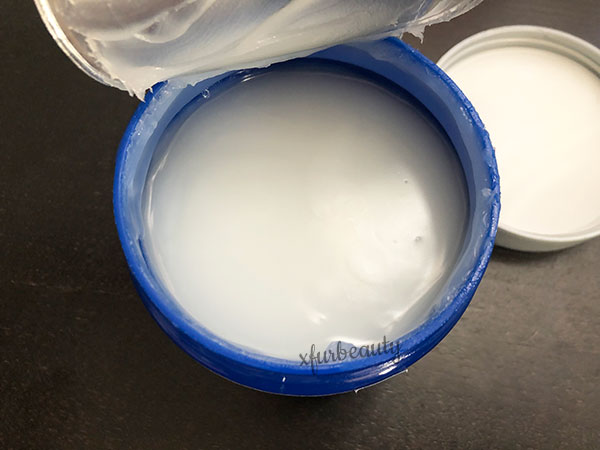 Pros & Cons
✅ Pros
Contains ceramides and hyaluronic acid
Nice petrolatum product!
Feels silky and soft
Glides on very easily
Doesn't irritate the skin
Soothing
Leaves the skin feeling softer
Fragrance-Free
Lanolin-Free
Dye-Free
❌ Cons
Conclusion
So far, I really like this ointment. I love that it's not just a petrolatum skin care product. It contains other ingredients, such as ceramides and hyaluronic acid. It's also fragrance-free and lanolin-free. I wonder if it's the lanolin in Aquaphor that's making me itchy. I'm not allergic to lanolin, by the way. Just a thought. Well, not that I know of. The only downside to the product (as of now) is that it comes in a jar. Perhaps I'll just purchase the tube version when I finish the jar. I'm not sure how long that's going to take because this tub of petrolatum comes in a decent size. Overall, I like it a lot more compared to Aquaphor and Pure Petroleum Jelly. It's working!
If you're interested in more reviews on CeraVe, click on this link!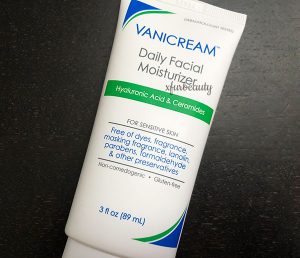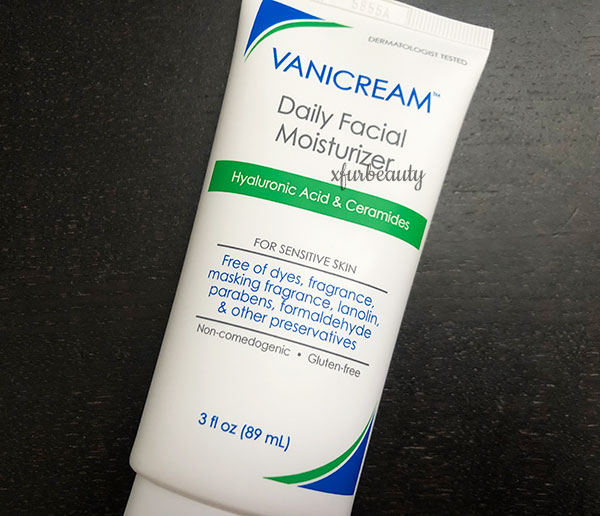 Here's my update on Vanicream Daily Facial Moisturizer for Sensitive Skin! I know my previous review on Vanicream wasn't too long ago, but…
The first two days of using this moisturizer was amazing. My skin felt and looked so healthy and moisturized. It was glowing. I was so excited that my moisture barrier was healthy. There were no flakes, itchy skin, and no redness to my skin after using this moisturizer. My skin healed from dryness. My skin looked so much better. It was absolutely perfect! I thought I had found the moisturizer of my dreams for my skin. It contains ingredients that I love too, which are ceramides and hyaluronic acid. I was a bit iffy about the squalane and fatty alcohols, but I continued to use the moisturizer anyways.
The following day, my skin felt wonderful. My skin looked and felt softer and more supple than before. My skin felt so moisturized that I was in love. I was hoping that it would work out in the end, so I could make this moisturizer permanent in my routine. Unfortunately, it didn't work out the way I wanted it to. I woke up the next day with noticeable blackheads out of the blue. At first, I didn't want to believe it was the moisturizer causing the clogged pores, so I pushed that idea to the side. By night, I noticed more blackheads after a few hours of having the moisturizer on my freshly cleansed face.
Sadly, it's true. This moisturizer clogged my pores. It caused a bunch of blackheads and a few other inflamed acne that popped up randomly. My skin started to act up so quick that I stopped using it immediately. I love the texture, some of the ingredients (haha), and how it repaired my moisture barrier, but there's no way I can continue to use it when it destroyed my skin in less than five days. *sigh* And this moisturizer was made for sensitive skin. Maybe some people like me just aren't meant to moisturize like the rest. This moisturizer does make a lovely eye cream though. I guess I can use whatever I have left for that so it won't go to waste. Or use it as a hand cream.
So I think my skin reacted to the squalane in this product. Could be another ingredient(s) too. The acne looked very similar to when I was using squalane oil. The reason why I was afraid of trying this moisturizer out in the first place. This moisturizer does feel slightly occlusive on the skin without feeling greasy or heavy. It could've been a good moisturizer if it didn't have squalane in it. If you have acne-prone skin, do a patch test first or examine your skin carefully when using. I'm glad I caught it before my skin went nuts even more. Well, that's all there is to it. Another moisturizer down, what next? I'll probably lay off heavier moisturizers for now. I'm too traumatized by this experience. Now back to my lightweight moisturizers that fail to moisturize my skin but does at least something, lol.
For more reviews on moisturizers go here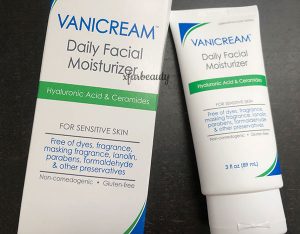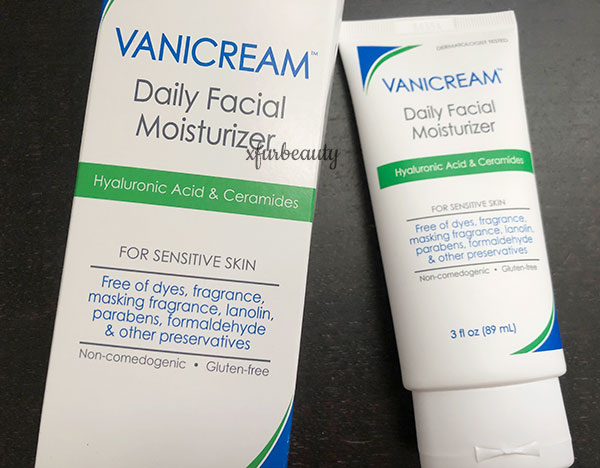 I picked up a new moisturizer! My skin is getting drier than ever, and I needed something that's more moisturizing than Cosrx Hyalyronic Acid Hydra Power Essence (my updated review here) or my sunscreen that contains moisturizing properties. It's just not enough for my skin that's drying out incredibly quickly right now. The moisturizer I chose happened to be Vanicream Daily Facial Moisturizer for Sensitive Skin. This moisturizer contains hyaluronic acid and ceramides. Alright, that sounds good. But it also contains squalane and fatty alcohols. I know my skin can react to these two particular ingredients. But the formulation of the product matters too. I've read good and mostly bad reviews on this moisturizer, so I was a bit skeptical when I purchased it. I decided to try it out anyways, lol. Who knows, everyone's skin's different, and my skin is getting really dry. I needed something that would moisturize my skin much better than what I was using. Just gotta give it a chance, right? 🙃
My experience
Since I'm a bit wary about this moisturizer, I first tested the product out on my sensitive areas, such as my neck and arms. Well, those are my sensitive areas. They tend to get itchy super fast, and I have to be careful what I put on them. I didn't develop any irritation, redness, or itchiness from this product. Yay! I'm good to go! Kind of. ha! Let's see if my face likes it or not…
This cream is a gel-cream. Leaning towards more of a creamy texture. It feels soft and smooth on the skin. Glides on the skin very nicely and easily. Blends into the skin well. It takes a few minutes for the moisturizer to absorb into the skin due to an oily feel that it has. It does contain squalane. With this moisturizer, I don't have to wait too long to apply other products afterwards (like my sunscreen). The moisturizer sticks to the skin, moisturizes it, and leaves the skin feeling, looking smoother than ever. I love it! The only thing I don't like about this moisturizer is that it stings a bit when applied to the skin. I wonder if that has to do with my acne treatments. Because it didn't sting my neck or arms when applied to those areas. Once the stinging goes away, my skin feels really calm and relaxed. Super moisturized. Much more moisturizing compared to when using my hyaluronic acid essence. I haven't felt this type of moisture in ages, haha! I really like it! 😊
By the way, I apply this moisturizer directly onto my skin. I didn't use Cosrx Hyalyronic Acid Hydra Power Essence beforehand. I stopped using the essence. I didn't see the point when it doesn't leave my skin hydrated or do anything else for it. Vanicream also contains hyaluronic acid too, so it seems redundant using both products when it's not even necessary. I'm trying to keep my skin care routine as simple as possible. Having too many products just makes it harder for products to absorb and work. I know my skin likes the moisturizer, but now I'm worried if Vanicream is going to clog my pores or not. That's something I don't know yet. But after a day of using it, it seems to be going pretty well. No breakouts yet. Just feels like lightweight moisture on the skin. And my skin feels really good. If you have dry skin or very dry skin, this moisturizer won't do you any good. It's not super moisturizing and won't provide you with the proper moisture that you need. As an oily skin person with dry skin (sometimes), it doesn't feel heavy at all. The amount of moisture it gives is good enough. It doesn't leave my face looking shiny or greasy. I like it so far. I hope it works out in the end!
This is what Vanicream Daily Facial Moisturizer looks like.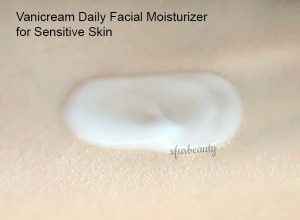 Pros & Cons
✅ Pros
Moisturizing
Contains hyaluronic acid and ceramides
Feels lightweight on the skin
Leaves the skin looking softer and smoother
Doesn't irritate the eyes
Good for combination, oily skin
Non-greasy
❌ Cons
Stings upon application (only the face)
Conclusion
I haven't used Vanicream Daily Facial Moisturizer for Sensitive Skin for long, but I like the way it feels on my skin so far. It leaves my skin feeling soft and moisturized throughout the day. I can use it at night and during the day without any issues (right now). I feel like I'm holding my breath and hoping that it won't clog my pores. Let's hope for the best! Stay tuned for my next update!
Update on Vanicream Daily Facial Moisturizer for Sensitive Skin. Did it work? What happened?