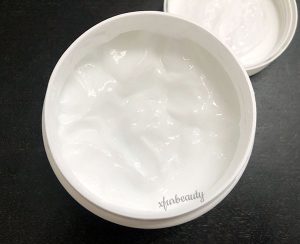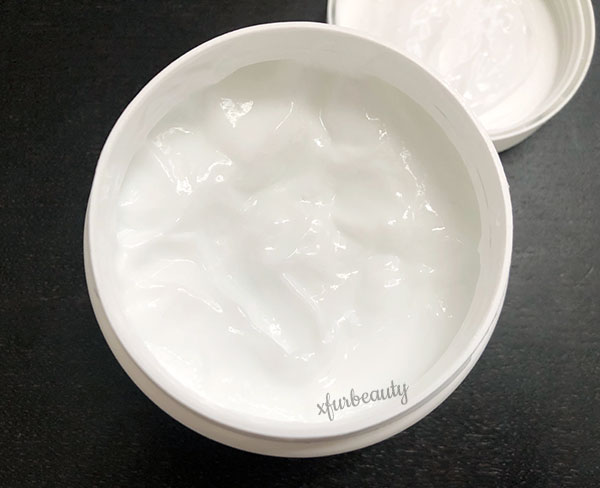 I've been using CeraVe Moisturizing Cream for about a month. I was very ecstatic about this product. Everyone talks about it. It gets a ton of praise. It contains ceramides and hyaluronic acid. It's made for very dry skin, dry skin for the face and body. Wonderful! But, I didn't use it on my face. I heard a ton of horror stories that this cream causes closed comedones and breakouts. From my personal experience with CeraVe, I believe them. CeraVe doesn't go on my face. Not the products I've had experience with so far. They all clogged my pores. Giving me cystic acne, closed comedones, blackheads, whiteheads. All of the acne that you can imagine. It was just terrible. My skin just looked very bad using CeraVe creams/moisturizers on my face. So, I only used the moisturizing cream on my body. Now here's my experience with CeraVe Moisturizing Cream after a month of use! 😊
The texture of the cream is very nice. It's soft and smooth to touch. It's very creamy and soothing on the skin. I couldn't wait to use it because of this. I started off using this cream twice a day then eventually only used it at night due to how thick the cream felt on my skin. It's odd. The cream feels heavy on the skin, but it doesn't go on heavy. It absorbs and sinks into the skin pretty well. But it leaves a thin layer of film behind on the skin that I didn't like. It sits on top of the skin. I think that's where the heaviness of the cream comes into play. Sometimes my skin would get itchy when using this cream too. I didn't think much about it, so I continued to use it at night to moisturize my skin.
As I continued to use the cream at night, I noticed that my arms would get itchy the next morning. I noticed that this would happen too often than it should. Maybe it's too moisturizing? Maybe it's too heavy on my skin? That annoying thin layer of residue that it leaves behind? I mean, it does contain petrolatum and heavier ingredients compared to what I usually use, which is a lightweight moisturizer. So I stopped it on itchy areas (which was mainly my upper body), but I kept using it on my legs and hands. Perhaps it's best to keep this moisturizing cream for my legs and use it as a hand cream. Or use it on dry spots on my skin when necessary. It's great that it contains ceramides and hyaluronic acid. It's also fragrance-free and leaves my skin feeling ultra-soft and smooth, but I'm not sure if I'm going to purchase it again. I'll use the rest of the moisturizing cream and see what happens next.
For more reviews on CeraVe skin care products go here!
Categories:
Tags:

1 Month, 1 Month Review, Beauty, Ceramides, CeraVe, CeraVe Healing Ointment, CeraVe Ointment, Chafed Skin, Cracked Skin, Dry Skin, Dye Free, Fragrance Free, Healing Ointment, Hyaluronic Acid, Lanolin Free, Moisturizer, Moisturizing, Non Comedogenic, Ointment, Petrolatum, Review, Skin Care, Skin Protectant, Skincare, Thoughts, Winter Skin Care