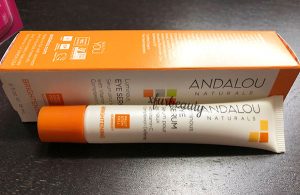 I have another eye product to share! It's called Andalou Naturals Luminous Eye Serum! It's formulated with fruit stem cell complex, vitamin c, and goji glycopeptides for a lighter, tighter, brighter looking appearance. Caffeine from green coffee to uplift circulation for youthful luminosity. It's 100% vegan and cruelty-free. Formulated without gluten, GMO, parabens, and synthetics. I read the claims, looked at the ingredients, and just went OK! Let's see if it works! It looks so natural! So I finished this eye serum within 4 months. Now I'm here to share my experience with everyone. Here are my results!
My experience
I love vitamin c products. I had to try this serum to see if it works or not. I have terrible dark under eye circles even though I've had enough sleep, eat well, and drink enough water. It's like, wow, these dark under eye circles will never go away, so let's do something else about it! So this eye serum feels very soft and silky. It absorbs into the skin well. All you need is a little bit of product to cover the whole eye area. It feels gentle on the skin and doesn't cause any issues like redness or bumps. It doesn't irritate my skin at all. I love the texture of the serum. It feels very soothing on the skin. Now let's peek at the ingredients…
The eye serum contains fruit stem cells, vitamin c in the form of Magnesium Ascorbyl Phosphate, caffeine (green coffee), and goji berry as the advertised ingredients. But it also contains aloe barbadensis leaf juice, sodium pca, sodium hyaluronate, green tea leaf extract, cucumber fruit extract, and so much more! The ingredients look pretty good to me. It's packed with ingredients that could possibly improve the skin around the eye area. Ahem, dark under eye circles! But let's see if it did anything for my eyes, especially my horrible dark under eye circles.
So the first week of using this eye serum, I didn't see a drastic change in my skin. It left my eye area feeling very moisturized and supple. I kept using it anyways since it's only been a week. It takes time for skin care products to work and to see results (if there's any, lol). I used it twice a day, morning and night. Never skipped a day. I had high hopes for this eye serum to brighten my under eye area and make it look more luminous. After 4 months (finishing the product) of dedicated use, unfortunately, I didn't notice any brightening effect. It just felt gentle and soothing on my skin. It left my skin feeling really moisturized. I didn't experience lighter, tighter, brighter looking skin. There was no youthful luminosity that the product claims to do. From my experience, it's just another moisturizing eye serum/cream.
Pros & Cons
✅ Pros
Contains vitamin c (Magnesium Ascorbyl Phosphate)
Contains caffeine from green coffee and there's goji berry!
Gentle on the eye area
Very soft and moisturizing
❌ Cons
No improvement in dark under eye circles
No tightening effect, nothing
Conclusion
Here's to another eye serum or eye cream that just moisturizes the eye area. That's not a bad thing at all. I rather have an eye product that leaves the skin moisturized than leaving it taut and dry. But, this eye serum didn't deliver the results that it claims to do. It didn't help with my under eye circles. It didn't make my eye area look brighter or tighter. All it did was just moisturize the skin around my eyes. After I finished the whole tube of serum, I moved on to other eye care products. Andalou Naturals Luminous Eye Serum makes a good eye moisturizer. I may or may not try it again in the near future. As of now, I don't have enough interest in it.
For more reviews on eye care products go here!! 👈🏻
Categories:
Tags:

Andalou Naturals, Andalou Naturals Luminous Eye Serum, Brightening, Brighter Eyes, Brighter Skin, Caffeine, Cruelty-Free, Dark Circles, Dark Under Eye Circles, Eye Cream, Gluten-Free, Green Coffee, Hydrating, Moisturizing, Paraben-Free, Vegan, Vitamin A, Vitamin C, Vitamin C Serum