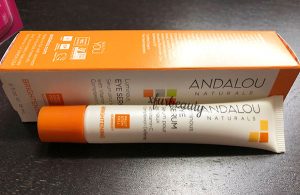 I have another eye product to share! It's called Andalou Naturals Luminous Eye Serum! It's formulated with fruit stem cell complex, vitamin c, and goji glycopeptides for a lighter, tighter, brighter looking appearance. Caffeine from green coffee to uplift circulation for youthful luminosity. It's 100% vegan and cruelty-free. Formulated without gluten, GMO, parabens, and synthetics. I read the claims, looked at the ingredients, and just went OK! Let's see if it works! It looks so natural! So I finished this eye serum within 4 months. Now I'm here to share my experience with everyone. Here are my results!
My experience
I love vitamin c products. I had to try this serum to see if it works or not. I have terrible dark under eye circles even though I've had enough sleep, eat well, and drink enough water. It's like, wow, these dark under eye circles will never go away, so let's do something else about it! So this eye serum feels very soft and silky. It absorbs into the skin well. All you need is a little bit of product to cover the whole eye area. It feels gentle on the skin and doesn't cause any issues like redness or bumps. It doesn't irritate my skin at all. I love the texture of the serum. It feels very soothing on the skin. Now let's peek at the ingredients…
The eye serum contains fruit stem cells, vitamin c in the form of Magnesium Ascorbyl Phosphate, caffeine (green coffee), and goji berry as the advertised ingredients. But it also contains aloe barbadensis leaf juice, sodium pca, sodium hyaluronate, green tea leaf extract, cucumber fruit extract, and so much more! The ingredients look pretty good to me. It's packed with ingredients that could possibly improve the skin around the eye area. Ahem, dark under eye circles! But let's see if it did anything for my eyes, especially my horrible dark under eye circles.
So the first week of using this eye serum, I didn't see a drastic change in my skin. It left my eye area feeling very moisturized and supple. I kept using it anyways since it's only been a week. It takes time for skin care products to work and to see results (if there's any, lol). I used it twice a day, morning and night. Never skipped a day. I had high hopes for this eye serum to brighten my under eye area and make it look more luminous. After 4 months (finishing the product) of dedicated use, unfortunately, I didn't notice any brightening effect. It just felt gentle and soothing on my skin. It left my skin feeling really moisturized. I didn't experience lighter, tighter, brighter looking skin. There was no youthful luminosity that the product claims to do. From my experience, it's just another moisturizing eye serum/cream.
Pros & Cons
✅ Pros
Contains vitamin c (Magnesium Ascorbyl Phosphate)
Contains caffeine from green coffee and there's goji berry!
Gentle on the eye area
Very soft and moisturizing
❌ Cons
No improvement in dark under eye circles
No tightening effect, nothing
Conclusion
Here's to another eye serum or eye cream that just moisturizes the eye area. That's not a bad thing at all. I rather have an eye product that leaves the skin moisturized than leaving it taut and dry. But, this eye serum didn't deliver the results that it claims to do. It didn't help with my under eye circles. It didn't make my eye area look brighter or tighter. All it did was just moisturize the skin around my eyes. After I finished the whole tube of serum, I moved on to other eye care products. Andalou Naturals Luminous Eye Serum makes a good eye moisturizer. I may or may not try it again in the near future. As of now, I don't have enough interest in it.
For more reviews on eye care products go here!! 👈🏻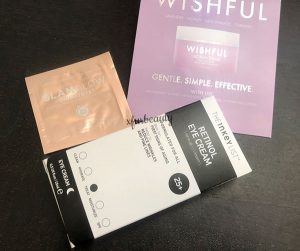 My order arrived today!! I didn't think I would keep The INKEY List Retinol Eye Cream in my skin care routine, but I guess I am (for now)! 😁 Why not?!! I've been using it for ages now. Well, it feels like ages. It's like a staple in my routine by now. So I'm officially on my third tube of this eye cream. Hopefully I'll see results this time. haha. HOPEFULLY!! Along with my order, I received some samples too. They are GLAMGLOW BRIGHTEYES Illuminating Anti-Fatigue Eye Cream and Wishful Honey Balm Jelly Moisturizer. I'll get to trying them out some time or whenever I remember to, lol. Now back to the retinol eye cream! Let's unbox it! 🙂
So I did a review on this eye cream not too long ago. If you missed it, click right here. I also did a review on another eye cream from the same brand too. It's THE INKEY List Caffeine Eye Cream <<< CLICK!!
Here's my new retinol eye cream taken out of the box. It looks the same like it did before. No changes in packaging from what I've seen. Just the plain ol' black and white coloring and design. So about the packaging, it looks worn out for some reason. It feels flimsy and rather cheap. I've noticed this about this brand. It's not the most aesthetically pleasing box and packaging from a brand. But that's OK. I guess. ha.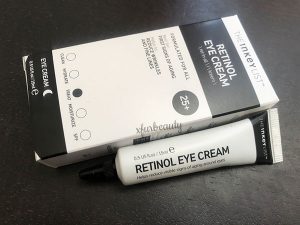 This is what the retinol eye cream tube looks like. It's not a sealed product. Just twist open the cap and use immediately. I wish it was sealed…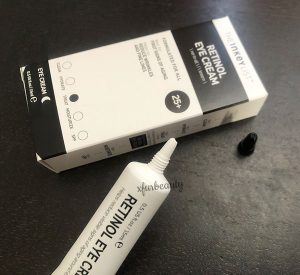 Here's a swatch of the product. It's a white-yellowish cream. This is my first time dispensing my brand new retinol eye cream. Very, very exciting! Even though I know exactly what to expect! LOL. It's just oh so fresh and brand new!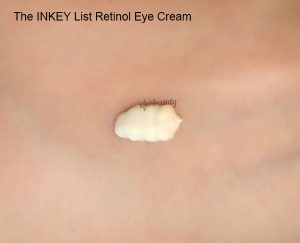 Now…inside of the box. It explains the different kinds of eye creams they have. I've only used the retinol eye cream and caffeine eye cream. Maybe one day I'll try the brighten-i eye cream. I've seen it, but I haven't felt the need to try it out yet. I'm a little obsessed with kbeauty eye creams at the moment. They seem to work better, and they're more affordable long term. They last so much longer too. I like them a lot more. And from the results (which is very little) I've achieved with the retinol eye cream and caffeine eye cream, I'm not sure what to think of the brighten-i eye cream. It's whatever at the moment, lol. Maybe some time in the near future if I feel like it, I'll pick one up.
It goes on to explain how long to see results too. Um, yeah, after two tubes and going on the third. I'm pretty sure I'm supposed to see results by now. haha. And I only use a tiny pea-size for both eyes. Hmmm! It's been WAYYYYY OVER 6 weeks. 😮‍💨 Well! Let's see if the third one is a charm! hehe! ✨ Also, I haven't had any irritation or sensitivity to this product. Yay? Yes, yay. 🙃 But it is a slow release formula to help avoid irritation. FYI, this retinol eye cream is 3% vitalease stabilized retinol compound. That doesn't mean 3% retinol. It's only 0.09% retinol. It's a low concentration retinol product. That may be the reason why I'm not seeing much results.
BUT! I have hope! 🤞🏻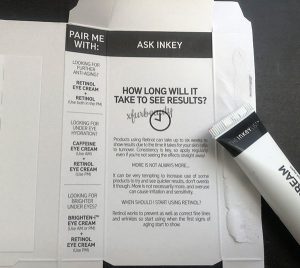 So I'm looking forward to gorgeous eyes in the next upcoming weeks or months!!! Let's see what this retinol eye cream can do this time around. 😊 An updated review coming up soon!
The INKEY List Retinol Eye Cream
The INKEY List Caffeine Eye Cream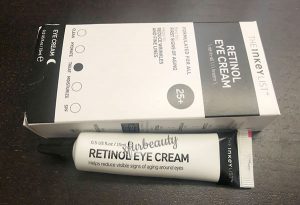 Here I have The INKEY Retinol Eye Cream! I'm so close to finishing up my second tube of this eye cream! Thought I would shed some light on this eye cream RIGHT NOW! So this is a lightweight, rich eye cream that contains retinol. It helps to promote skin renewal. Enhances collagen production. Helps to reduce fine lines and wrinkles. It's best for the first signs of aging. Formulated for all skin types. Doesn't contain fragrance and is cruelty-free. Now here's my experience with this eye cream! Did it work for aging, fine lines, wrinkles? Read on to find out! I'm excited to share my results with everyone! 🙂
My experience
This eye cream is a cream (what it is, lol). It comes in a 0.5 oz. tube (15 mL). It's a tiny eye cream tube. The instructions says to use it in the PM. Apply a small amount onto finger and gently pat it around the contour of the eye. Follow with a moisturizer. That's what I did. When applied to the skin, it feels lightweight, soft, and gentle on the skin. The eye cream absorbs into the skin perfectly well without any issues. Just gently pat the product into the skin around the eyes and let it absorb into the skin. This retinol eye cream didn't irritate my skin at all. It's not the most moisturizing eye cream, but it doesn't dry the skin out. The instructions does say to follow with a moisturizer. So this isn't the only eye cream I use. I have other eye creams that are more moisturizing, and I make sure to moisturize my eye area/face with another moisturizer that provides adequate amount of moisture to my eye area and face. Dry skin around the eyes is a big no-no. It makes the eye area look aged and wrinkly. Make sure to moisturize properly!
As for the results, I can't tell if the eye cream has done anything for my under eyes. Fine lines? Wrinkles? Dark under eye circles??? I can't tell at all. It feels like any other eye cream that I have used, except it contains retinol. I like the idea of this product. Retinol is an awesome anti-aging ingredient. It's supposed to help reduce fine lines, wrinkles, and skin aging, but I'm on the fence with this product. Results? Meh. The price for the eye cream is affordable though. It's only 10 dollars, and it seems to last forever, since it's only used at night. I might just keep it around for preventative measures. Maybe that's what it is, lol. Just for prevention. And I didn't have a negative experience with this eye cream besides not seeing results. I just can't tell if it's doing anything. Maybe it is, maybe it isn't. Hmmmm! Who knows!
Pros & Cons
✅ Pros
Feels soft and gentle on the skin
Absorbs into the skin well
Contains retinol
Affordable retinol eye cream
Cruelty-free
❌ Cons
Conclusion
I've gone through two tubes of this eye cream (almost done with the second one), and I honestly can't tell if it has done anything for fine lines, wrinkles, skin aging, dark under eye circles. As I said before, the idea of the eye cream is nice because it contains retinol. And retinol is known to fight against fine lines and wrinkles. So, I really don't know what to think of this product. Should I keep it in my routine or remove it? I'll figure it out soon enough. But I'm pretty neutral about it right now.
For more reviews on anti-aging skin care products go here!!! Don't miss out!!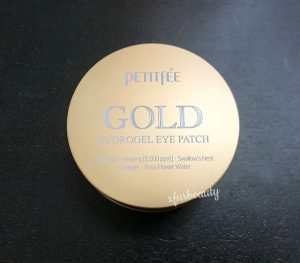 I've tried a few of hydrogel eye patches in the past. Didn't think I would purchase another any time soon. I've had this product since summer. Used it about 6 times. Stopped for a while. I'm not that into eye patches, to be honest. I think they're OK. I just don't think they make a huge difference in my skin. A good moisturizer does a better job, and it's less expensive than an eye patch. So I started to use hydrogel eye patches again since I have it. And good news! The product is still good to go! Just like when I purchased it. 👍🏻
This is the gold version from Petitfee. There's 30 pairs of eye patches per jar. The purpose of this skin care product is to treat the eye area by instantly moisturizing, removing dark under eye circles, eliminate swelling, and irritation. It fills the skin cells with moisture, protects against aging, and smooths out wrinkles.
That sounds pretty good. Now here are my thoughts on Petitfee Hydrogel Eye Patches!
My experience
Hydrogel eye patches feel luxurious, in my opinion. I think they're fun to have around if you want to splurge a little. The product is very easy to use. It comes with a little spatula, but I lost it. I thought the little spatula was annoying, lol. So I wash my hands before I pick out a pair of hydrogel eye patch. They're soaked in essence. I apply it to my under eye area that has been cleansed with no product on. The hydrogel eye patches can be used on other parts of the face too if desired. I just use it as intended (the eyes). I have a moisturizer for other parts of my face including my eye area.
When using the hydrogel eye patches, I can't use it standing up. The eye patches slip down just a little bit. So what I do is lie down and just take a mini nap. The instructions of this product states to leave the eye patch on for 10-15 minutes. I leave it on for ~15 minutes. Let my skin soak up the essence. There's no irritation or burning. After I'm done with the eye patch, I remove them and toss them out. I don't rinse the product off. Just leave it on the skin and go about my usual skin care routine. You can place this product in the fridge too if you want a cooling effect to help with puffy eyes.
This is something I do every 2 weeks or so. I tried to do it more often, but it's really time consuming for very little results. If you expect to remove saggy under eye bags, dark under eye circles (as it claims that it should do), or smooth out under eye wrinkles, you're in for a disappointment. All it's really doing is moisturizing the skin. It's not a surge of moisture either. It's very light moisture. A regular moisturizer does a better job and for less the price or same amount. I think that's why I don't use hydrogel eye patches too often. I don't feel like I'm getting much out of it for the time put in.
The ingredients in this product are nice. It contains ginseng root extract, bird's nest, aloe extract, hyaluronic acid, rose flower water, hydrolyzed collagen, gold (1ppm) to name a few.
An open jar of Petitfree Gold Hydrogel Eye Patches! I've had these for a while, and I'm going to repeat that they haven't dried out at all.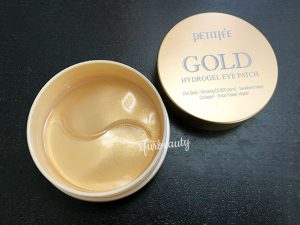 Pros & Cons
✅ Pros
Light moisture. Don't expect too much out of it.
Gentle on the skin
Soothing and relaxing
Contains ginseng root extract, bird's nest extract, aloe, hyaluronic acid, rose flower water, hydrolyzed collagen, gold (1ppm). Gold is the last ingredient.
❌ Cons
Doesn't improve dark under eye circles
Not much of a change in my skin
Conclusion
The product looks and sounds very fancy and makes it seem like it'll do something for the under eye area, but my experience says otherwise. The main reason why I don't use it too often (from past experience). I just bought it to try it out again, and I haven't used a hydrogel eye patch in a while. I'm not sure I'm going to pick up another jar. We'll see. Maybe those mini naps I have might be doing some good when using them. It's always good to reduce stress and just relax after a long day. These hydrogel eye patches force me to do so, haha!