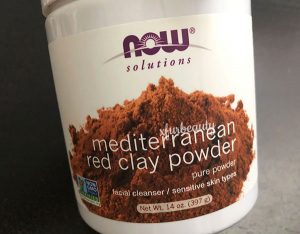 Here are my thoughts on this clay mask I have been using for many years! It's Now Solutions Mediterranean Red Clay Powder! It's a clay mask for oily and sensitive skin. It supposed to help detox the skin, cleanse the pores, and improve skin tone. Mediterranean red clay is highly absorbent. It mixes easily with water and other moisturizing products. Works as a facial cleanser and purifying mask. There's only one single ingredient in this product. It's Montmorillonite, which is a natural mineral silicate. I'm so excited to share this with everyone! 🙂
So I've been using this clay mask for so many years (as I mentioned earlier). My skin gets really oily, especially during the warmer months but also the cooler months. It's so weird! Most people have drier skin during the winter. I still have oily skin when it feels dry. It's a combination of both — oily and dry skin coupled with some flaky skin here and there. My oily skin usually just breaks through in the end, lol. It just wins over! That's life for me. I still have to treat my skin as the oily type no matter what meanwhile using moisturizing products whenever necessary. So this Mediterranean red clay mask is nice to have around.
A little about the Mediterranean red clay powder and product.
The net wt. of the product is 14 oz. (397 g). The Mediterranean red clay powder is a reddish to brown color. It feels very fine and soft. Yes! The product comes sealed!! 👏🏻 I love it when a product comes sealed. It makes me feel so much safer using the product. Knowing that it's brand new and not used or opened. Out of all of the clay masks or facial masks I have, this is one of the most affordable ones. It's less than 20 dollars. It simply just lasts forever! I purchased mine years ago, and it's still good as new 'til today. It still works.
This red clay powder is cruelty-free, vegan, gluten-free, non-gmo, halal, and paraben-free.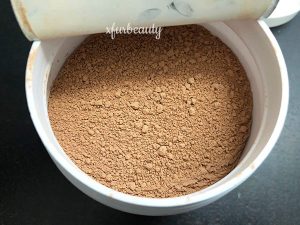 This is how I use the red clay powder for my oily skin…
This clay mask is not a pre-made mask. You have to mix it yourself. As you see from the photo above. It's in powder form. The suggested use is one tablespoon of red clay powder with one tablespoon of water. I take about 1-1.5 table spoons of the powder. Add more if necessary. I'll mix it with some water until a paste is formed. The final product should feel soft and should spread very easily over the facial skin. Just make sure the mixture is a soft and smooth paste. Make sure it's not too watery and not too thick. We want something that's smooth and spreadable.
After that, apply the mixture (paste) to the facial skin. The instructions suggests to leave the mask on for 10-20 minutes, rinse off, then apply moisturizer. I've done 10 minutes, 15 minutes, and 20 minutes. I prefer 10 minutes. The results were basically the same with all time slots. It didn't make a difference leaving the mask on longer than 10 minutes. Within 10 minutes, the clay mask absorbed excess sebum from my skin thoroughly and already gave my skin a tightening effect as it dries on the skin. But it's really up to you how long you want to leave it on. 10, 15, 20 minutes is all good. Just don't leave the mask on longer than that. It might be tempting to leave it on for 30 minutes (tried it, haha), but it's not necessary to do so. From my experience, it starts to crack on the face, lol.
I only use a clay mask once every few weeks. I just don't it's necessary to use it too often. I mean, it's great at absorbing excess sebum from the facial skin, but there is such as thing as overdoing it. And using a clay mask more often than one should doesn't offer additional benefits. It'll just leave the skin feeling and looking super dry and irritated. Also, it's a waste of time and product.
This is what the mixture looks like after mixing the powder with some water. It forms into a soft, smooth, somewhat thick paste. 👌🏻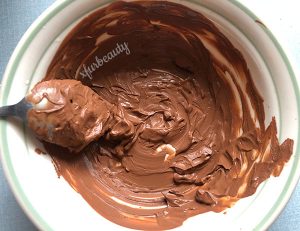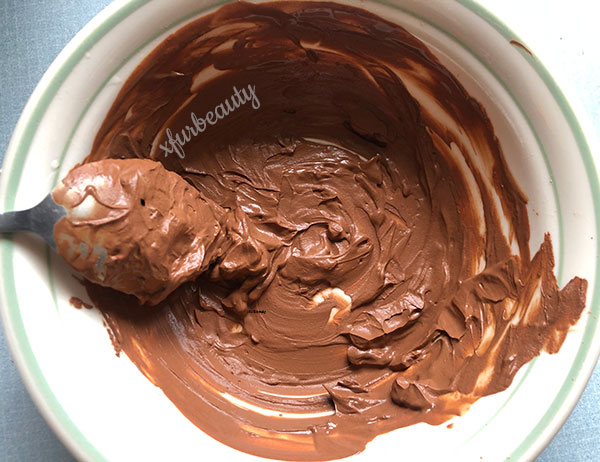 Here are my RESULTS!
After rinsing the mask off, my skin felt and looked less oily. That's what we want from a clay mask! But at the same time, it didn't dry my skin out entirely. I don't find this clay mask too drying. But keep in mind that I do have really oily skin. My pores look cleaner, especially on my nose. Ugh! Those darn blackheads on the nose, lol. It didn't really help with blackheads, but it does decrease the amount of oil on the skin. I guess it helps in that sort of way. Less sebum means less chances of having blackheads or breakouts. This mask also made my skin feel softer and smoother afterwards. The tightening effect it has on the skin made my skin feel and look more youthful and alive. My skin looked brighter and cleaner.
Here's a breakdown of my experience with the Mediterranean red clay mask!
✅ Pros
Awesome at absorbing excess sebum
Leaves the skin feeling cleaner, softer, smoother, and brighter
Great for sensitive skin. Didn't irritate my skin at all.
Easy to mix and apply to the skin
An affordable clay mask product
Super effective!
❌ Cons
Have to make the mask yourself
Messy to clean
Final Thoughts
This is one of my favorite clay masks simply because it works! Good for sensitive skin? Check! Absorbs excess sebum? YES! Gentle on the skin? Yes. Dries out the skin? Good enough. For very oily skin people, it's amazing stuff! It's a really nice clay mask that doesn't leave the skin feeling like the desert. I could use this clay mask more often than what I'm doing right now (once every few weeks), but it's just time consuming and once every few weeks is more than enough for my skin. Also, this clay mask is affordable and seems to last forever. I'm still on my first tub of the red clay mask! I highly recommend trying this out if you're searching for an affordable, effective, good clay mask that works.
Categories:
Tags:

Acne, Acne Care, Acne Skin, Blemishes, Clay Mask, Experience, Mediterranean Red Clay Mask, Natural Skin Care, Now Solutions, Now Solutions Mediterranean Red Clay Powder, Red Clay Mask, Review, Sensitive Skin, Skin Care, Skincare