Oct. 26, 2020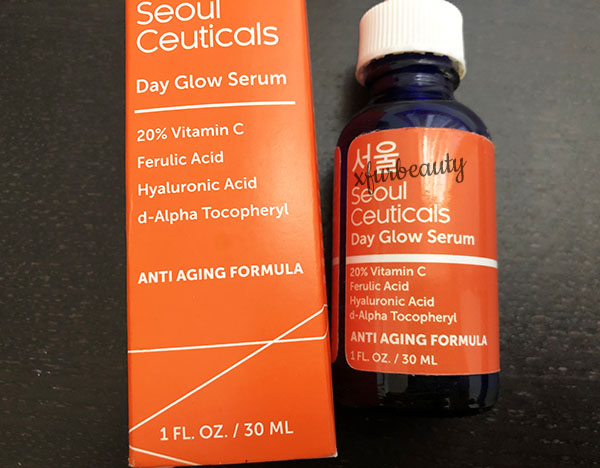 I've had this vitamin c serum for quite some time. I think I'm overdue for a review. 🙂
About Seoul Ceuticals Day Glow Serum:
20% Vitamin C
Ferulic Acid
Hyaluronic Acid
d-Alpha Tocopheryl
Anti-Aging formula
72% Organic
98% Natural
Not tested on animals
Review:
This serum comes out very watery. It feels like I'm applying water to my face. It has a light citrus scent to it. The scent doesn't linger on the skin. It disappears after application. Looking at the ingredients, it contains Sodium Ascorbyl Phosphate (vitamin c), antiaging ingredient ferulic acid, and hyaluronic acid for hydration. That's awesome, but I do prefer vitamin c in the form of ascorbic acid instead. It's known to be more effective on the skin. Still, I wanted to give Seoul Ceuticals Day Glow Serum a chance to see if it works or not. So did it work? Did it fade acne marks? Hyperpigmentation? Did it make my skin look younger. More even? Brighter? From my experience, no. This vitamin c is below average compared to the other ones I have tried. There's nothing special about it. Yeah, it contains vitamin c + antiaging ingredients + hydrating properties, but it didn't do anything for my skin. It didn't make it brighter, fade acne scars, or discolorations. It didn't improve the appearance of my skin and wasn't hydrating either. I'm very disappointed in the outcome of this vitamin c serum, especially for the price. No results. My first and last. I won't purchase it again. I wouldn't recommend it. Skip it. There are better, more effective options out there for a better price.
Categories:
Tags:

Day Glow Serum, Day Serum, Facial Serums, Ferulic Acid, Hyaluronic Acid, Hydrating, Life, Lifestyle, Moisturizing, Natural, Natural Skin Care, Not Tested on Animals, Organic, Organic Skin Care, Review, Seoul Ceuticals Day Glow Serum, Serum, Skin Care, Skin Care Products, Skin Care Review, Skincare, Thoughts, Vitamin C Serum, xfurbeauty, xfurbeauty blog
Oct. 8, 2020
Leave a comment
Here's an updated review on Andalou Naturals 1000 Roses Eye Revive Contour Gel! I've used this eye gel for over a month already!
After a month of using this eye gel (or gel/serum), I haven't noticed much of a difference in the skin around my eyes. I mean, this eye gel is gentle, soft, smoothing, and moisturizes, but there's nothing more to it. It didn't do anything else like reduce puffiness, dark under eye circles, or fine lines (as the product claims). If you're looking for an eye cream/gel that does any of that, look elsewhere. This eye gel was pretty mediocre. It's basically just a moisturizing eye gel. That's great for the eye area..don't get me wrong! But, I myself want more out of an eye care product. I'm not going to purchase it again. It was nice to try out though. Would I recommend this eye gel? If you want an eye care product that only hydrates the eye area. In saying that, I think there are better, other skin care products out there that moisturizes + help with fine lines, wrinkles, and dark under eye circles. So I'd say no. Don't waste your money on this.
More on Andalou Naturals Beauty Products:
Andalou Naturals Vitamin C Beauty Balm
Review: Andalou Naturals Vitamin C Beauty Balm
Final Review: Andalou Naturals Vitamin C Beauty Balm
Andalou Naturals 1000 Roses Rosewater Mask + Thoughts
Andalou Naturals 1000 Roses Eye Revive Contour Gel + Thoughts
Review: Andalou Naturals Luminous Eye Serum
Andalou Naturals 1000 Roses Pearl Exfoliator + First Impression
Categories:
Tags:

1 Month Results, Andalou Naturals, Andalou Naturals 1000 Roses Eye Revive Contour Gel, Cruelty Free, Dark Circles, Eye Contour, Eye Revive Contour, Gluten Free, Natural, Natural Skin Care, Non GMO, Review, Roses, Skin Care, Skin Care Products, Skin Care Routine, Skincare, Under Eye Circles, Update, Vegan, Vegan Skin Care, Vegetarian, xfurbeauty, xfurbeauty blog