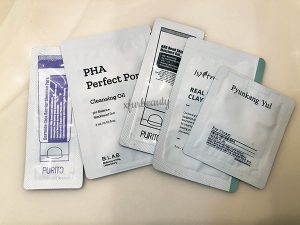 I have samples to try! A ton of them. 🙃 I'm going to start off with 5 samples that I have. Here's a list of product samples I am going to test out! They are…
Now on to the reviews… 🙂
Pyunkang Yul Eye Cream:
This eye cream smells like herbs, which made me curious to see what's in this eye cream. So I looked up the ingredients of the eye cream. Lo and behold, the first ingredient is Astragalus Membranaceus Root Extract. No wonder why it smelled so herby. Other ingredients that stood out to me include petrolatum, dimethicone, shea butter, licorice, sodium hyaluronate, and lactobacillus/ginseng root ferment filtrate. The texture of the eye cream is soft, silky, and creamy. It glides over the under eyes nicely and smoothly. It also blends into the skin very well with little effort. It reminds me of Benton Fermentation Eye Cream. The texture is very similar. And I really liked using Pyunkang Eye Cream due to the similarities they have. I think I'm falling in love with this eye cream…kinda…the herbal scent throws me off every time I use it…so…
Purito Dermide Cica Barrier Sleeping Pack:
I've used Purito Dermide Cica Barrier Sleeping Pack before <<< Go here to read my previous review on it! My thoughts on this sleeping pack hasn't changed. I didn't use it on my facial skin. I know what's going to happen. And that is breakouts! I don't want that, lol. I ended up using the sleeping pack on my body instead. It's rich and creamy like it was before. It's also moisturizing and helps to seal in moisture. Great for the moisture barrier. Too bad it's incompatible with my skin type. I've moved on to other sleeping packs and moisturizers that work better for me. I've also finished my tubes of Purito Dermide Cica Barrier Sleeping Pack and haven't purchased a new one since. Honestly, I've moved on to better skin care products that work for my skin. This isn't a bad product if it works for you. Everyone's skin is different.
B.LAB PHA Perfect Pore Cleansing Oil:
This is a very lightweight, elegant oil. It feels so soft and lovely. The oil moves over my facial skin smoothly and feels moisturizing on the skin. It's very different compared to the cleansing oils I have used. I'm glad I had a chance to try this cleansing oil out. I really liked the way it felt on my skin! Now let's look at the ingredients! It contains isopropyl myristate, which is comedogenic. BUT! The cleansing oil isn't left on the skin for too long. Just enough to remove sebum, oil, dirt, makeup. Speaking of makeup, it removed my waterproof eye makeup perfectly! No tugging involved! My makeup came off. 😀 This cleansing oil also contains jojoba seed oil, grape seed oil, honey extract, and tea tree oil, to name a few. No wonder why I liked it. It contains tea tree!! Even though it's the last ingredient on the list, lol. My experience with B.LAB PHA Perfect Pore Cleansing Oil was wonderful. I enjoyed every minute of it. I'm tempted to purchase the full-sized bottle now.
Isntree Real Mugwort Clay Mask:
This mask is green in color and has tiny little specs of exfoliating mugwort leaf powder in it. It didn't feel rough or abrasive on the skin. I didn't use it to exfoliate my face. I applied the mask as is. Just spread the product all over my facial skin and let it sit. It sticks to the skin pretty much instantly. I couldn't move the mask around anyways, lol. The mask feels lightweight and has an herb smell to it. I didn't care for the smell of the mask. It's whatever. I was more curious about what it could do for my skin. This mask contains kaolin and bentonite, which is very good for oily skin. It absorbs excess oil. The instructions says to leave the mask on for 10-15 minutes. I left it on for 10 minutes. After I rinsed the mask off, my skin didn't feel super dry like I thought it would. I use other clay masks that dry out my skin a bit too much. This one didn't. It absorbed the oilies on my facial skin and left my skin feeling clean. Not dry and taut. So the sample size was one application. I thought it was an enjoyable experience. Not sure if I would purchase it because I don't really need a clay mask right now. I have plenty of other products I have to finish up first. This one was OK from this experience. 🙂
Purito BHA Dead Skin Moisture Gel:
Yay! A BHA product to try! This product is a gel. It absorbed into my skin so quick! It literally vanished into my skin when I applied it to my skin. In an instant it disappeared into my skin. WOW. I'm impressed with the absorption! So this product contains, looking at the ingredients, aloe barbadensis leaf extract, betaine salicylate, sodium hyaluronate, and tea tree oil (loooveeee! my fave!!). That's not the full ingredients list, but that's what stood out to me the most. It has TEA TREE!! Even though it's at the end of the ingredient list. It does contain BHA but a weaker form of salicylic acid. Overall, the ingredients look pretty good. I'm not sure how effective it is. The sample was just a tiny pouch. I used it 1-2 times and my skin didn't break out either time. It leaves my skin feeling moisturized but not oily or greasy. This is something I would like to try again. I must now! lol. I've been trying to find a good BHA product and this one also contains tea tree.
Whew!! Those are my thoughts on these samples. So, it looks like it's 2/5 that I really liked! 🙂
Have you used any of these products before? If so, how did you like them? Did they work for you? Share your thoughts in the comment section!
Categories:

Anti-Aging, Beauty, Cleansing Oil, Eye Cream, Face Mask, Moisturizer, Skin Care, Sleeping Mask
Tags:

Acne, Acne Prone Skin, Acne Skin, Anti-Aging, B.LAB, B.LAB PHA Perfect Pore Cleansing Oil, BHA, BHA Dead Skin Moisture Gel, Blackheads, Cleansing Oil, Dermide Cica Barrier Sleeping Pack, Experience, Eye Cream, Fine Lines, Isntree, Isntree Real Mugwort Clay Mask, Lifestyle, Moisture Gel, Oily Skin, PHA Perfect Pore Cleansing Oil, Purito BHA Dead Skin Moisture Gel, Purito Dermide Cica Barrier Sleeping Pack, Pyunkang Yul, Pyunkang Yul Eye Cream, Real Mugwort Clay Mask, Review, Skin Care, Skin Care Products, Skincare, Sleeping Mask, Sleeping Pack, Wrinkles