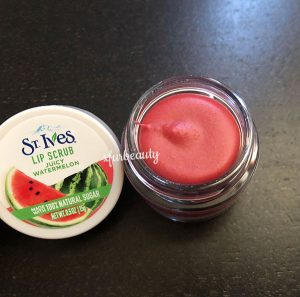 I haven't purchased a St Ives beauty product in ages. I think it's been over 10 years. I didn't know they made lip scrubs. I saw them one day, and thought I would try them out. My lips have been well conditioned for the past months just by adding a lip mask (more on this soon!) to my lip care routine. Still, I had dead skin to remove from my lips. This lip scrub seems like something my lips could use. The St Ives lip scrub I purchased is in Juicy Watermelon. I hope it smells as good as the name. So I've been using it for 4 months already. Here are my thoughts on St Ives Lip Scrub Juicy Watermelon!
My experience
This lip scrub is made out of sugar crystals. The first ingredient in the product is sucrose. It also contains castor seed oil, coconut oil, sunflower seed wax, shea butter, and a bunch of other stuff like fragrance, paraffin, coloring, and so on. It's not so natural but whatever. I already have it. So the lip scrub does smell really good. It's called Juicy Watermelon, and it smells like it. It smells like candy to me. Mmm! I like it even though it's just the fragrance, lol. I'm not bothered by it. The reason why I look forward to scrubbing my lips with this lip scrub. No, I'm just kidding, it's only part of it. The exfoliation is what I really like about it. The skin on the lips are a bit different compared to the facial skin. I'm not worried about using something a little more rough on my lips. I have a lot of dead skin on my lips. I tend to accumulate dead skin on my lips very often (yeah, gross), so I use this lip scrub 2-3 times a week or when I need it. It has a granular, sugary texture to it, but it hasn't torn my lips apart. The thick texture of the scrub makes it more gentle on the skin than it appears. And it does a darn good job at removing dead skin cells from the lips. My lips feel soft and smooth after each use. I enjoy using it very much. I wish there was more slip to the lip scrub to make it easier to move the scrub across the lips, but it's not that big of a deal. Sometimes I add a few drops of oil to make the scrub more slippery to use. Overall, this lip scrub works, and it's very affordable. It's been 4 months, and I haven't finished one jar yet. I actually purchased a couple jars without knowing if it'll work for me out not. Surprisingly, it worked. I like it.
This is what St Ives Lip Scrub Juicy Watermelon looks like.
Pros & Cons
✅ Pros
Removes dead skin from lips
Smells good
Affordable
❌ Cons
Needs more slip to the scrub
Conclusion
St Ives Lip Scrub Juicy Watermelon wasn't that bad. It does what it's supposed to do. And that is, remove dead skin from the lips. It doesn't take that long to remove dead skin from my lips using this scrub. I've spent more money on lip scrubs and ended up with mediocre results or the same as St Ives. For me, most lip scrubs are pretty much the same. Well, the ones I have encountered so far. I'm not too picky with lip scrubs. If it doesn't stink, isn't slimy, have decent texture, and doesn't break out the skin around my lips, it's good. This one turned out good. I haven't used a St Ives skin care product in years too. That St Ives Apricot Scrub, lmao! This one's good to go! It works on my lips! Cheers!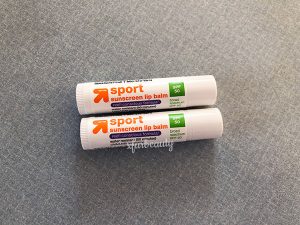 I haven't finished my Sun Bum Sunscreen Lip Balm SPF 30 lip balms yet, but I have a new set of lip balms! It's Up & Up Sport Sunscreen Lip Balm Broad Spectrum SPF 50! 🙂 I'm so excited for these! They're higher in SPF than Sun Bum. I needed something much higher than 30, so I went for a lip balm that has a SPF of 50! This is a Target brand. They were way cheaper compared to Sun Bum lip balms. A pack of two was only $3.99 with a higher SPF plus other benefits. So this lip balm is supposed to soothe and relieve dry, chapped lips while protecting the lips from harmful UVA/UVB rays. It's water resistant (80 minutes) and reef friendly. That sounds so much better compared to Sun Bum Sunscreen Lip Balm SPF 30. I think this lip balm could work. Well, let's find out! Here's my experience with Up & Up Sport Sunscreen Lip Balm Broad Spectrum SPF 50!
My experience
My first impression of Up & Up Sport Sunscreen Lip Balm Broad Spectrum SPF 50 was very good. The lip balm glides on my lips smoothly, moisturizes my lips, and protects my lips with SPF 50 (Avobenzone 3%, Homosalate 8%, Octocrylene 10%). That's wonderful! I'm trying to find skin care and lip care products with a higher SPF that's suitable for my skin type. It's because I'm prone to developing freckles everywhere on my face plus my lips. I think it's best for my skin and lips to use a higher SPF. Don't worry, I'm always trying my best to reapply and stay out of the sun as much as I can. Because of that (one of the reasons), I'm liking Up & Up Sport Sunscreen Lip Balm Broad Spectrum SPF 50 over Sun Bum Sunscreen Lip Balm SPF 30. Also, Up & Up doesn't have fragrance or a strong overwhelming scent to it. It gets bonus points for that. I get really tired of the scent from the Sun Bum lip balms when I'm using them on a daily basis. It doesn't irritate my lips, but sometimes I don't want to smell anything. lol.
Now let's look at the ingredients! This lip balm doesn't have the best ingredients, but it works for what it is. There's a few beneficial ingredients that pop out, such as cocoa butter, coconut oil, aloe, and vitamin e. The ingredient list is pretty short too. I prefer products that don't have an exhaustive list of ingredients. This one looks ok. It's working for me so far. It didn't irritate my lips or make them feel itchy. No allergic reaction. Everything is going pretty well. I love the fact that it's super affordable too. Can't beat $3.99 for the price of two lip balms that don't dry my lips out, is water resistant, and contains broad spectrum SPF 50! This would be perfect for outdoor workouts or walks! It's a decent lip balm with high sun protection for everyday use that doesn't cost too much. Yay! It works!
This is what Up & Up Sport Sunscreen Lip Balm Broad Spectrum SPF 50 looks like in package. All brand new. Love it!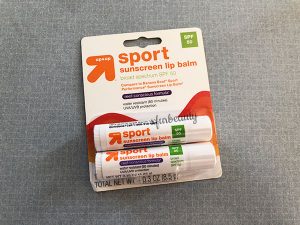 This is what the lip balm looks like. Goes on the lips clear! It works great under lip tints and lipsticks too.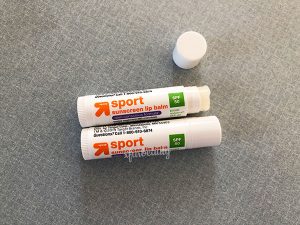 Pros & Cons
✅ Pros
Moisturizing
Contains cocoa butter, coconut oil, aloe, and vitamin e
Contains SPF 50 (Avobenzone 3%, Homosalate 8%, Octocrylene 10%)
Water-resistant (80 minutes)
Smooths over the lips nicely
Affordable ($3.99 for 2)
Reef safe
❌ Cons
Conclusion
Here's to another lip balm that's affordable and works like it's supposed to. It works just the same as my Sun Bum lip balms without costing more. I haven't had any issues with this lip balm. It helps to soothe my lips while keeping it moisturized throughout the day. I make sure I reapply my lip balm constantly to maintain moisture and keep my lips protected from the harmful UV rays. I don't want more freckles on my lips. So I'm loving the higher SPF even though it's not by much. It's still something. It makes me never want to go back to the SPF 30 lip products, lol. This is a good lip balm to try out if you don't want to spend a lot of money but still want the quality. I like it. Seems to be working just fine for me.
Don't forget to check out my posts on other sunscreen products!
Categories:
Tags:

Beauty, Lip Balm, Lip Care, Reef Conscious, Review, Skin Care, SPF 50, Sport Sunscreen, Sun Care, Sun Protection, Up & Up, Up & Up Sport Sunscreen Lip Balm Broad Spectrum SPF 50, Water Resistant